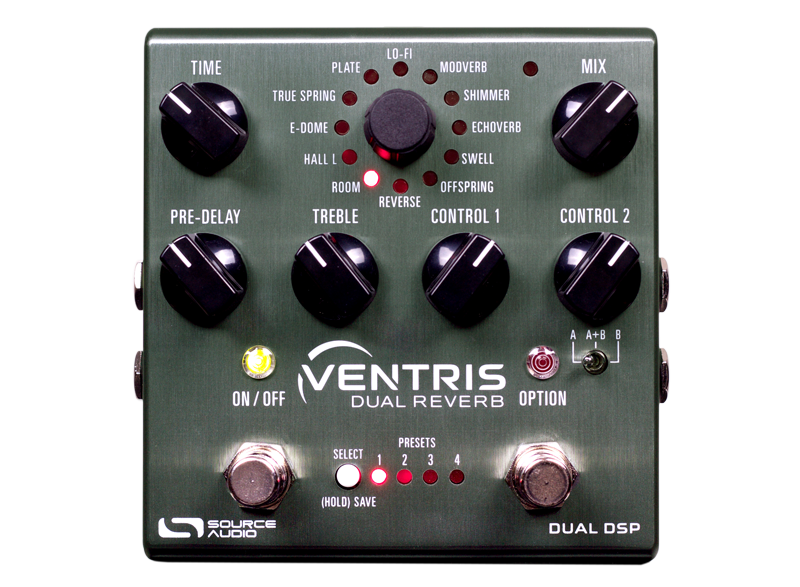 Ventris Dual Reverb
📦 Ships same day when ordered by 2pm PST. 🛍 Local pickup available daily. Contact us for more information. 💜
Source Audio Ventris Dual Reverb
Create rich reverberations with the Ventris Dual Reverb's 14 reverb engines, dual 56-bit processors, adjustable preset spillover time, and advanced effects. Step into ambient space.
Two Reverb Pedals in a Single Housing.
The Ventris Dual Reverb houses two 56-bit reverb processors, offering adjustable preset spillover and dual reverb effects.
Combine two reverb engines for expanded ambient possibilities. Run parallel or cascading signal paths, or split reverbs for separate Outputs.
Dual processing eliminates bloated programs, allowing 100% of the processor to be dedicated to True Spring reverb, creating new sonic possibilities.
Enormous live advantage: Seamless "spillover" from preset to preset. No abrupt cutoff of previous effect. Dual engines programmable with Neuro Desktop Editor for decay rate of 1st reverb.
The Official Ventris Dual Reverb Demo Video
Reverb Engines
Source Audio's two man engineering team of Bob Chidlaw and Jesse Remignanti took extreme care in crafting the Ventris Reverb's exceptionally spacious tones, covering all the bases from beautifully natural reverberations to haunting "unnatural" tones. The Ventris Dual Reverb includes 12 onboard reverb engines as well as an ever-expanding collection of reverb effects available via the Neuro Mobile App or Neuro Desktop Editor.
Additional Features and Specificiations
Spring Reverb
The True Spring engine leverages Ventris Dual Reverb's power to simulate the nuances of classic spring reverb amps, including the well-known "drip." To create it, Bob Chidlaw drew on his expertise—from Kurzweil to Soundblox 2 Dimension Reverb. The result? A supremely natural sound.
Pedal Features
Over 20 Reverb Engines — Ventris features 12 onboard reverb engines accessible via the center selector wheel, plus an expanding collection of reverb engines available via the Neuro Desktop Editor and Mobile App.
128 Presets — Save up to eight presets accessible via the onboard controls or save up to 128 presets recallable with MIDI program change (PC) messages.
Dual Reverb Processing — The Ventris Dual Reverb features two independent signal processors giving the pedal essential features like preset spillover and dual reverb effects.
True Spillover — Two individual signal processors make it possible to change from one preset to another without abruptly cutting off the reverb tail of the original preset (Note: Spillover is unavailable when creating simultaneous dual reverb effects (A+B on the toggle switch)).
Simultaneous Reverb Processing — Select the A + B toggle switch position and create dual reverb effects. Run two reverbs simultaneously in parallel, series, or left/right signal paths.
Selectable Footswitch — Choose from a variety of OPTION Footswitch assignments. Control options include preset scrolling, A to B or A plus B reverb toggling, reverb hold, runaway reverb, and tap tempo.
Hold (a.k.a. "Freeze") Control — Use the OPTION switch to hold a small portion of the reverb tail in a continuous loop, essentially sustaining a note or chord until the footswitch is released. While the Hold function is engaged it is possible to play over the top of the loop with either a dry signal or the dry/wet signal from the second reverb processor.
Runaway Reverb — Similar to the Hold function, the Runaway Reverb uses the OPTION switch to loop a small portion of the reverb trail. But rather than maintaining a steady sustain, the loop is feed back into the reverb processor, creating a building self-oscillation effect.
A to B Reverb Toggling — Use the OPTION switch to toggle between any preset's A and B reverb, or use it to toggle from a single reverb to reverb A + B.
Stereo Input and Output Jacks — Create dramatic stereo reverb effects or set up an external effects loop.
Analog Dry Through — For most of the reverb engines and signal routing options the dry signal remains an analog signal and does not pass through the signal processor at any stage while the pedal in engaged.
Deep Editing Functionality — Adjust additional parameters, save and share personal presets, and download bonus reverb engines with the Neuro Desktop Editor or Mobile App. (Check the Neuro tab for more details).
Complete MIDI Functionally — Receives MIDI program change (PC) or continuous controller (CC) via the 5-pin MIDI DIN Input (also includes a MIDI Thru jack), the USB port, or in conjunction with the Neuro Hub.
Universal Bypass — Select either buffered or true bypass.
Trails Mode — Rather than abruptly cutting off the reverb trails upon bypassing the effect, Trails Mode allows the Ventris Reverb's trails to decay naturally.
Expression Control — Program simultaneous expression control to multiple knobs with independent depth and direction assignments for each. Compatible with all Source Audio expression pedals, the Hot Hand 3 Universal Wireless Effects Controller, and 3rd party 1/4" TRS (tip hot) expression pedals.
​External Switching Capabilities — Choose from a variety of external control options with an external 1/4" TRS (tip hot) footswitch. Control options include preset scrolling, hold, runaway, tap tempo, and processor toggling.
Neuro Editor Features
Connect the Ventris Dual Reverb to the Neuro Desktop Editor or the Neuro Mobile App for free downloads and effect customization, downloading and sharing.

Free Effects Downloads — Access a growing library of additional effect engines. Edit those engines and burn them to any position on the effect selector or any of the pedal's 128 presets.
Customize Effects — Make deep editing changes with the Neuro Editor's huge collection of additional parameters.
Save and Share Customized Presets — Fine tune your reverb effect, then save it to your personal effects library and easily share it with the growing community of Neuro users.
Download Presets — Explore Source Audio's ever-expanding, library of free effect presets.
Simple Connection — The Neuro Mobile App. connects with the Ventris Dual Reverb via the mobile device's headphone jack and stereo Input 2 on the pedal. A Neuro App connector cable (1/8" to 1/4") is included with the pedal. The Neuro Desktop Editor connects to your computer via the mini USB port on the top of the pedal.
Join the Neuro Community — Visit the Web tab on the Neuro Mobile App or the Neuro Collective page on the Source Audio website and download from the ever expanding library of Ventris Reverb presets created by other Neuro Community members.
MIDI Features
Using the MIDI IN jack (5-pin DIN) or a USB connection, the Ventris can be controlled by generic MIDI Continuous Controller (CC) and Program Change (PC) messages. Many of the Ventris's parameters (even those that are not assigned to a control knob) are directly accessible via MIDI continuous controller messages.
Preset Saving / Program Change (PC) Messages — Save up to 128 effect presets recallable with MIDI PC messages.
MIDI Continuous Controller (CC) Messages — Control individual parameters or specific pedal functions with MIDI CC messages. Accepts multiple CC messages simultaneously (the number of possible simultaneous CC messages varies depending on the message complexity)
5-Pin MIDI DIN Ports — Send MIDI program change (PC), continuous controller (CC), and clock messages to the Ventris via its MIDI IN jack. Pass MIDI messages on to other pedals with the MIDI THRU jack.
USB Port — Send MIDI program change, continuous controller, and clock messages to Ventris via its USB port.
Neuro Hub — Connect the Ventris to the Neuro Hub and send receive MIDI messages via the pedal's 1/8" Control Input.
Specifications
Includes 9v DC power supply (400mA / Negative Tip)
Includes 1/8" to 1/4" cable for Neuro Mobile App connection.
Power Consumption — 280mA
Brushed anodized aluminum housing.
Dimensions: L: 4.5 in./11.4cm x W: 4.5 in./11.4cm x H: 2 in./5.1cm (including knobs)
Weight: 1 lb./0.45 kg.
Maximum Input Level: +6.54 dBV = 8.76 dBu = 2.12 V RMS = 6.0 V p-p
Full Scale Output Level: +6.54 dBV = 8.76 dBu = 2.12 V RMS = 6.0 V p-p
Input Impedance: 1 MegaOhm (1 MΩ)
Output Impedance: 600 Ohm (600 Ω)
110 dB DNR Audio Path
24-bit Audio Conversion
56-bit Digital Data Path