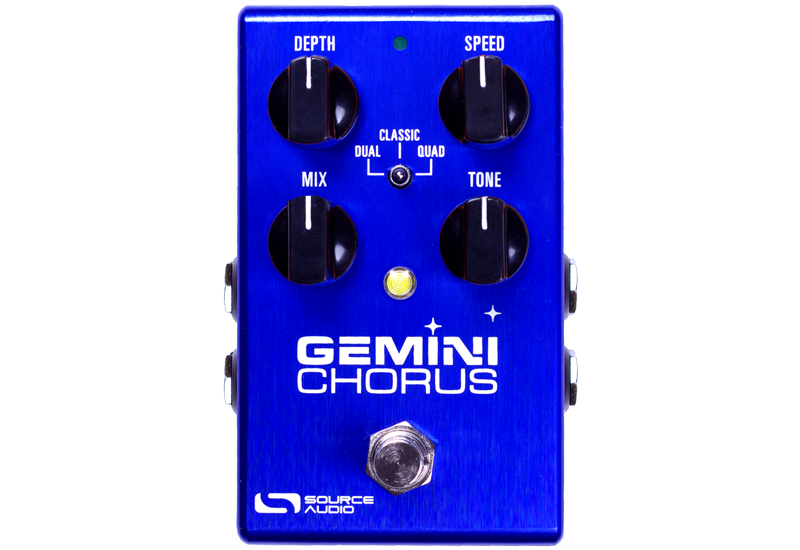 Gemini Chorus
📦 Ships same day when ordered by 2pm PST. 🛍 Local pickup available daily. Contact us for more information. 💜
Source Audio Gemini Chorus
Float away with the liquid, swaying effects of this state-of-the-art stereo chorus pedal. The Gemini Chorus offers three types of deep, hypnotic chorus. Classic mode creates a single voiced effect that conjures subtle and creamy tones from the first wave of 1970s chorus pedals. The thick and rich Dual Chorus provides a smooth, yet animated double voiced effect. The lush and spacious Quad chorus recaptures that '80s vibe with its less than subtle rack system sound. Once you've found your chorus, dial in the sweet spot with the onboard Mix and Tone controls.
The Official Gemini Chorus Demo Video
Neuro Editing System
Job one in the development of the Source Audio One Series modulation pedals - the Gemini Chorus, Lunar Phaser, and Mercury Flanger – was to create three great sounding, flexible, and easy-to-use pedals. Out of the box, that's exactly what they are – plug 'em in, select from the three onboard flanger, phaser, or chorus engines and make beautiful music… simple. But there is much more here than meets the eye (and ear) - the truly "Big Idea" behind our One Series modulation pedals was to give musicians a second, far deeper, set of options and editing tools with which to craft the perfect tone. The Neuro Mobile App is a free downloads for iOS and Android. The Neuro basically gives you access to the effects of all three pedals, so when you buy any one of the Lunar Phaser, Mercury Flanger or Gemini Chorus, you're essentially buying all three. The Neuro Editors offer a huge collection of chorus, flanger, and phaser engines as well as an expanded set of editing parameters. After editing your preset, burn it directly to the pedal and access it without reconnecting the Neuro App.
LEARN MORE ABOUT THE NEURO EDITORS
Additional Features and Specifications
Pedal Features
3 Distinct Chorus Effects.
3 Presets — use Preset Mode to save a different preset to each of the three toggle switch positions. When the pedal is engaged, all of the parameters instantly jump to their saved value, regardless of the knob positions.
Stereo Input and Output Jacks — Create deep and wide stereo modulation or engage one of the Gemini's many Signal Routing options (see Neuro App Features for details).
Universal Bypass — Select either analog buffered or relay based True Bypass.
Expression Control — Compatible with Source Audio expression pedals and the Hot Hand 3 Universal Wireless Effects Controller.
Tap Tempo — Sync your flanger modulation rate to the rest of the band with Source Audio's External Tap Tempo switch. Set beat divisions (quarter, eighth, triplet, and 16th) with the Speed knob.
Neuro Editor Features
​Connect the Gemini Chorus to the Neuro Mobile App (a free download for iOS and Android) and explore the power of effect downloading, customization, and sharing that comes with every Ones Series pedal.
Interchangeable Algorithms — It is possible to download ANY of Source Audio's phaser, flanger, and chorus algorithms directly to your Gemini Chorus for no additional cost. The same goes for the Lunar Phaser and Mercury Flanger, so owning one of Source Audio's One Series modulation pedals is essentially like owning all three.
Customize Effects — Tweak an additional set of parameters including Wet/Dry Mix, Output Level, Tremolo, a Parametric EQ, Lo Retain, Wave Shapes, and more.
Save and Share Customized Presets — Once you've fine-tuned an effect, save it to your personal effects collection and share it with the growing community of Neuro users.
Download Presets — Explore Source Audio's ever-expanding library of effect presets.
Envelope Follower Mode — Set the modulation source to envelope follower and control your chorus modulation in the style of pick sensitive "auto wah" effects.
Signal Routing Options — Re-route the stereo Inputs and Outputs in a number of different ways including True Stereo, Mono to Stereo, Dual Mono, Sidechain Envelope, External Effects Loop, and more.
Simple Connection — The Neuro App. connects with the Gemini via the mobile device's headphone jack and Stereo Input 2 on the pedal. A Neuro App connector cable (1/8" to 1/4") is included with the pedal.
MIDI Features
The Gemini Chorus also features full MIDI capability and simplicity when coupled with the Neuro Hub (formerly Soundblox Hub).
Preset Saving – Save up to 128 effect presets (including phaser and flanger effects).
Multi Pedal Scene Saving – Connect up to five One Series and Soundblox 2 pedals to the Neuro Hub and create 128 multi pedal scenes, recallable via MIDI program change messages.
External Expression Control – Connect the Neuro Hub to any Source Audio expression pedal, Hot Hand 3 Wireless Effects Controller or third party TRS (Tip Hot) expression pedal and manually control effect modulation or assign individual or simultaneous expression control to any adjustable parameter.
MIDI Clock – Sync your chorus modulation with external MIDI clock messages.
Specifications
Includes 9v DC power supply (300mA / Negative Tip)
Includes 1/8" to 1/4" cable for Neuro Mobile App connection.
Power Consumption — 150mA
USB port — Connects to Mac or Windows PC for firmware updates and the forthcoming in-depth effects editing software.
Brushed anodized aluminum housing.
Dimensions: L: 4.5 in./11.4cm x W: 2.75 in./7cm x H: 2 in./5.1cm (including knobs)
User Manual and Tips & Tricks
GeminiChorus_User_Manual.pdf
Download File