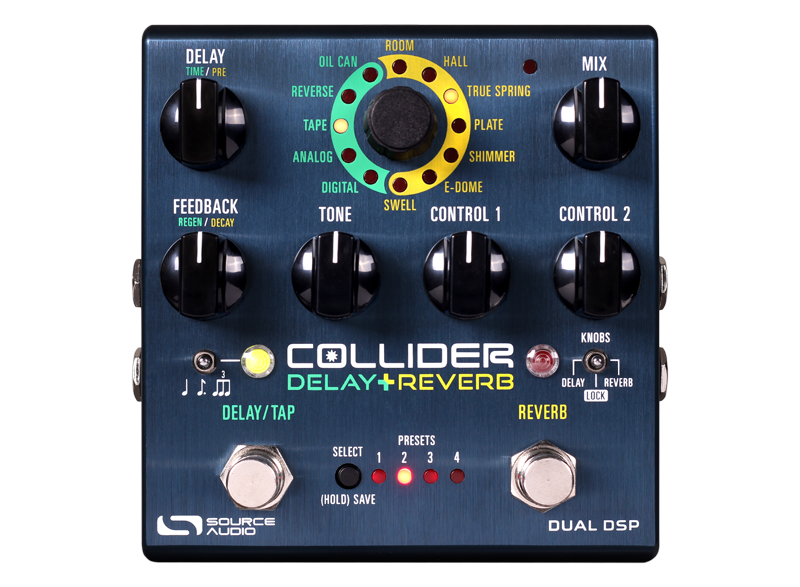 Collider Delay+Reverb
📦 Ships same day when ordered by 2pm PST. 🛍 Local pickup available daily. Contact us for more information. 💜
Source Audio Collider Delay+Reverb
Design complex soundscapes quickly with Collider Delay+Reverb: 12 effects, one compact housing, massive power, and simple control. Intuitive mix-and-match two-engine delay and reverb. Dual footswitches for individual live performance.
The Collider provides a variety of enriching sounds, including vintage Analog, Tape, and Oil Can Delays, classic Spring and Plate Reverb, acoustic spaces, Reverse Delay, and Shimmer Reverb.
Sleek Hardware Design & Processing Muscle
"Until now, the only way to access a high-end collection of reverbs and delays was to purchase two large expensive pedals. We have broken through this barrier with Collider.  Now you can have access to a collection of the best reverbs AND the best delays all in the same compact design." -Source Audio President Roger Smith
Collider provides high-end delay and reverb effects in a powerful, sleek design with immense processing power and simple functionality. Featuring two 56-bit processors, it essentially doubles as both a reverb and delay pedal. Create grand tones with any two-effect combo of delay/reverb, delay/delay, or reverb/reverb.
This versatile pedal offers analog dry through, stereo I/O, true/buffered bypass, 8/128 presets w/ MIDI, tap tempo, reverb hold, expression/preset switching, & Neuro editors.
The Official Collider+Delay Demo Video
Neuro Editing System
The Collider Delay+Reverb is a supremely powerful pedal on its own, but the Neuro App for mobile or desktop offers a higher level of flexibility. The Neuro Desktop Editor and Neuro Mobile App are free downloads for iOS, Android, Mac, and Windows. Neuro offers a useful set of hardware options, alternate routing options, and an intuitive sound editing interface for creating presets. After editing your preset, burn it directly to the pedal and access it easily without reconnecting the Neuro App. LEARN MORE ABOUT THE NEURO EDITORS
Every Last Detail...
Bob Chidlaw and Jesse Remignanti crafted perfect delay and reverb effects in the Collider. Vintage units and modern sounds alike shine, offering exemplary depth and detail. Hear demo videos below, crafted by friend Ryan Lutton.
Room Reverb
Hall Reverb
True Spring Reverb
Plate Reverb
Shimmer Reverb
E-Dome Reverb
Swell Reverb
Digital Delay
Analog Delay
Tape Delay
Reverse Delay
Oil Can Delay
Additional Features and Specificiations
Effect Engines
12 Hand-Picked Delay + Reverb Engines:

Room Reverb: The ROOM engines capture the ambient reverberations of a real acoustic space. The ROOM engine can summon a variety of room sizes from a warm and intimate household room to a larger theatre sized space.

Hall Reverb: Patterned after the lush sounds of studio rack units from the 80s, the HALL L engine is distinguished by its highly diffuse tones and glorious blooming characteristic.

True Spring Reverb: Source Audio's Chief Scientist, Bob Chidlaw, worked long and hard to perfectly capture the sweet idiosyncrasies of a vintage spring reverb tank. The result is an exceptionally realistic effect with the unmistakable "drip" heard in vintage spring reverb equipped amplifiers.

Plate Reverb: This authentic sounding reverb engine is a spot-on simulation of the highly diffuse effect synonymous with vintage plate reverb units of the 50s and 60s.

Shimmer Reverb: This pitch shifting reverb engine mixes traditional room sounds with octave-up reflections for an angelic reverb effect.

E-Dome Reverb: The cavernous E-DOME (a.k.a. "Enormo-Dome") produces long, lush reverb trails that linger for days. Invoke the sound of massive, arena settings with the Ventris Reverb's largest room simulation. This one is huuuuge.

Swell Reverb: Creates smooth, amorphous volume swells. This engine applies a volume swell effect to your instrument's dry signal, which is then fed into the reverb effect for super-long and ambient clouds of sound. This effect is great for creating soft, atmospheric chord pads.

Digital Delay: A pristine and unfiltered digital repeats.

Analog Delay: This delay engine reproduces the characteristic dark sound of bucket brigade analog delays.

Tape Delay: A detailed re-creation of classic moving-head tape delays. Repeats are bandwidth limited and have artifacts characteristic of tape delay, such as filtering, preamp saturation, noise, wow and flutter.

Reverse Delay: A classic reverse tape sound that became popular in 60s psychedelic rock. The TONE knob can create several overlapping reversed delays that fade in and fade out regularly to create a pulsing tremolo effect.

Oil Can Delay: This is a dark, jangly, warbling and distorted delay inspired by old oil can designs that previously appeared in the "Extended Delay Engines" on the Nemesis.
Pedal Features
Stereo Inputs & Outputs

 

– Create a lush stereo spread with true stereo inputs and outputs
Dual Processing

 

– Features two completely independent processors – essentially providing two high-powered pedals in a single enclosure.
Analog Dry Through

 

– When utilizing either delay or reverb, your signal still has an analog dry through path.
Universal Bypass

 

– Select between true bypass, buffered bypass, or soft bypass with reverb trails. The Collider features high-quality signal relays for true bypass and transparent buffers for analog bypass.
Compact Design

 

– The extruded anodized aluminum housing, with its slim profile and small footprint, is built for the rigors of the road.
128 Presets

 

– Save your favorite sounds with the touch of a button.  Save up to 8 presets recallable with the pedal's onboard controls, plus a total of 128 presets recallable with an external MIDI controller.
Dual Delay or Reverb Control Set

 

– The Neuro Mobile App and Neuro Desktop Editor provide access to "unlock" either side of the pedal, giving you access to the opposite side regardless of the switch position, meaning it is possible to use Collider as a Dual Delay pedal or a Dual Reverb pedal, and to switch the order of the effects.
Tap Tempo

 

­– Tap in the delay time with the onboard tap tempo switch. Beat divisions include quarter notes, dotted eighth, and triplets
Reverb "Hold" Mode

 

– Hold or "freeze" your reverb trail by holding down the REVERB switch when reverb is engaged to create a massive, ambient wall of sound, or a pad to play on top of.
Knobs "Lock" Switch

 

– Flip the KNOBS switch to the center position to lock your controls in place, protecting your settings from accidental bumps in a live setting.
Complete MIDI Functionally – Send MIDI program change (PC), continuous controller (CC), or MIDI clock messages via the 5-pin MIDI DIN Input (also includes a MIDI Thru jack) or the USB port.
Expression Control

 

– Easily configure the Collider to work with a variety of expression pedals and footswitches for various external control options
Discover Knob Positions

 

– Ever wondered where the knobs were set in another preset? With "Knobs Action After", you can discover these knob positions by rotating the knob until you see the Control LED flash. 
Neuro Editor Features
Connect the Collider Delay+Reverb to the Neuro Mobile App (a free download for iOS or Android) and explore the power of effect downloading, customization, and sharing that comes with every Source Audio One Series pedal.
Customize Effects — Make real-time editing changes with a virtual set of parameters.
Save and Share Customized Presets — Once you've fine-tuned an effect, save it to your personal effects collection and share it with the growing community of Neuro users.
Download Presets — Explore Source Audio's ever-expanding, library of free effect presets.
Simple Connection — The Neuro App connects with the Collider Delay+Reverb via the mobile device's headphone jack and stereo Input 2 on the pedal. A Neuro App connector cable (1/8" to 1/4") is included with the pedal.
MIDI Features
Preset Saving / Program Change (PC) Messages — Save up to 128 effect presets recallable with MIDI PC messages.
MIDI Clock — Sync your delay time with external MIDI clock messages.
MIDI Continuous Controller (CC) Messages

 

— Control multiple knob parameters simultaneously with MIDI CC messages. Program your CC messages to control any combination of knob parameters (as well as output level) and map an independent depth and direction path for each.
USB Port — Send MIDI program change, continuous controller, and clock messages to Collider via its USB port.
Multi Pedal Scene Saving with the Neuro Hub — Connect Collider (along with up to five One Series or Soundblox 2 pedals) to the Neuro Hub and create 128 multi pedal scenes complete with expression control, recallable via MIDI program change (PC) messages.
External Expression Control — Connect the Neuro Hub to any Source Audio expression pedal, Hot Hand 3 Wireless Effects Controller or third party TRS (Tip Hot) expression pedal and assign expression control to any combination of knob parameters.
Specifications
Includes 9v DC power supply (300mA / Negative Tip)
Includes 1/8" to 1/4" cable for Neuro Mobile App connection.
Power Consumption — 300mA
USB port — Connects to Mac or Windows PC for MIDI control of firmware updates.
Brushed anodized aluminum housing.
Dimensions: L: 4.5 in./11.4cm x W: 4.5 in./11.4cm x H: 2 in./5.1cm (including knobs)
Wieght: 1 lb./0.45 kg.