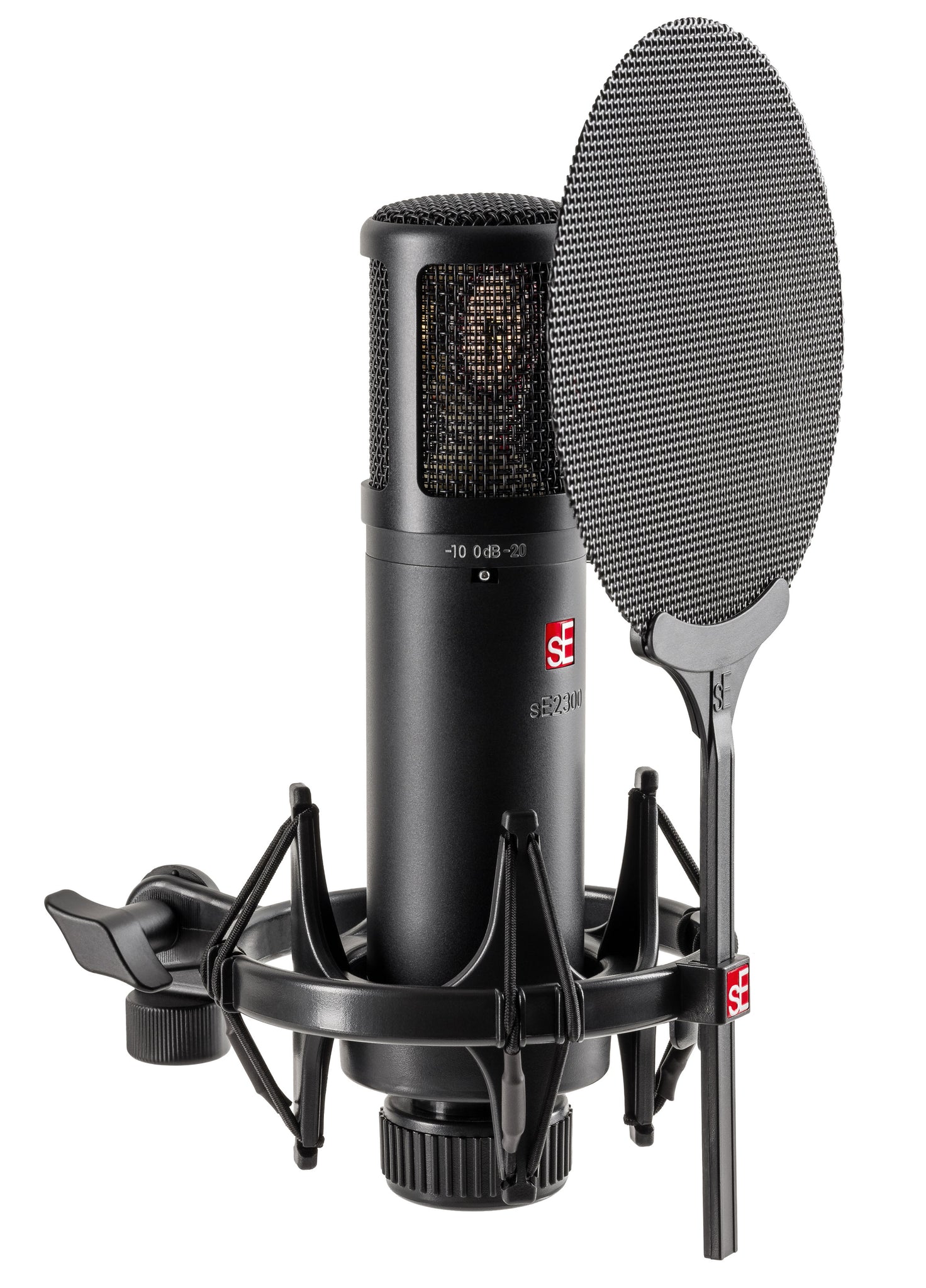 sE2300
Meet the sE2300: The versatile classic from sE.
The sE2300 is the latest multi-pattern version of the award-winning 2200 condenser microphone that put sE Electronics on the map many years ago with its smooth, polished sound for vocals, voiceovers, and numerous instrumental applications. The cardioid version grew famous through use with world-class vocal artists like Amy Winehouse, and this multi-pattern version only increases its versatility, enhancing its usefulness for any instrument and reviving the spirit of the world's most classic studio microphones.
Given the revered status of its predecessors, sE has remained true to the original capsule design, custom-built transformer and class-A circuit topologies, so it's still the same condenser microphone loved by a whole generation of engineers.
(an older version sE2200a)
State-of-the-art components and a shorter, optimized signal path provide even better noise performance & clarity, multiple patterns and new pad & filter options increase its versatility, and the fit & finish has been updated with sE's latest manufacturing techniques - but the sE2300 retains all the classic sound of the original.
HANDCRAFTED 1" TRUE CONDENSER CAPSULE
Built like the world's finest musical instruments, every capsule is hand-crafted and individually tuned in our very own factory in Shanghai - and unlike other microphones with backplate or electret designs, the sE2300 features a true externally polarized condenser capsule, and therefore delivers the best possible performance in every aspect.
THREE SELECTABLE POLAR PATTERNS
The 3-position Pattern Switch is located on the rear side of the microphone, and allows the sE2300's polar pattern to be changed from omnidirectional to cardioid to figure-eight. This allows for great control over the balance between direct and ambient sound.
TRADITIONAL CLASS-A ELECTRONIC DESIGN
Its carefully selected, discrete components ensure brilliant sound quality on any source. The sE2300's design still avoids using any ICs (integrated circuits) and is built to excel – not to a standard. Low noise, consistent performance and high sensitivity is provided by state-of-the-art surface-mounted electronic components with extremely tight tolerances.
TWO SWITCHABLE ATTENUATION LEVELS & LOW-CUT FILTERS
The -10 dB and -20 dB pad switches provide extended dynamic range, enabling a wide variety of applications and close-mic techniques for even the loudest instruments...think super-heavy electric guitars, fortissimo brass instruments, and heavy-footed kick drums.
Selectable at either 80Hz or 160Hz, the two low-cut filters help eliminate low-frequency rumble or footfall noise, as well as help compensate for excessive bass (proximity effect) with close-mic techniques.
CUSTOM-BUILT OUTPUT TRANSFORMER
Reviving the spirit of classic studio microphones, the sE2300's custom transformer provides superb depth & weight to the overall sonic image, and the massively shielded metal housing ensures noise-free operation.
ALL-METAL HOUSING & PREMIUM FINISH
Unlike the cheaply constructed bodies of some other affordable microphones, the sE2300's all-metal chassis provides efficient rejection of any electrical interference and noise - and the high-quality finish ensures a great look for years to come.
GOLD-PLATED XLR CONNECTOR
Ensures loss-free, reliable signal connection for years and years and years and...
THE ISOLATION PACK
For situations where greater rumble control and 'plosive protection is desired, this bundle also includes sE's Isolation Pack. With the twist of a single knob, the mount attaches quickly and securely to the microphone, and is removable with the same simple motion. This allows the mic to be set up quickly and easily - no adjustments, no hassle.
The Isolation Pack also comes equipped with sE's curved metal pop filter, which efficiently slots in to the shockmount and is vertically adjustable for best performance.
IN THE BOX
sE2300 Studio Condenser Microphone

Isolation Pack (shockmount, pop filter)

Thread adapter

sE Logo sticker

User manual with warranty card
SPECIFICATIONS
Capsule Type: Hand-crafted 1" True Condenser
Polar Pattern: Cardioid, Omni-directional, Figure-8
Frequency range: 20 Hz - 20 kHz
Sensitivity: 24 mV/Pa (-32.5 dBV)
Max SPL: 126 / 136 / 146 dB (0/10/20 dB pad) (0.5% THD @ 1kHz)
Equivalent noise level: 9 dB(A)
Dynamic range: 117 / 127 / 137 dB (0/10/20 dB Attentuation pad)
Signal to Noise Ratio: 85 dB
Low-cut filter: 80 / 160 Hz, 6 dB/Oct, switchable
Attenuation Pad: 10 / 20 dB, switchable
Powering: 48 Volts according to IEC 61938
Electrical Impedance: 40 Ohms
Recommended load impedance: >1k Ohms
Current consumption: 4.8 mA
Connectivity: 3-pin male XLR connector
Dimensions: Diameter: 51mm (2.01 in), Length 215mm (8.46 in)
Weight: 611 g (21.55 oz.)
GET THE MANUAL
USER QUOTES
"I love the sE2200. It's an absolute war horse. We use it in our band's studio and we take it on tour - it can handle being chucked in my backpack, which is what we need on the road. Great bang for your buck, and I love having the freedom of plug & play immediately."
- Matt Barnes, You Me At Six
---
"The sE Electronics sE2200 is an amazing microphone. It delivers a high resolution, an open, complete and slightly 'modern' frequency response in the broad sweet spot and a functional equipment - for really very little money."
"...it is amazing how 'big' and 'noble' a microphone can sound for this price."
- Nick Mavridis, Bonedo.de, 2017 (full review - German)
---
"I have used my 2200 primarily as a vocal mic, and have found pleasing results on a broad range of vocal timbres. Its subtly vintage yet highly detailed sound plays great with both solid state and tube preamps."
"When in doubt on how to get the tone I'm looking for, I always try this mic first, and rarely need to reach for a second."
- Josh Turner, Singer / Arranger / Multi-Instrumentalist / Engineer - sE Artist
---
"You can get better quality if you pay 10 times the price, but the difference is less than you might expect."
- Paul White, Sound On Sound, 2003 (full review)