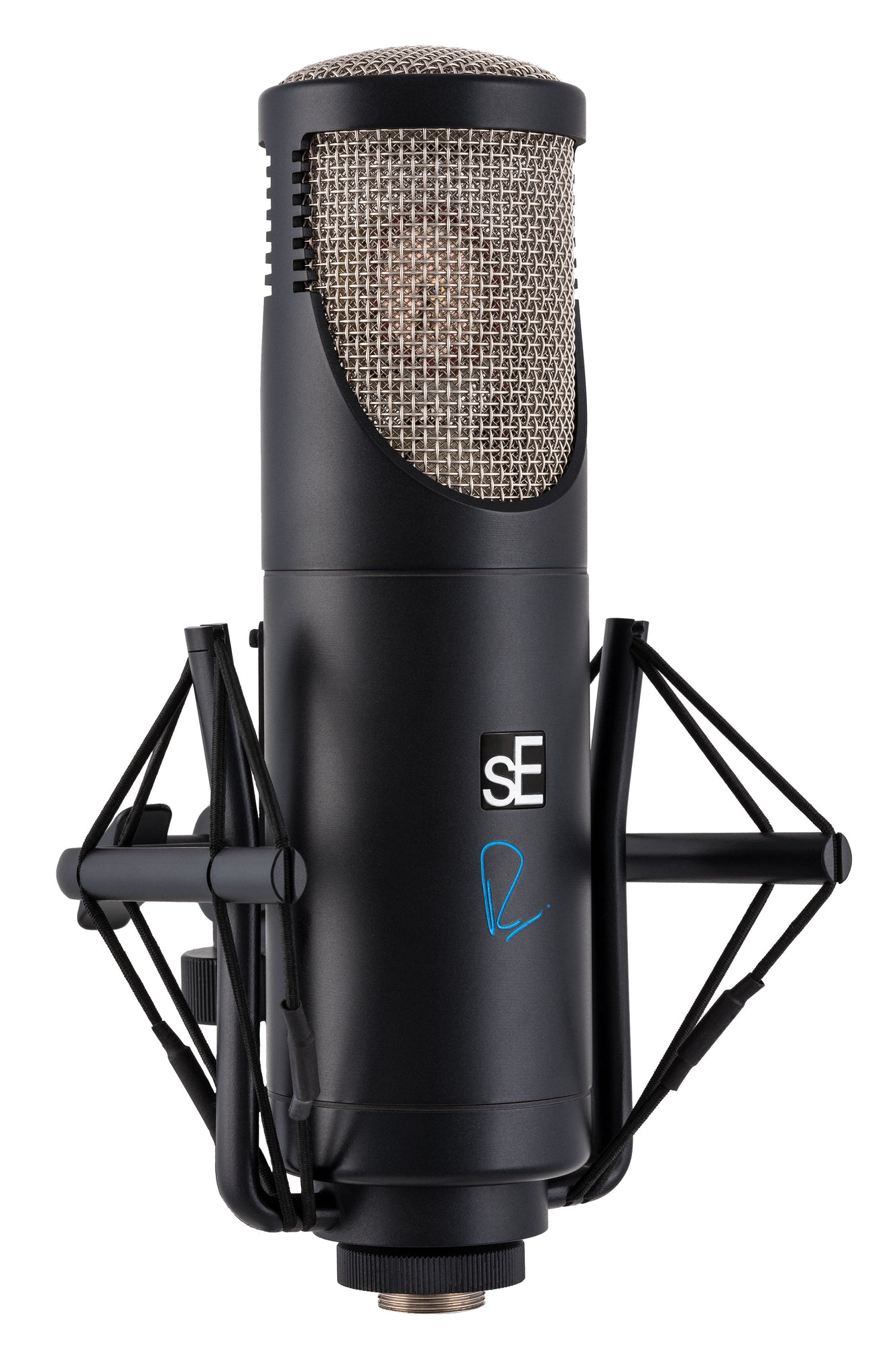 RNT Rupert Neve Signature
🚚 Ships in 5 business days. Special-order this microphone and we'll make it worth your wait. Contact us for more information. 💛
The RNT: A new flagship tube microphone from sE Electronics and Rupert Neve Designs
Delivers the pristine, musical sonic character and uncompromising performance of the world's most prized recording equipment.
The RNT is the third microphone in the collaboration between sE Electronics and Rupert Neve Designs, founded by the legendary audio designer Mr. Rupert Neve.
Mr. Rupert Neve & Mr. Siwei Zou at the Rupert Neve Designs office in Texas, October 2014.
Much like the RNR1 Active Ribbon and RN17 Small-Diaphragm Condenser, the RNT is something truly special, developed over several years of careful listening and measurement by Mr. Rupert Neve, Mr. Siwei Zou, and the engineering teams from both Rupert Neve Designs and sE Electronics.
All in all, this new flagship tube microphone brings the larger-than-life sounds of classic studio microphones into the modern age with greater depth and clarity than ever before.
The RNT utilizes fully discrete, Class-A electronics throughout both of its active stages.
The first stage is tube-based, with a hand-selected, low-noise ECC82 tube within the microphone chassis, and implementing a custom-built Rupert Neve Designs output transformer.
The second stage is within the floor box – which controls polar pattern, filter and gain switching – and is also coupled with a second custom-made Rupert Neve Designs output transformer.
"A tube has a lot of qualities which are very desirable, and it has a particular quality of sound to it."
"If you get the size of the diaphragm of the microphone right, and you get the frequency response and the directional properties, and all the myriad of other qualities right, it is symbiotic with the tube's performance."
- Mr. Rupert Neve
This second stage is is built around the same custom op-amps used in Rupert Neve Designs' flagship 5088 recording console, known worldwide for its unrivaled transparency and headroom.
The custom handcrafted large-diaphragm true condenser capsule is the finest capsule sE has ever made, born from years of rigorous testing and listening, and developed and constructed by hand in sE's own factory.
The Class-A electronics and switchable gain ensure a massive dynamic range, with high sound pressure level (SPL) handling capability and extremely low-noise components, and the switchable low-cut filters eliminate rumble or footfall noise, and can also compensate for an excess of bass frequencies caused by the proximity effect.
This enables the RNT to close-mic many instruments including electric guitar speaker cabinets, brass instruments and drums.
Lastly, the 9-position polar pattern switch allows for omnidirectional, cardioid, and figure-eight pickup patterns (plus several positions in between each) for precise tailoring of the balance between direct and ambient sound when recording with the RNT.
INSIDE THE MICROPHONE
HAND-CRAFTED, GOLD-SPUTTERED 1" TRUE CONDENSER CAPSULE
The finest and most complex capsule sE has ever built

Hand-crafted and individually tuned in our very own factory

Refined electrode design delivers supremely natural sound quality
NINE SELECTABLE POLAR PATTERNS
Precisely-tuned dual-diaphragm capsule design allows you to choose the perfect setting for every application

Minimize unwanted signal bleed with ease
HAND-SELECTED ECC82 TUBE & CUSTOM RUPERT NEVE DESIGNS AUDIO TRANSFORMER
Each microphone-grade tube is carefully selected and pretested in-house

Allows for stunning realism and depth in recordings

Unique tube circuit design optimized for driving the first custom-made transformer
HAND-CRAFTED METAL HOUSING WITH PREMIUM FINISH
All-metal construction built with highest attention to detail

Efficient rejection of any electrical interference and noise

High quality finish ensures a great look for many years
INSIDE THE FLOOR BOX
A SECOND CUSTOM-BUILT RUPERT NEVE DESIGNS AUDIO TRANSFORMER
Designed for sweet, musical performance and bulletproof isolation

Provides the legendary sonic character of Rupert Neve's famous transformers
CUSTOM-MADE, DISCRETE CLASS-A RUPERT NEVE DESIGNS AMPLIFICATION
Delivers the sonic character and performance expected from the world's most prized recording equipment

Utilizes the same operational amplifiers found in Rupert Neve Designs' flagship 5088 console

These discrete op-amps ensure enormous headroom, ultra-wide bandwidth, zero crossover distortion, and quality without compromise
ACTIVE GAIN STAGE WITH THREE SWITCHABLE LEVELS
Provides 24dB of extended dynamic range for a wide range of applications

Discrete Rupert Neve Designs op-amp cards ensure pristine performance

Suitable for everything from delicate ambience recordings to close-miking of extremely loud instruments and voices
TWO SWITCHABLE ACTIVE LOW-CUT FILTERS
Custom Rupert Neve Designs op-amps implemented for best possible sound quality

Reduce unwanted rumble or foot-fall noise, or compensate for proximity effect
The RNT is sE's new flagship large-diaphragm condenser microphone, and proudly stands alongside the RNR1 and RN17 in being what we believe are some of the finest and most unique microphones ever produced.
Hear all the sE / Rupert Neve microphones in this special sEssions recording from Esplanade Studios in New Orleans.
WHAT'S IN THE BOX
 RNT microphone
Custom shock-mount
RNT Floor Box (Power Supply)
8-pin cable (to connect mic to floor box)
IEC power cable
Wooden microphone box
Flight case
sE logo sticker
User manual with warranty card
SPECIFICATIONS
Capsule: Handcrafted 1" diaphragm true condenser
Tube Complement: 1x 12AU7/ECC82
Polar Patterns: 9 (omni, cardioid, figure-8, plus 3 steps between each)
Frequency range: 20 Hz - 20,000 Hz
Sensitivity: 16 mV/Pa (-36 dB)
Gain: -12 / 0 / +12 dB, switchable
Max SPL: 151 dB
Equivalent Noise Level: 18 dB(A)
Dynamic Range: 133 dB
Signal to Noise Ratio: 76 dB
Low Cut Filter: 40 / 80 Hz, 12 dB/oct, switchable
Electrical Impedance: 30 Ohms
Recommended Load Impedance: >2k Ohms
Connectivity: 3-pin male XLR connector (floor box)
Microphone Dimensions: Diameter: 62 mm (2.44 in.), Length: 240 mm (9.45 in.)
Microphone Weight: 989 g (34.90 oz.)
Floor Box Dimensions: 356 x 135 x 100 mm (14.02 x 5.31 x 3.94 in.)
Floor Box Weight: 3,905 g (137.79 oz.)