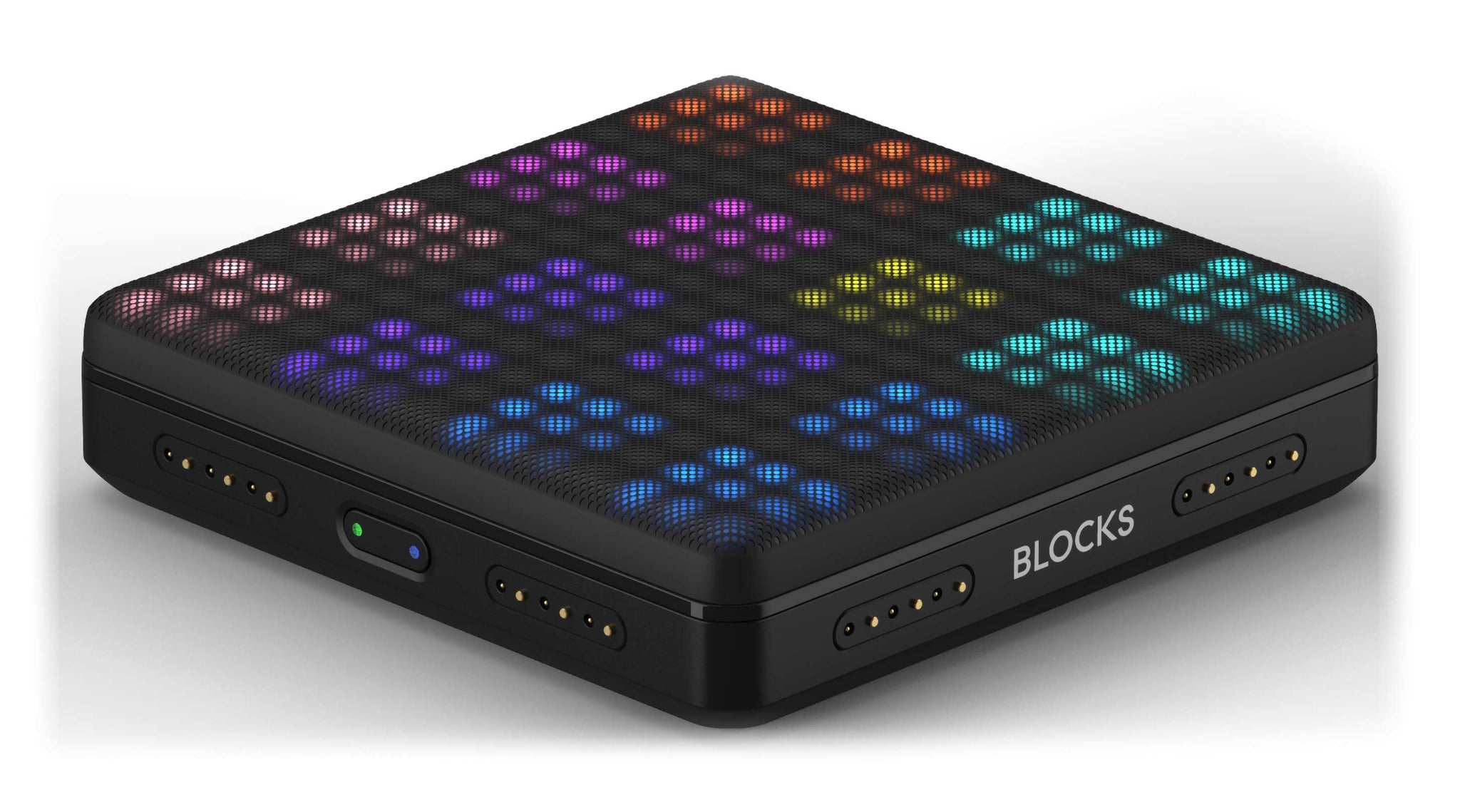 Lightpad Block Studio Edition
📦 Ships same day when ordered by 2pm PST. 🛍 Local pickup available daily. Contact us for more information. 💜
Lightpad Block Studio Edition
Super Powered Drumpad
Make beats in a way that was never possible before. The Lightpad Block lets you bend and shape drums and build your tracks, all at the touch of a finger. Now with ROLI Studio software.
The new way to make beats
ED-illuminated surface for playing and producing

5D Touch technology for intuitive sound shaping

Includes ROLI Studio Drums, the world's first MPE drums plugin

100s of MPE sounds in ROLI Studio for desktop

Connects to other Blocks with magnetic connectors

Lightweight and fits in one hand
Make every movement musical
Shape your sound on a soft, touch-responsive surface. From bending drums to shaping acoustic melodies, you'll create your tracks more expressively with Five Dimensions of Touch.
STRIKE: Strike to sound a note
SLIDE: Slide up and down to modulate a sound, for example to add brightness or texture
GLIDE: Glide your fingers from side to side to bend the pitch, like on a string instrument

PRESS: Press to deepen sounds, like a saxophone player does through breath

LIFT: Lift to change a sound's resonance
A brighter way to play and produce
LED illumination makes Lightpad Block more versatile than any other pad controller. Instantly reprogram it for a variety of playing and production modes.
Drums: Play beats on a 4x4 grid in ROLI Studio Drums
Melodies: Play melodies and chords on a 5x5 grid in ROLI Studio Player
Effects: Take control of up to 4 effects slots simultaneously in ROLI Studio Player and ROLI Studio Drums
Macros: Control 3 macros for every preset in ROLI Studio Player and ROLI Studio Drums
Reimagine your sound with ROLI Studio
Transforming the Lightpad Block, ROLI Studio is a new desktop software suite of industry-leading sounds, effects and production tools:
2 plugins: ROLI Studio Drums & ROLI Studio Player

500+ sounds, including 300+ MPE sounds

Presets from Equator, Cypher2, Strobe2 synths

Expansive audio effects and macros

Groundbreaking production tools like Smart Chords

Intuitive, easily navigable interfaces
Introducing ROLI Studio Drums
MIDI Polyphonic Expression (MPE) comes to drums for the first time in a plugin that revolutionizes beat-making.
Bend and warp drums sounds with 5D Touch

Create grooves instantly with intuitive gestures

Adjust up to 4 audio effects simultaneously
Play melodies with ROLI Studio Player
Go beyond drums, and enrich your track with melodic sounds. ROLI Studio Player includes 200+ synth, acoustic and hybrid-acoustic presets that you can shape expressively.
Tools for composing and producing faster
ROLI Studio has groundbreaking tools for producing tracks more creatively.
Smart Chords: play chords with every note in ROLI Studio Player

Multi-Layered Arpeggiator: create rhythmic sequences with 3 arp layers in ROLI Studio Player

Macros and effects: adjust your sound in real time with 3 macro controls and 4 effects slots
An array of supporting software
OLI Studio is at the center of a vast array of software tools that come with Seaboard Block Studio Edition.
synths and daws
Strobe2 - FULL license to Strobe2, the acclaimed synth from FXpansion. Includes 1100+ classic synth sounds, plus an analogue modelling engine for creating your own.
Ableton Live Lite - Turn your Lightpad Block into a controller for Ableton Live Lite, the renowned DAW. A custom ROLI Dashboard integration lets you play instruments, launch clips and navigate around your track on the illuminated Lightpad surface.
Traktion Waveform 8 - Create your tracks in a DAW built from the ground up for MPE-based productions. Tracktion Waveform performs seamlessly with the Seaboard's multidimensional expressive surface, and includes powerful but approachable editing tools.
Additional Tools
ROLI Dashboard - Take control of DAWs and plugins with your Blocks. ROLI Dashboard gives you everything you need to configure BLOCKS for your workflow, including custom apps for Logic Pro, Ableton Live and GarageBand.
ROLI Connect - Your gateway to music production. The ROLI Connect cloud platform lets you manage your Blocks, download your software suite, and more.
MaxMSP - Push the limits of musical creativity with a 6 month free trial of Max MSP, a free-form environment for plug-in development.
A Block that slots into your workflow
It's easier than ever to enhance any project, and improve your workflow with Lightpad Block.
ROLI Studio: load ROLI Studio Player and ROLI Studio Drums as plugins in your DAW, or as standalone apps
ROLI Dashboard: customize the Kit to control DAW features and your favorite software tools
Expands in a snap
Lightpad Block is part of an award-winning system of modular controllers. Expand in a snap through magnetic connectors.
Connect up to 4 Lightpads, and assign each to different functions

Connect to Seaboard Block, and control your performance in real time via the Lightpad Block

Connect to Live Block for faster control of performance and production parameters
For studio, stage and anywhere in between
Compact, lightweight, and super-powered, Lightpad Block works anywhere you make your music.
Perform on stage, and light up your sound for the crowd
Produce in the studio, on an ultra-compact controller
Transport it easily, and play anywhere

Lightpad Block Studio Edition
Lightpad Block.
ROLI Studio.
Ableton Live Lite.
Strobe2.
ROLI Dashboard.
ROLI Connect.
Max MSP License (Six Months).
USB-C to USB-A Cable.
Quick Start Guide.
One Year Full Warranty.
Tech Specs
Dimensions and Weight
Width: 94mm (3.7 inches).
Height: 21.8mm (0.86 inches).
Depth: 94mm (3.7 inches).
Weight: 260g (0.57 pounds).
Battery
4 hour battery life.
2 hour charge time.
Connectivity / Ports
USB-C port (MIDI out and power).
Full MIDI compatibility over USB and Bluetooth LE.
8 DNA connectors.
Power
USB / DNA Input Voltage: 5.0V ± 0.2V DC
Bluetooth
15 meter Bluetooth range.
Mac OSX only.
Compatibility
Desktop Requirements
Mac OSX 10.13+.
Windows 10+.
Intel Dual Core i5 2.5GHz+.
4 GB RAM (8 GB RAM recommended).
2 GB hard drive space.
Internet connection to register/download software.