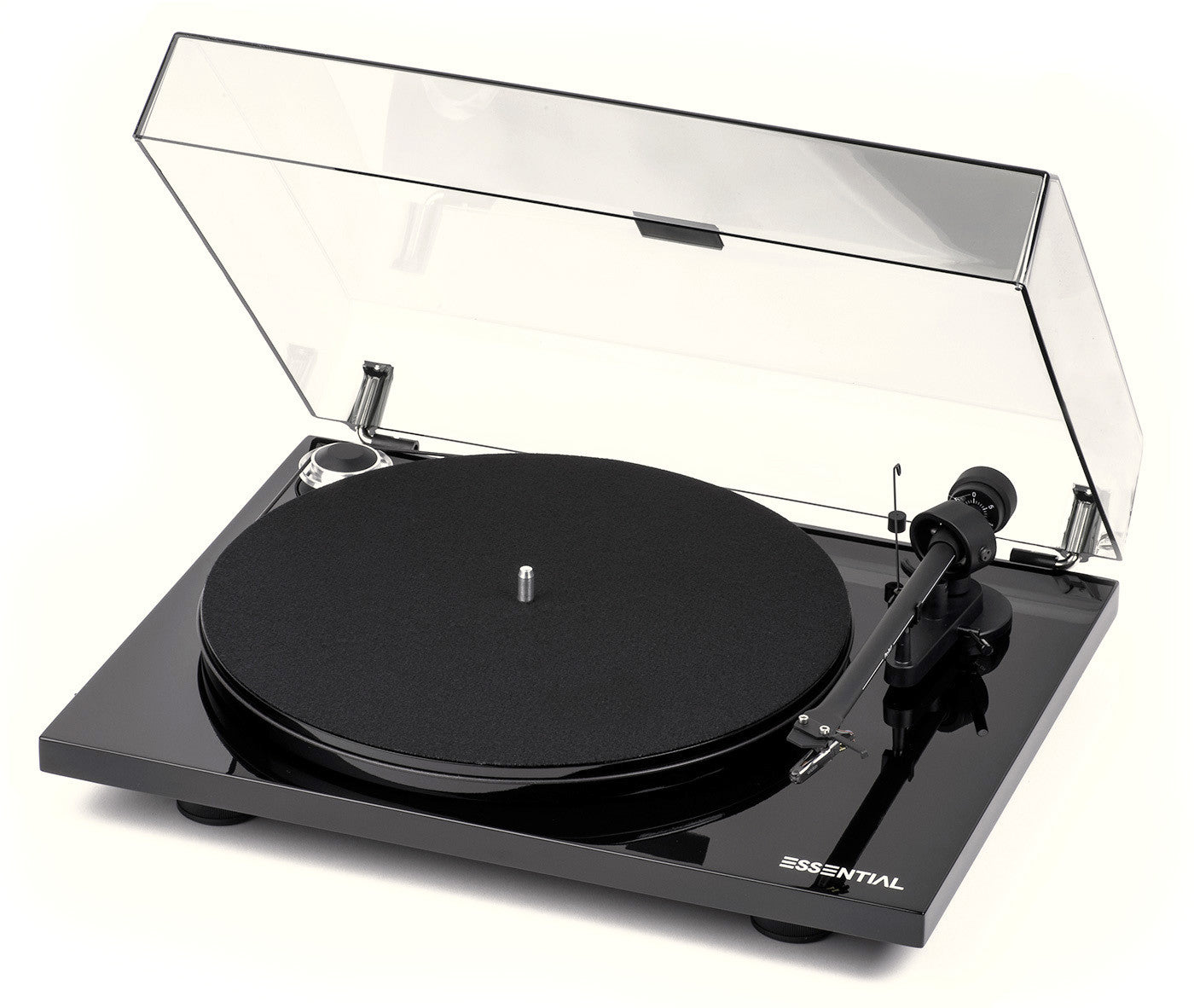 Essential III
📦 Ships same day when ordered by 2pm PST. 🛍 Local pickup available daily. Contact us for more information. 💜
The starter turntable of choice for audiophiles the world over!  

The new Essential III builds on the successes of the Essential II. The Essential II is a fabulous sounding turntable. It's the least expensive turntable on the market that includes both a high precision main bearing and a solid, adjustable tonearm that's based on the award winning Debut design. It's become the starter turntable of choice for audiophiles the world over. 

The new Essential III adds some nice upgrades compared to the Essential II. Cosmetically, the Essential III takes a cue from the award winning Debut Carbon DC, with a lustrous high-gloss finish that's available in Black, Red, or White. The platter also gets an upgrade: it's constructed of a dense MDF for minimal resonance and finished in a high-gloss piano black. The visual effect is striking, especially on the Red and White tables where the high-gloss platter contrasts nicely with the plinth. It looks really spectacular if you display it with some fun colored vinyl to accentuate the colors! The adjustable 8.6" one-piece aluminum tonearm is significantly more sophisticated than anything close to its price range, and utilizes sapphire bearings for minimal friction and many years of reliable performance. The Essential III also includes a factory mounted/aligned Ortofon OM10 cartridge. You won't find a better performing, better matched cartridge/tonearm combination in this price range.  

The main platter bearing is precision machined high grade stainless steel and the drive pulley is crafted from aluminum. A new DC motor speed controller board regulates the platter speed and the Essential III now includes Connect it E interconnect hardwired directly to the output.

*Not compatible with Speed Box S or Speed Box DS.  
TECHNICAL SPECIFICATIONS
Speed 
33, 45 (manual speed change)

Principle 
Belt drive

Speed variance 
33: .21% 45: .19% 

Wow & flutter 
33: .70%    45: .60%

Platter 
300mm MDF with felt mat

Main bearing 
Stainless steel

Tonearm
8.6" aluminium 

Effective arm length 
218.5 mm 

Overhang 
22 mm

Effective tonearm mass 
8 gr

Counterweight
for mass 3 - 5.5g (included)

Tracking force range 
0 - 2.5 grams (OM10 1.8 grams recommended)

Included accessory 
Power supply, dust cover 

Power consumption 
4.5 watts

Dimensions
(WxHxD) 16.5 x 4.4 x 13 in

Weight
(net) 11 lbs

Finish
High Gloss Red, White or Black