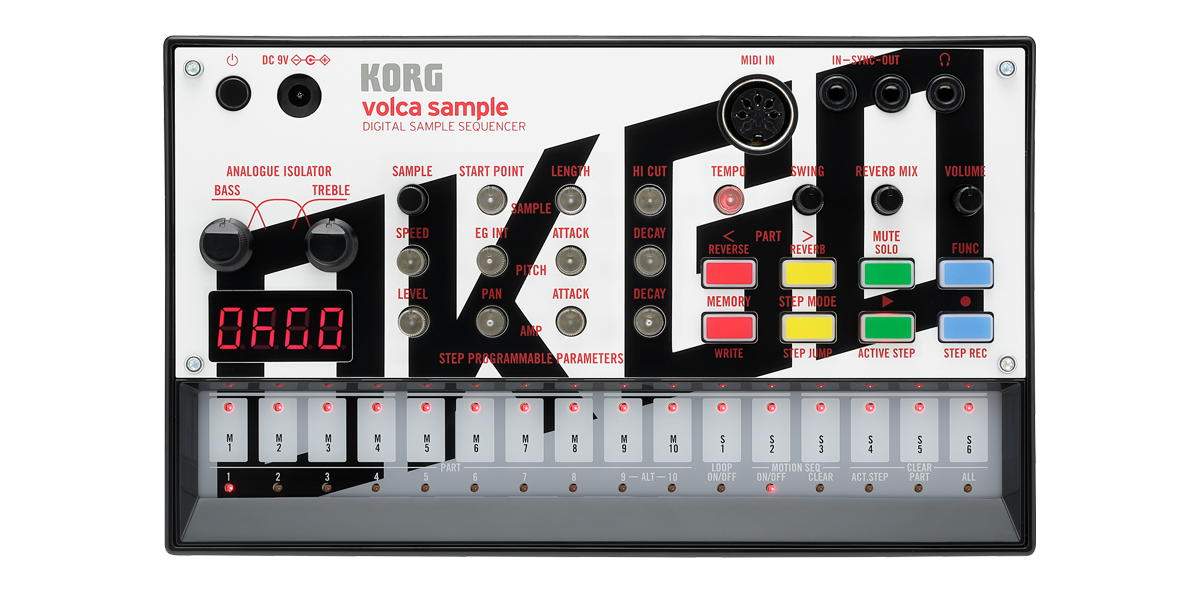 Volca Sample OKGO
A powerful partnership between KORG and OK GO - a special edition of the volca sample.
Packed with 100 carefully selected audio samples from "Hungry Ghosts," the latest album from OK GO, the limited edition OK GO volca is now here. You can freely edit their numerous iconic sounds, such as the vocal line from "I Won't Let You Down" or the bass from "The Writing's On the Wall," and arrange them to create your own music. Use the content to create your own version Ok GO's infectious tunes, mix and match content with your own samples create remixes, or create entirely original sample-based music using the simple, step-based recording layout of the volca sample.
100 different OK GO sounds are built-in
One hundred guitar, bass, drum, synthesizer, and vocal phrases that were actually used on "Hungry Ghosts," the latest album from OK GO, are built-in as preloaded samples (*). First you'll want to listen to these samples and enjoy the signature sounds of OK GO.

You can also edit the samples intuitively as you would expect on the volca sample. You can create completely new sounds by turning the knobs to adjust parameters such as length, pitch, and level.

Just as OK GO has given us songs, music videos, and performances that have never been seen or heard before, you can use this machine with OK GO sounds to generate and play sounds that nobody has ever heard.
Sample sequencer lets you freely create sounds and songs
Powerful sound control
A total of 11 parameter knobs let you freely edit the sample sounds. For all of those parameters you can use motion sequences to record knob movements, allowing you create time-varying change in the sound.

In addition, there's an analog isolator that lets you create excitement by boosting or cutting the low or high function range, a reverse effect that plays the audio source backward, and a reverb effect. These provide powerful and quick ways to keep varying the sound in numerous ways.
Intuitive volca sequencer is superb for improvisation
The built-in step sequencer is designed for easy editing, and makes it easy for you to improvise by inserting and removing parts. You can use the 16 step keys for quick step-recording, or record in real time while you perform. Combine completed sequences to create song patterns.

In addition, there's an active step function that lets you instantly insert or remove steps inside a sequence, a step jump function, and a swing function that lets you create grooves that "push" or "drag" the beat. The volca sample lets you improvise dynamic performances.
Specifications
Keyboard
Multi touch Keybaord
Sampler
Type

PCM
Maximum Polyphony

8 voices
Number of Samples

100 (User over writable)
Memory Size for Sample

4 MB, Maximum 65 seconds
Sampling Frequency

31.25 kHZ, 16 bit
Edit

Sample (Start Point, Length, Hi Cut), Pitch (Speed, EG Int, Attack, Decay), Amp (Level, Pan, Attack, Decay), Reverse On/Off
Effects
Digital Reverb

On/Off, Mix
Analogue Isolator

Bass, Treble
Sequencer
Number of Parts

10
Number of Steps

16
Number of Recording Patterns

10
Control

Motion Sequence, Active Step, Step Jump, Swing
Song
Maximum Number of Sequence

16
Number of Recording Songs

6
Connectors
Audio Output

Headphones (3.5mm stereo mini jack)
Sync

Sync In (3.5mm monaural mini jack, Maximum input level: 20V)
Sync Out (3.5mm monaural mini jack, Maximum Output level: 5V)
MIDI

In
Power
Battery Life

Approximately 10 hours (using alkaline batteries)
Power Supply

AA alkaline battery × 6 or AA nickel-metal hydride battery × 6
Or AC adapter (DC 9V) (optional)
Others
Included Items

AA alkaline battery ×6 (for verifying operation), Cable
Accessories

AC adapter (DC 9V)
Dimensions (W x D x H)

193 × 115 ×45 mm / 7.60" x 4.53" x 1.77"
Weight

372 g / 13.12 oz. (Excluding batteries)