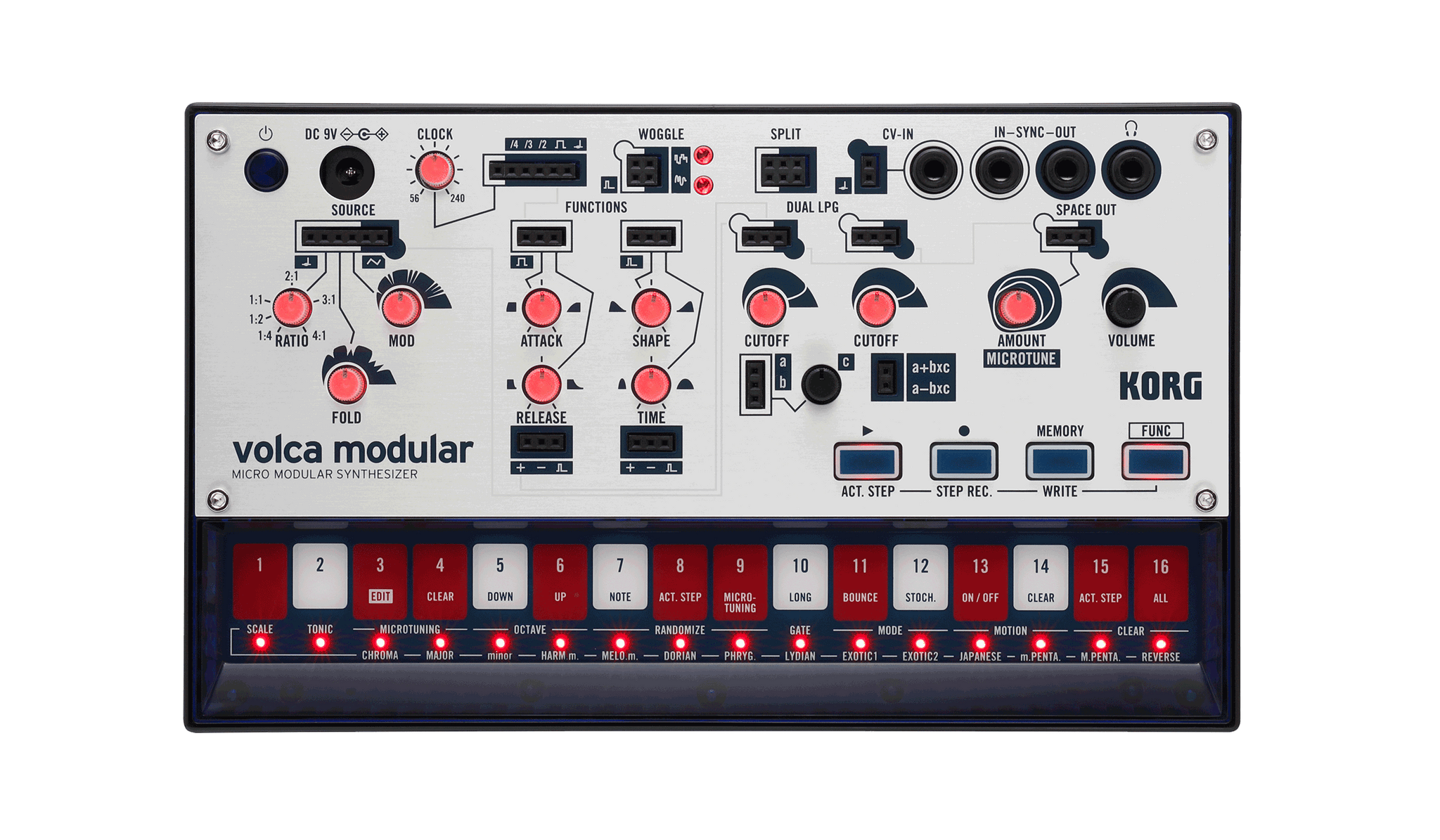 Volca Modular
📦 Ships same day when ordered by 1pm PST. 🛍 Local pickup available daily. Contact us for more information. 💙
A semi-modular analog synthesizer that makes modular synthesis more accessible and understandable than ever before.
Creating new sounds that don't exist in the outside world is an unending dream which has continued since the birth of electronic musical instruments. This dream has evolved and expanded throughout the development of new and unique music production devices.

The popularity of modular synthesizers around the world has generated new excitement and interest in the so-called "West Coast style" of synthesis that deviates from traditional synthesis norms.

The compact body of this volca synth features eight modules and 50 patch points. While learning the basics of a modular synth, you can use popular features of the volca synthesizer line to control a unique and different flavor of analog sounds.
An analog synth composed of eight modules
The volca modular, consisting of independent analog synth modules, digital effects, and a sequencer, is a semi-modular synthesizer. Internally connected modules allow for sound production before pin cable connections, shown by white lines. Pin connections bypass internal ones.

SOURCE:
This consists of a triangle VCO carrier and a modulator. The complex overtones generated by FM modulation are sent through a wave folder circuit to add additional overtones, producing a distinctive sound. This module is important in determining the basic character of the sound of volca modular.
FUNCTIONS:
This section consists of two function (envelope) generators. In addition to an ADH generator with attack, hold, and release, there's a Rise-Fall generator, also known as a slope generator, which not only applies time-varying change to the sound but also lets you patch the end trigger out back into the trigger in as a loop, making it usable as a VCO or LFO.
WOGGLE:
This is a random signal generator containing a sample & hold circuit that uses pink noise as its source. Two outputs are provided, allowing it to output either stepped or smooth random noise.
SPLIT:
This module distributes one input to two outputs. It can also be used in the reverse direction, combining two control or audio signals into one.
DUAL LPG:
This consists of two low-pass gate circuits. Typical of the West Coast style of synthesis, the module packages a filter with an amp, allowing the brightness and volume of the sound to vary together.
UTILITY:
This is a mixing scaling module that combines two signals in various ways. It can mix not only audio signals but also control signals, as well as inverting or attenuating those signals.
SPACE OUT:
This is a stereo module that applies a reverb-like effect to the audio signal.
SEQUENCES:
This module is for connecting to the internal sequencer. You can set the tempo, and select different rhythm divisions to output via the gate counter.

Reference sheet (included item)
A fusion of West Coast style in a volca format
Analog MS-20s evolved for mainstream use, featuring keyboards and sharp filters. Experimental "West Coast style" synths diverged with FM modulation, random & complex control signals, and low-pass gates, varying tones and volumes with minor knob moves. Hardware products of this style were rare, until recently with Eurorack modular and DAW plugins, sparking renewed interest. Volca series has now embraced "West Coast style" sound.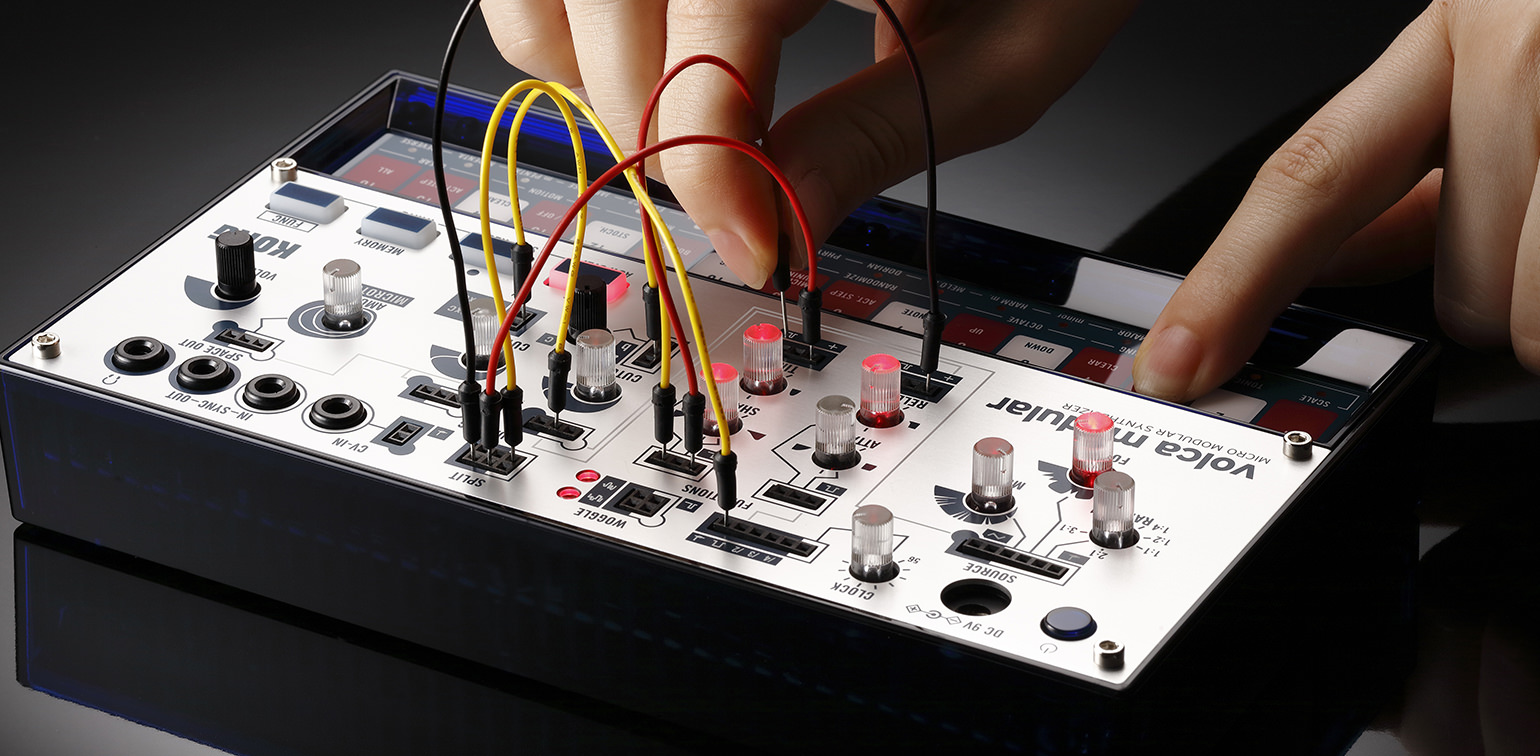 Patching allows infinite possibilities
50 patch points on the unit's compact chassis are connected by 20 included pin cables for diverse combinations. Color-coded inputs/outputs and symbols indicating signal type let you patch with ease. Signals are universally compatible; possibilities arise from patching that defies common sense. Reference sheet explains patch points and provides basic patching examples.
Main patch examples: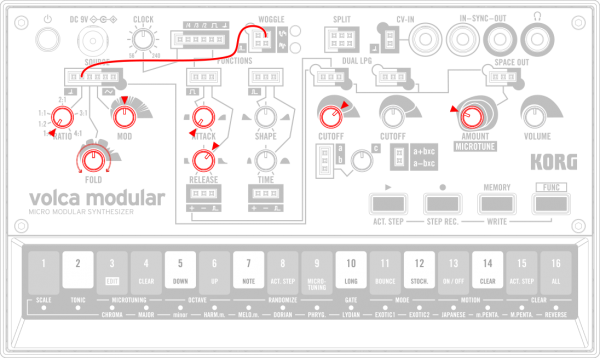 1.Western Bongo
A metallic percussion sound produced by FM modulation and a wave folder. This is a basic sound of the SOURCE module.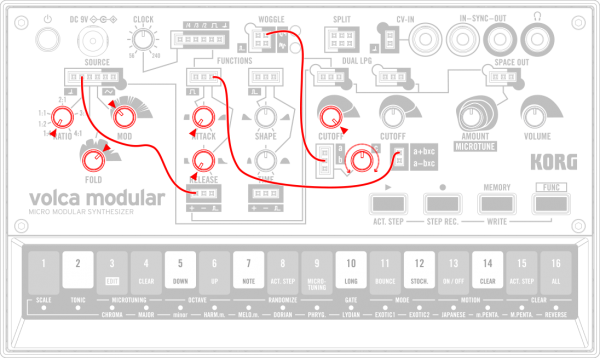 2.Random Release
The release time of the ADH generator is varied randomly by sample & hold, applying an organic rhythm to the sequence.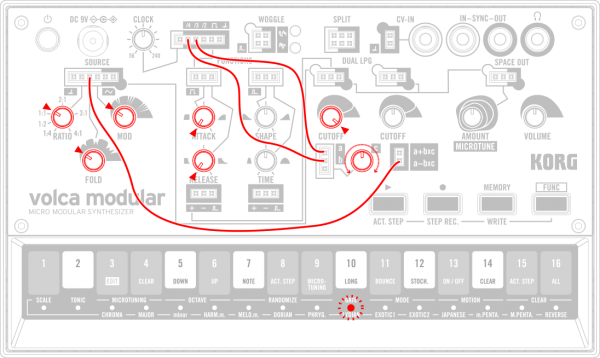 3.Gate Math
A gate counter of a different frequency is subtractively mixed. The UTILITY knob controls the amount of mix, varying the rhythm of the tonal change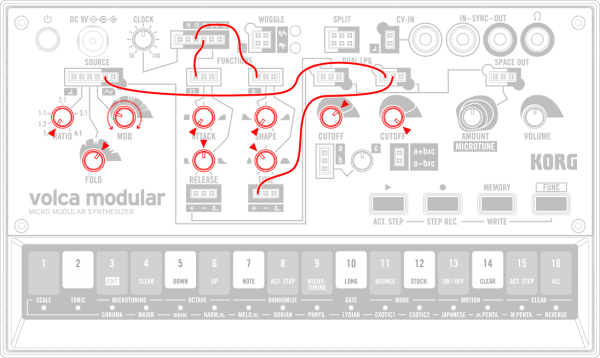 4.Polyrhythmic Duo
The FM modulator is obtained as triangle wave audio, and by passing it through a low-pass gate function that is separate from the carrier, two types of phrases are layered poly rhythmically.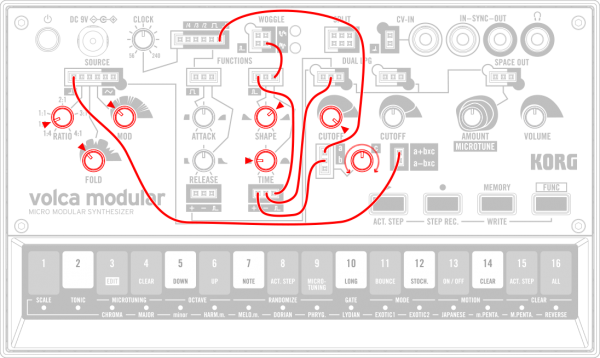 5.Generative
The Rise-Fall generator is looped to create an LFO which modulates the pitch and cutoff. Since the speed of the LFO itself changes irregularly, a variety of tonal characters is produced.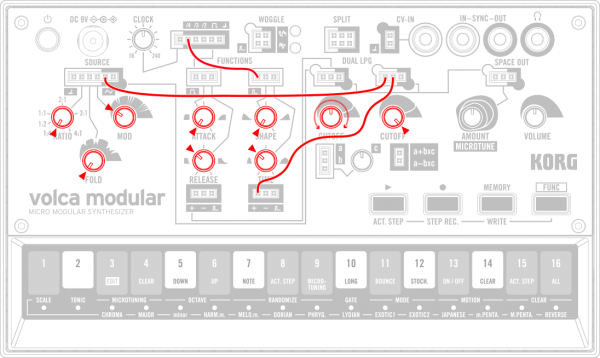 6.Walking Bass
A triangle wave with lowered pitch is sounded at a low rate by the gate counter. This causes the bass to be added to the main sequence just once every four steps.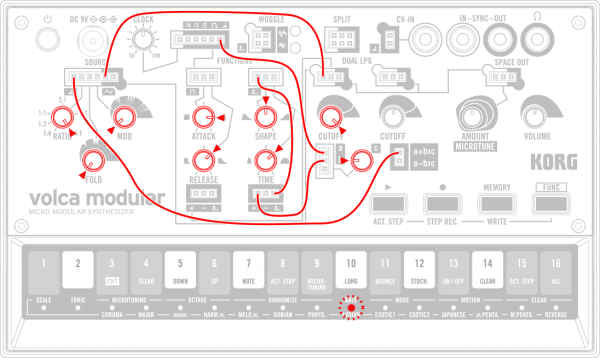 7.Vibrato
The LFO is used to minutely modulate the pitch of a triangle wave, letting you play a mellow-sounding lead that is reminiscent of solo strings.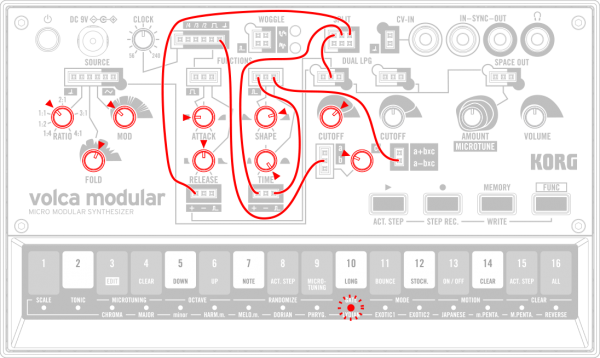 8.Dubstep Bass
The LFO modulates the cutoff of the low-pass gate, sounding an FM bass with a sense of movement. UTILITY and SPLIT are used to slow down the LFO as the pitch becomes lower.


volca sequencer elevates experimental sounds into music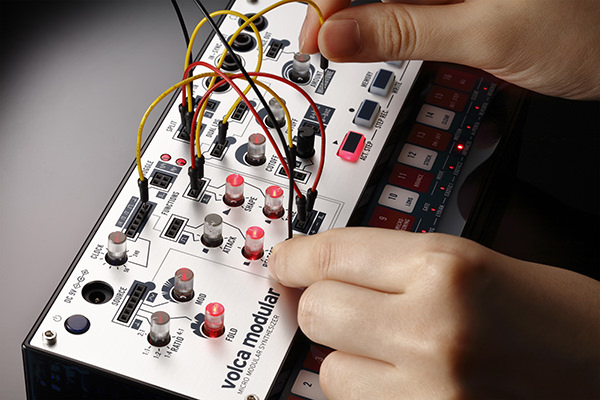 Sixteen-step sequencer that can automate parameters
The volca modular's 16-step sequencer offers a wide range of functions, from automatic performance in stand-alone mode to step input and realtime keyboard recording. Pattern chaining connects up to 16 sequences for up to 256 steps of large-scale development.

Recording knob movements, the motion sequence function adds time-varying change for loops & unique performances. Up to 16 sequence patterns & sounds can be saved. Active step function lets you skip steps, create short loops & polyrhythms, & evolve patterns dynamically.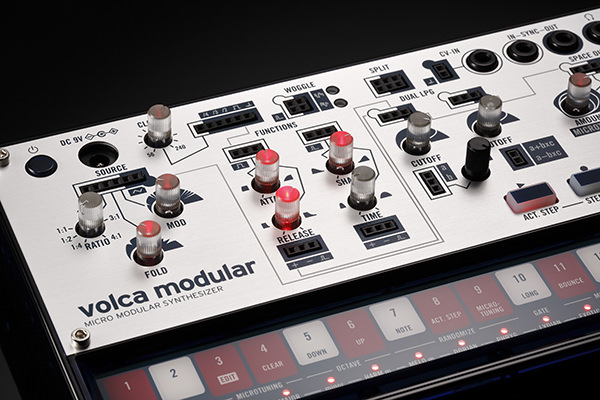 Randomize function that can generate accidental ideas
The sequencer of the volca modular lets you specify randomization for notes, active steps, and micro tuning. Irregular phrases, rhythms, and scaling that would be unlikely to come to mind can be generated by applying randomness, letting the volca be a source of unknown ideas.
Two new modes added for sequence playback
Two new sequence modes have been added: bounce sequence mode which makes a round trip through the steps, and stochastic sequence mode which gradually proceeds while randomly moving forward and backward. Playing back a recorded sequence in a different form can add dramatic changes to your song or performance.
Musically advanced scales, keys, and micro tuning
Although the volca modular is a West Coast style synthesizer, it also provides flexible support for music as a contemporary instrument. You can choose from 14 types of scale including equal temperament. Since you can also specify the tonic key from which these scales start, you can play these scales in any key.

There's also a micro tuning function that lets you individually specify the pitch of each note. You can pursue your own unique music by performing in an original tuning with the pitch of individual notes raised or lowered.
Connectors that allow synchronized performance and external control
With a sync jack that allows easy connection to a Korg groove machine, you can connect the volca modular to another volca series unit, a minilogue, monologue, or prologue, an electribe, or the SQ-1, and enjoy sessions with the sequencer synchronized to the playback.

The CV IN jack for external control is a TRS mini stereo jack that lets you input two signals. The left channel can input a +-5V signal and the right channel can input a signal of 1V/oct (0-+6V) signal which is internally converted to pitch CV within the volca modular. Of course, each of these two signals can also be patched to control a module.
Enjoy anywhere
Compact, size, battery operation, and built-in speaker mean that you can take this unit anywhere and enjoy playing at any time.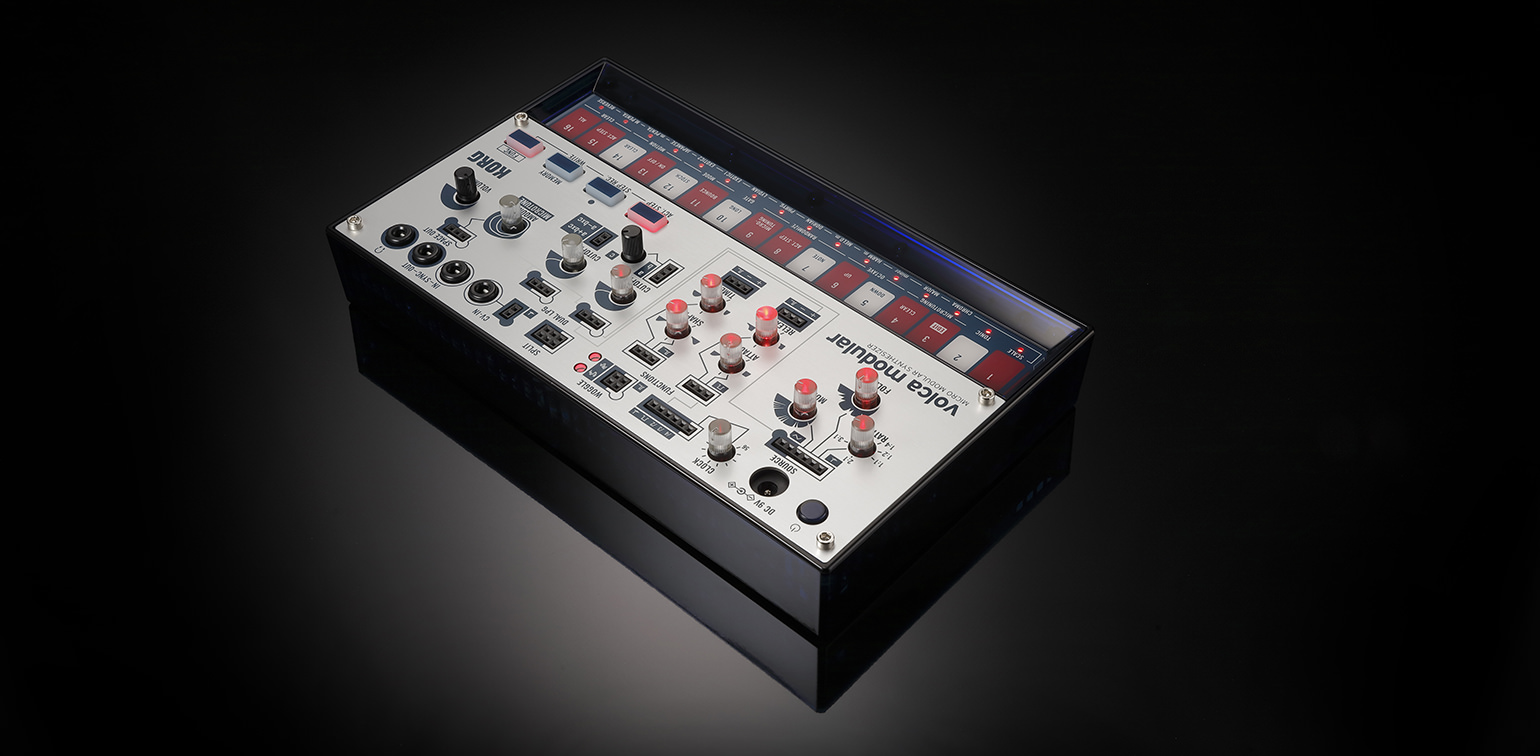 Included cables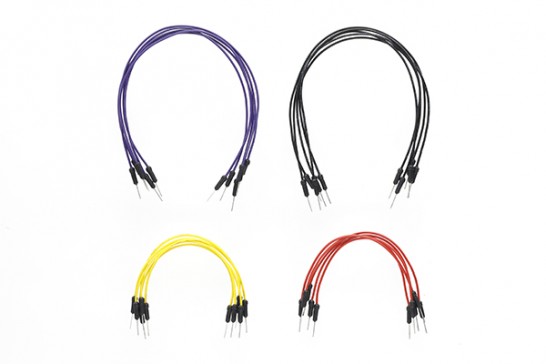 Pin cable for patching (1 set)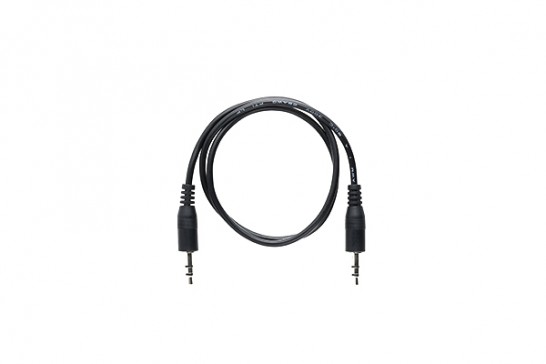 Sync cable


Specifications
keyboard
Multi touch Keyboard / Step key
Synthesizer
Type

Analog synthesis
Maximum Polyphony

1
Structure

2 VCO (Triangle), 2 EG, 2 LPG, digital effect
Sequencer
Number of parts

1
Number of Steps

16 (pattern chain is available)
Number of Recording Patterns

16
Connectors
Audio Output

Headphones (3.5mm stereo mini jack)
Sync

Sync In (3.5mm monaural mini jack, Maximum input level: 20V
Sync Out (3.5mm monaural mini jack, Maximum Output level: 5V)
Control In

CV-IN jack (TRS mini phone jack)
Power
Battery Life

Approximately 10 hours (using alkaline batteries)
Power supply

AA alkaline battery x6, AA nickel-metal hydride battery x6 or AC adapter "KA-350" (optional)
Others
Included Items

AA alkaline battery x6 (for verifying operation), Sync cable, Pin cable for patching 1 set, Module reference sheet
Accessories (sold separately)

AC adapter (KA-350), SEQUENZ CB-4VOLCA hard shell case, SEQUENZ CC-VOLCA soft shell case, SQ-CABLE-6 sync cale
Dimensions (W x D x H)

193 x 115 x 39 mm / 7.61 x 4.54 x 1.54 inches
Weight

377 g / 0.83 lbs (Excluding batteries)