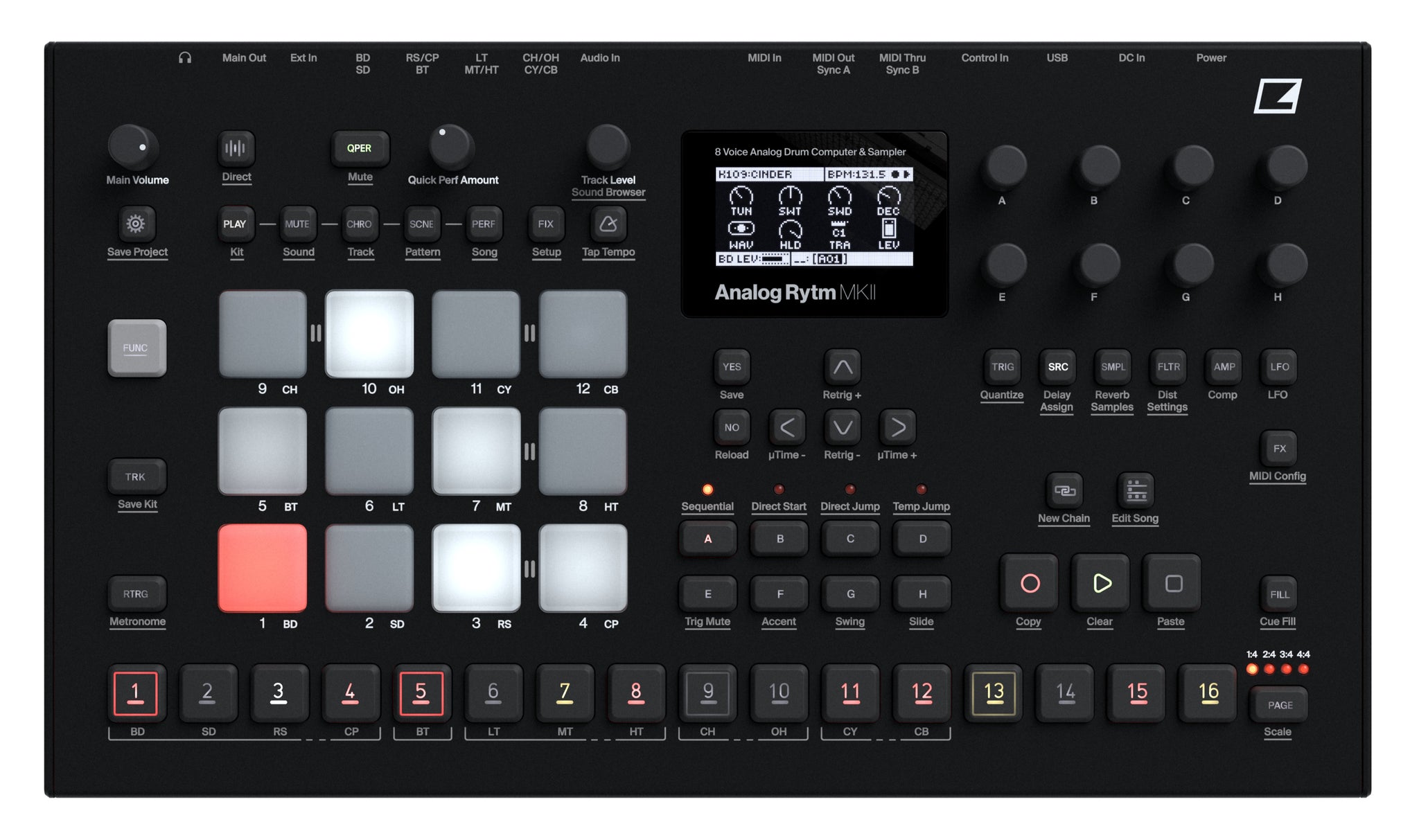 Analog Rytm MkII
📦 Ships same day when ordered by 2pm PST. 🛍 Local pickup available daily. Contact us for more information. 💜
Eight voice analog drum machine & sampler
A different drum – Fuse distinctive analog percussion with digital samples. Bring in the power of sequencing and performance controls. The Analog Rytm MKII is a one-stop solution beat machine.
True analog punch
Feel the depth of booming kick drums, the snarling bite of snares, the bellow of cavernous toms, and the airy shimmer of hi-hats. What really sets the Analog Rytm MKII apart is its supreme analog sound. Pick from multiple uniquely tuned synthesis models for varied percussive sounds and more. Fine-tune to your liking and get working.
More than a drum machine
For ultimate creative versatility, you can layer digital samples on top of analog synthesis. Capture your own sounds, or use pre-recorded material, to make these fused beats as smooth, as rough, as realistic, or as fantastic as you'd like.
Then process that ear-watering combination through analog filters and overdrive on each track for jaw-dropping results. To finish off, send all 12 tracks through the Analog Distortion and Compressor circuits while adding shimmer and glitter with the digital send FXs. The Dual VCO synth engine adds a whole other bass or melodic level to your compositions.
Performance first
When you have your refined sounds ready to go, release them with precision using the twelve velocity-sensitive pads. Or perform detailed programming using the all-powerful Elektron sequencer. Class Compliant USB Audio gives you the freedom to connect to a compatible phone, tablet, or computer, and record or process your audio easier than ever before. Or add software app superpowers to give you untold parameter possibilities: more modulation, more LFOs, more magic.
Playability in focus
Spontaneous performance or meticulous composition: it's up to you. Whatever your approach, you'll be able to pull on a variety of unique playability features to uncover the next happy accident. Add some controlled randomness with Trig probability. Or use Step Recording to carve your patterns out step by step.
Inspiration dynamite
The Analog Rytm MKII arrives loaded with phenomenal factory content to kick off your music-making. The likes of Eraldo Bernocchi, Lucifer's Aid, and (d) glitched, as well as the intrepid Elektron team, have gathered together a fresh bank of patterns and kits to dive straight into – giving you access to a hearty and varied bunch of musical ideas right out of the box.
Overbridge
With Overbridge and Analog Rytm MKII, you essentially get a real analog drum machine inside your computer. The unmatched sound of real analog drums being controlled from a plugin interface offers ultimate convenience and flexibility.
Fully integrate Analog Rytm MKII with DAW environments
Control your Analog Rytm MKII with audio and sync using a dedicated VST/AU plugin (stand-alone operation available)
Recall all Analog Rytm settings and non-sample based projects when loading a DAW project
Stream all eight internal analog voices, external inputs, and main bus to separate DAW tracks (24 bit/48 kHz)
Route DAW audio to the Rytm's analog compressor, and tracks for analog filtering
Specifications
Drum voice features (×8)
Fully analog signal path
1 × specialized analog percussion sound generator
1 × sample playback engine
1 × analog overdrive circuit
1 × 2-pole analog multi-mode filter
1 × panning VCA pair
1 × filter envelope
1 × amp envelope
2 × individual effect sends
1 × assignable LFO
1 × dedicated LFO fade envelope
Storage
128 Projects (+Drive)
128 Kits per Project
128 Patterns per Project
16 Songs per Project
4096 Sounds (+Drive Sound Library)
128 Sounds per Project
127 samples per Project
1 GB +Drive sample storage
Sequencer
12 drum tracks
1 FX track
Sequencer MIDI Out
Up to 64 steps per pattern
Individual length per track
Individual scale per track
Parameter locks
Step Recording mode
Trig preview
Trig probability
Instant Pattern, Kit and Sound reload
Live friendly Performance mode
Trig mute, swing, slide, accent functions
Track transpose
Trig conditions
Micro timing
Chromatic mode
Scene mode
Sample-per-step change
Sound-per-step change
Assignable Retrig
Full real-time control
Send effects
Saturator Delay
Supervoid Reverb
Master effects
Analog stereo distortion
Analog stereo compressor
Hardware
12 large, velocity, pressure sensitive, and backlit pads
128 × 64 pixel OLED screen
MIDI In/Out/Thru with DIN Sync out
2 × 1/4" impedance balanced audio out jacks
1 × 1/4" stereo headphone jack
8 × 1/4" impedance balanced individual track output jacks
2 × 1/4" balanced audio in jacks
2 × 1/4" ext in jacks
2 × 1/4" CV/Expression inputs
48 kHz, 24-bit D/A, and A/D converters
Flash-EEPROM upgradable OS
Electrically isolated USB 2.0 High Speed port
Balanced audio outputs
Headphones out level: +15 dBu (55 Ω)
Main outputs level: +15 dBu
Individual outputs level: +15 dBu
Output impedance: 440 Ω unbalanced
Unbalanced external inputs
Input level: +15 dBu maximum
Audio input impedance: 9 kΩ
Balanced audio inputs
Input level: +15 dBu maximum
Audio input impedance: 19 kΩ
Digital S/N ratio: 110 dB (20–20,000 Hz)
CV/Expression inputs
Input voltage on tip: -5 V–+5 V. Supplies +5 V on ring
Accepts CV, Expression pedals
Electrical specifications
Unit power consumption: 14 W typical, 20 W maximum.
Recommended power supply: 12 V DC, 2A
Physical specifications
Aluminum enclosure
Dimensions: W385 × D225 × H82 mm (15.2 × 8.85 ×  3.3″) including knobs, jacks and feet
Weight: approximately 2.4 kg (5.3 lbs)
Miscellaneous
Overbridge enabled
Class compliant USB audio
3 year Elektron warranty
Included in the box
Power Supply PSU-3b
Elektron USB cable
Quick Guide