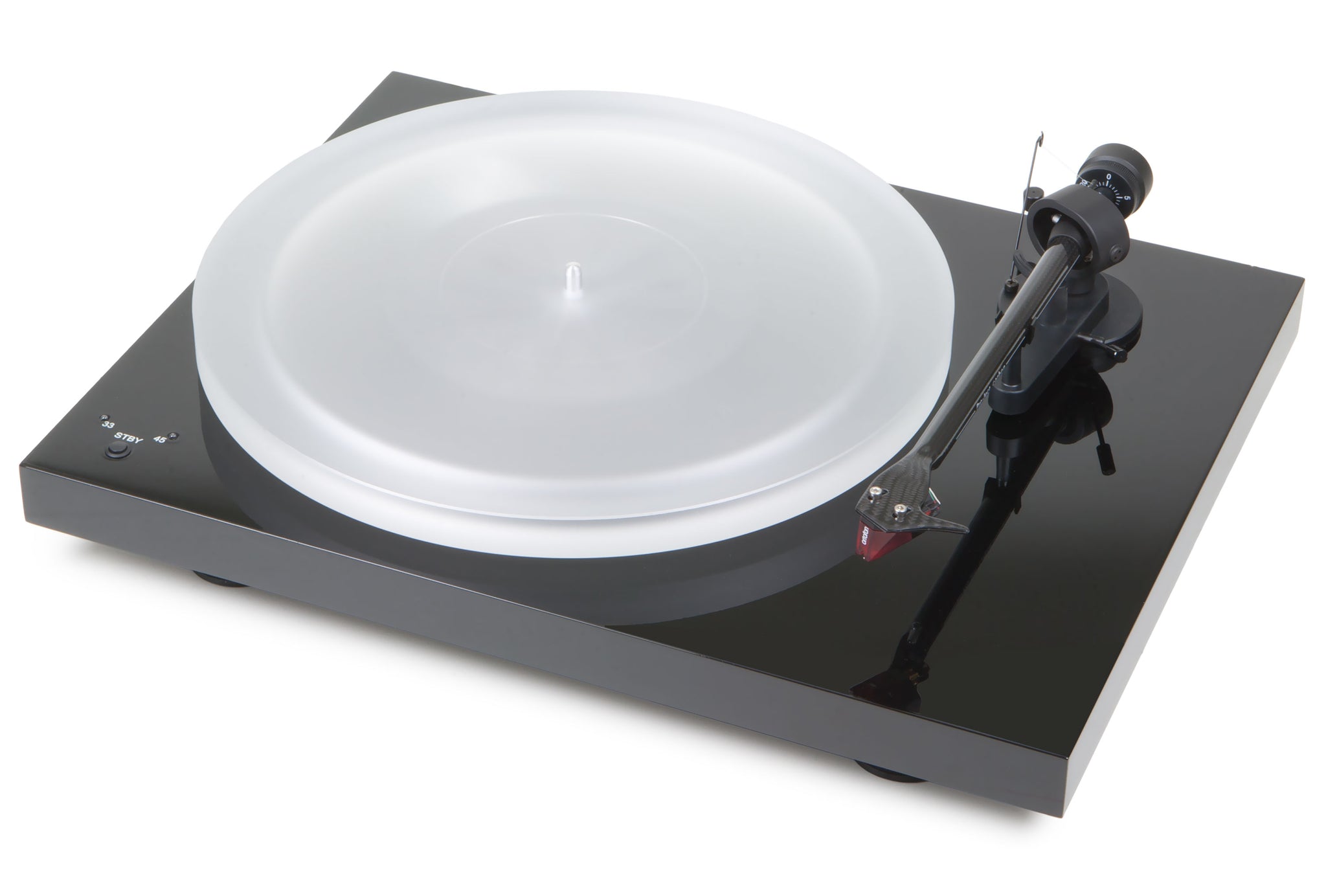 Debut Carbon Esprit SB DC
📦 Ships same day when ordered by 2pm PST. 🛍 Local pickup available daily. Contact us for more information. 💙
The most-wanted audiophile design turntable with carbon tonearm, 3 speeds and DC power supply!

The new DEBUT CARBON ESPRIT SB (DC) has been designed to set new standards in this category for the coming decade – perfectly timedas analogue today is again a respected source, while the demand for good turntables with all speeds is growing fast!
The CARBON TUBE for the tonearm increases stiffness and decreases unwanted resonance. This material normally is extensively used in highendtonearms, but – because of cost reasons – was never used in products at lower price levels. Together with other improvements like an increasein platter size and weight to realize even smoother rotation, the overall sound quality is greatly improved.
The approved belt drive design offers low noise AC motor with effective motor decoupling (utilising TPE), ultra precision frequency DC-driven AC generator for ultimate speedstability.
Ultimate convenience is achieved, because of electronic speed change ("Speed Box") and the possibility of playing 78rpm.
An exchange of stylus to 2M78 (not included) and a drive belt turnover to larger diameter of pulley is required for 78rpm.
The Pro-Ject Debut Carbon Esprit SB DC includes a pre-mounted Ortofon 2M Red phono cartridge and is offered in high-gloss black, shiny white, or matte walnut. Special order colors available. All Debut Carbon Esprit SB DC turntables include a bevelled acrylic lid a small upgrade over the Carbon DC as shown in purple finish image below.
TECHNICAL SPECIFICATIONS
Speed
33,45/78 (electronic/manual speed change)

Drive principle
Belt drive

Platter
300 mm acrylic platter

Mains bearing
Stainless steel

Wow & flutter
+/- 0.19%

Speed drift
+/- 0.60%

Signal to noise
- 68dB

Tonearm
8.6" Carbon Fiber

Effective arm length
218.5 mm

Effective arm mass
6.0 g

Overhang
18.5 mm

Tracking force
10 - 30mN

Included accessories
15 volts DC / 1,6A power supply, dust cover

Power connection
110/120 or 230/240 Volt - 50 or 60 Hz

Power consumption
7.4 watt max / < 0.5 watt standby

Dimensions (WxHxD)
16.34" x 4.65" x 12.6" (WxHxD) lid closed

Weight
12.3 pounds net

Finish
High-gloss black or white piano lacquer, Matte Walnut, Other colors such as Purple (shown in image) are special order upon request.