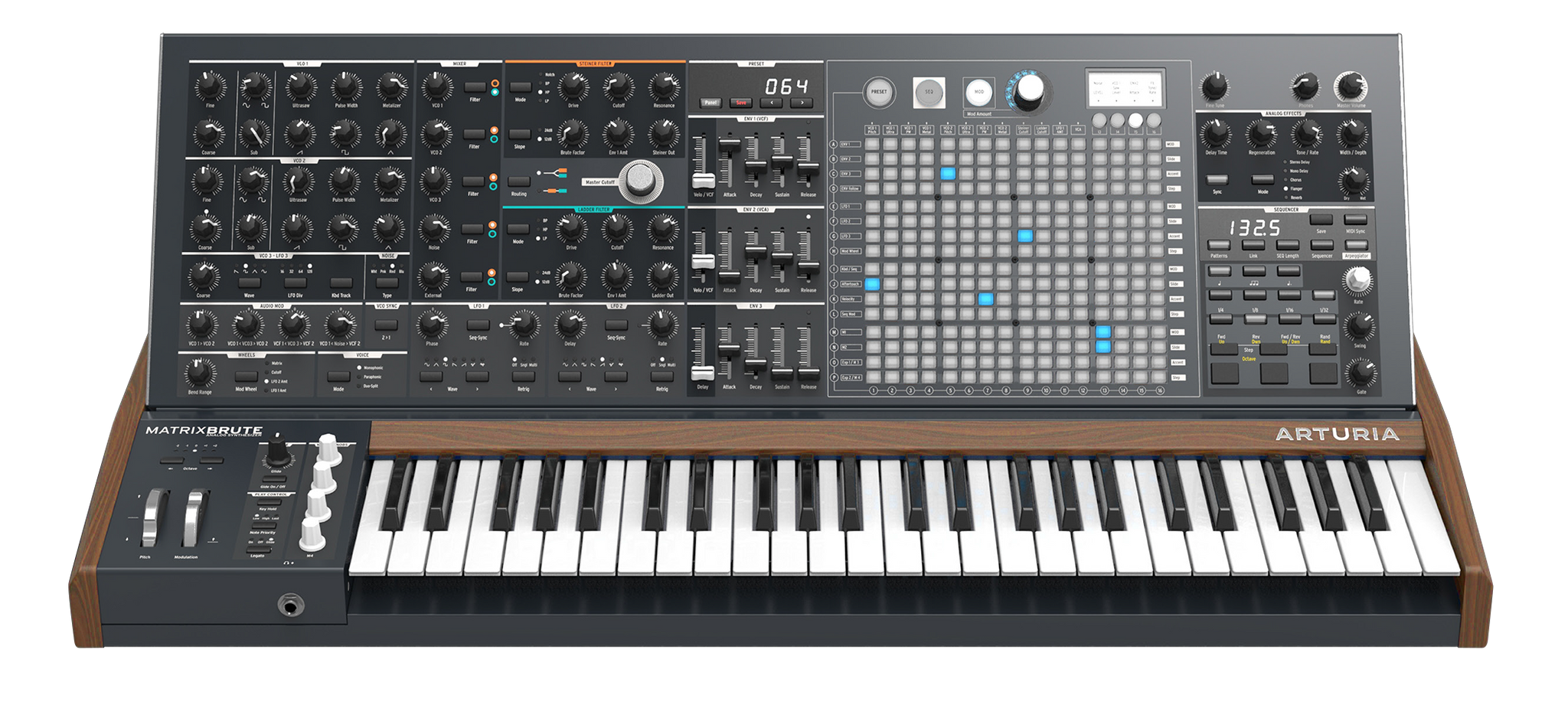 MatrixBrute
📦 Ships same day when ordered by 2pm PST. 🛍 Local pickup available daily. Contact us for more information. 💜
MatrixBrute
Analog Avant-Garde
MatrixBrute is arguably the most powerful analog monophonic synthesizer ever! As flexible as a modular system but offering presets, MatrixBrute is a dream machine for everyone interested in creating a sound palette of their own.
When was the last time you felt your heart beating faster?
When was the last time you heard sounds you had never heard before?
When was the last time you met an instrument that truly inspired pleasure and creativity?
MatrixBrute is an outstanding analog synthesizer. Offering three Brute oscillators, a Steiner-Parker filter and a ladder filter, five analog effects, and the incredible modulation matrix, it is a massive sonic beast.
Distinction in design
The heart of the MatrixBrute is its unique modulation matrix that allows you to create your own routings. You can invent a sound palette of your own that will be sure to be heard in any mix!
The matrix can also be used to recall your presets. So go on stage, and select any of the 256 presets instantly! No menus or awkward selection screens, everything is at your fingertips.As if it was not enough, the matrix is also made to program and play sequences. This is no ordinary step-sequencer. With its ability to also be used as a modulation source, sounds evolve in melody and texture, Just the way you want.
Hands-On Heaven
The digital brain for MatrixBrute's analog heart
The Matrix is where MatrixBrute's analog reactivity and digital precision collide - an advanced architecture unlike any synth before it.
Sound beyond the power
Offering a audio signal path that is is 100% analog, MatrixBrute also features true analog effects. The MatrixBrute gives you the sonic quality and power of a vast modular synthesizer but with the flexibility of presets along with a great arpeggiator and an advanced sequencer.
What's in the box
Box content
MatrixBrute unit
Power cable
Instrument dimensions
Size : 33.8 x 17 x 4.2 inches (860 x 432 x 107mm)
Weight : 44lbs (20kg)
Main Features
Analog Matrix Synthesizer
256 Preset memory locations
Two Analog Exponential VCO's

Saw + UltraSaw
Square + Pulse width
Triangle + Metalizer
Sub

One Analog Linear VCO/LFO

Saw, Square, Triangle, Sine waveforms

LFO time divisions
Key track
VCO 2>1 Hard Sync
Audio Mod

VCO1>2
VCO1 < VCO3> VCO2
VCF 1 < VCO3> VCF 2
VCF1 < Noise> VCF2

Noise Generator

White ; Pink ; Red ; Blue noise types

5 input Audio Mixer with Filter routing
Steiner Parker filter with 12+24 db per octave modes

Drive ; Brute factor; Low Pass, High Pass, Band Pass, Notch

Ladder filter with 12+24 db per octave modes

Drive ; Brute factor; Low Pass, High Pass, Band Pass

Two LFO's

Sine, Tri, Square, Ramp, Saw, Random, S&H

Three Envelope Generators

Two Attack, Decay, Sustain, Release
One Delay, Attack, Decay, Sustain, Release

External Audio In
16x16 Matrix modulation panel
64 step sequencer

STEP enable, Slide, Accent, Modulation
Save and recall sequence patterns on the fly

Analog Effects

Stereo delay, Delay, Flanger, Chorus, Analog Reverberator

Arpeggiator
12 CV / Gate Inputs/Outputs
Audio Input, Line or Instrument level
Stereo audio output
MIDI and USB I/O
Pedal inputs for Expression and Sustain