KeyStep Pro
📦 Ships same day when ordered by 2pm PST. 🛍 Local pickup available daily. Contact us for more information. 💜
KeyStep Pro
UNIVERSAL SEQUENCING MASTERMIND
The sequencer the world has been waiting for. KeyStep Pro gives keyboard players incredible sequencing and performance power in a compact, versatile controller.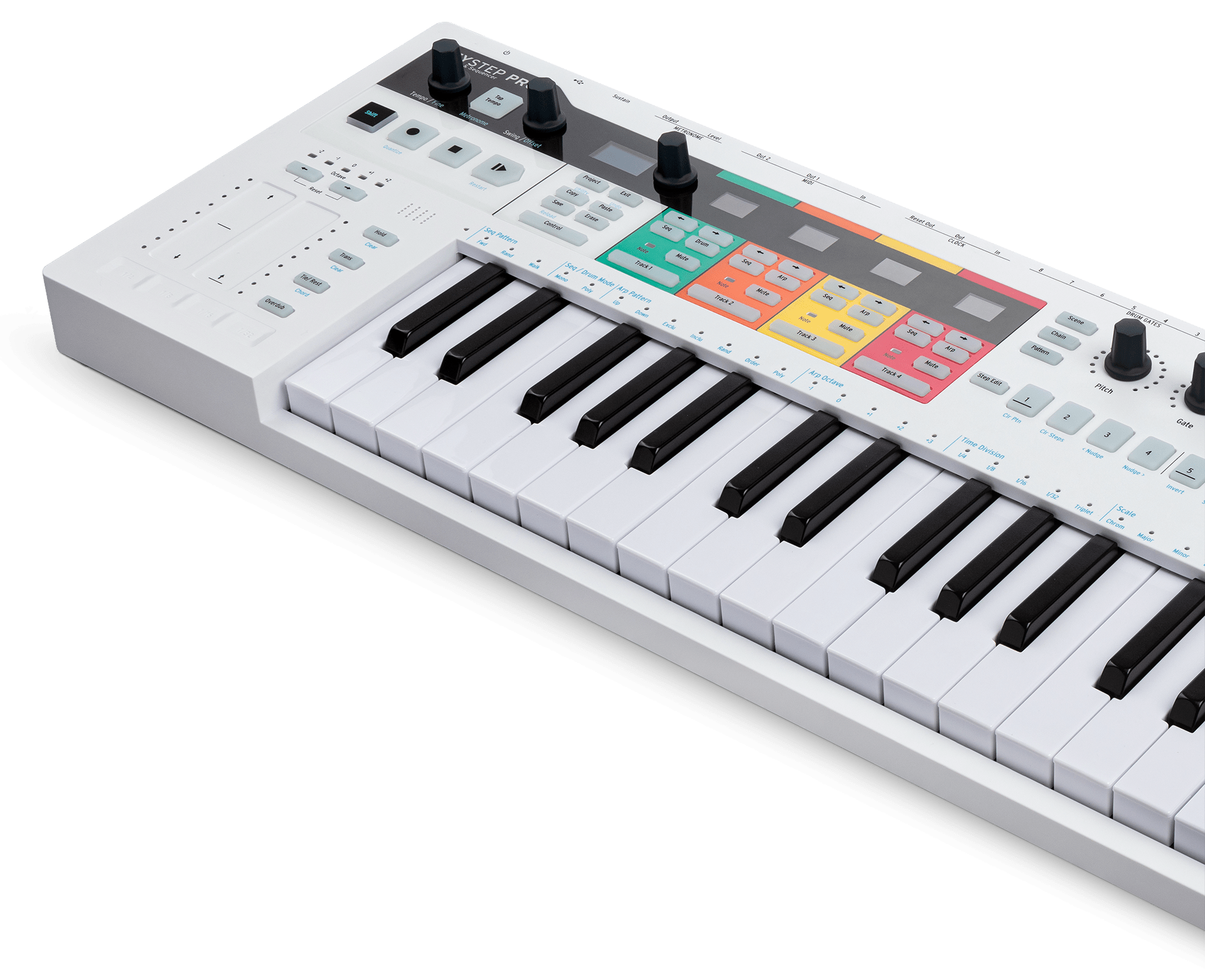 Don't be scared, don't panic, KeyStep Pro is complex, but not complicated.
It might look a little intimidating at first glance, but you'll find it's very intuitive and easy to master once you know its key features. On this page, we'll help you do that.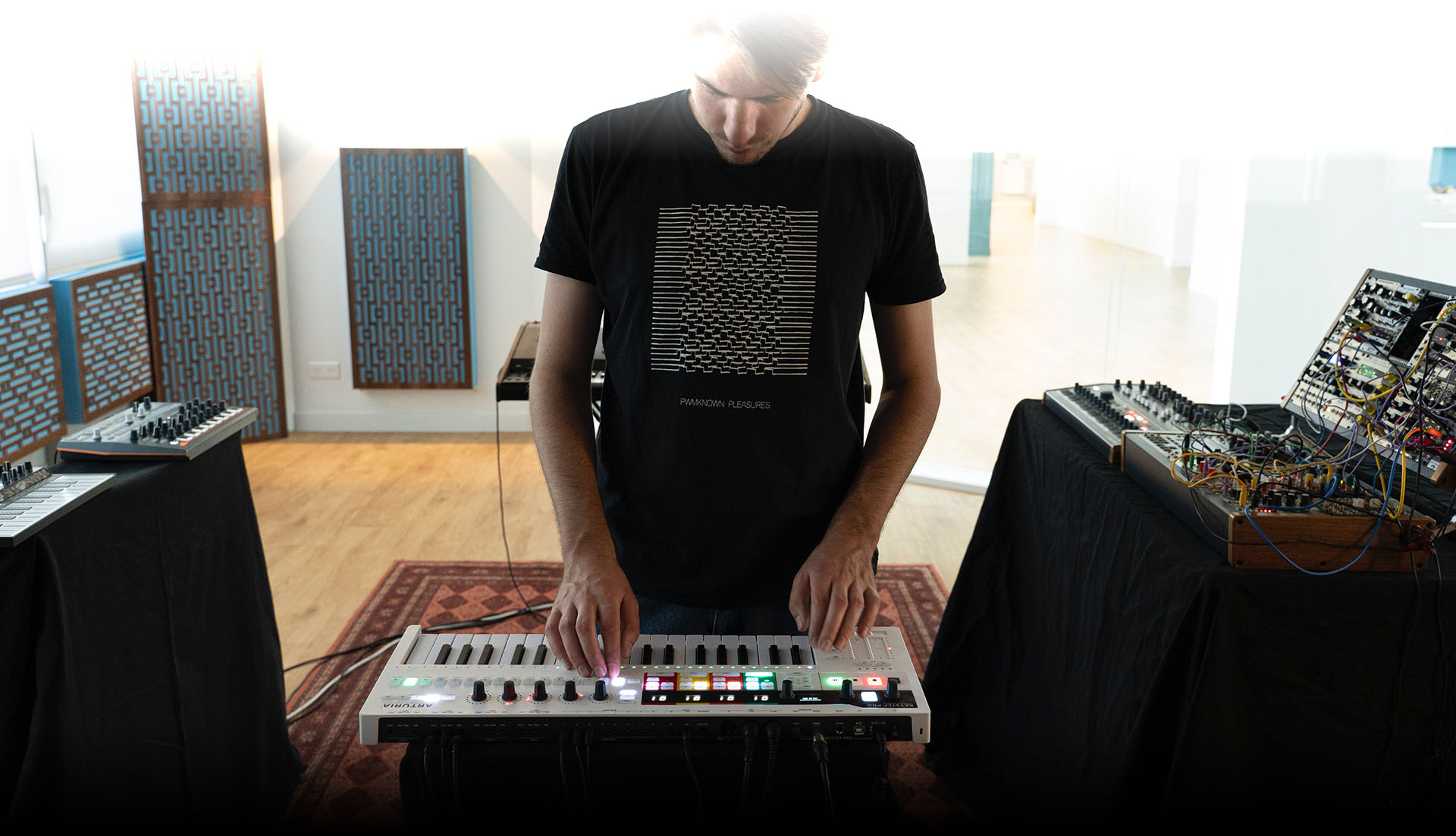 Comprehensive connections
To start things off, let's take a look at an example setup. This shows you all the different things you can connect KeyStep Pro to.
As you can see, aside from traditional acoustic instruments, you can connect KeyStep Pro to practically any music-making hardware or software.
Voice 1-4
Control 4 different outboard synths or modules or freely routed for polyphonic output.
Clock
Sync to vintage, pre-MIDI gear and Eurorack modules, including a dedicated "Reset".
Metronome
Monitor your tempo through headphones, or use the extra output to sync another device.
Sustain
Control your keyboard sustain with a dedicated pedal input.It's a keyboard, after all!

Drum Gates
Control multiple drum machines or modules with 8 discrete triggers.
MIDI
Send or receive from MIDI-enabled instruments or interface
USB
Connect to your computer and control your DAW and software instruments.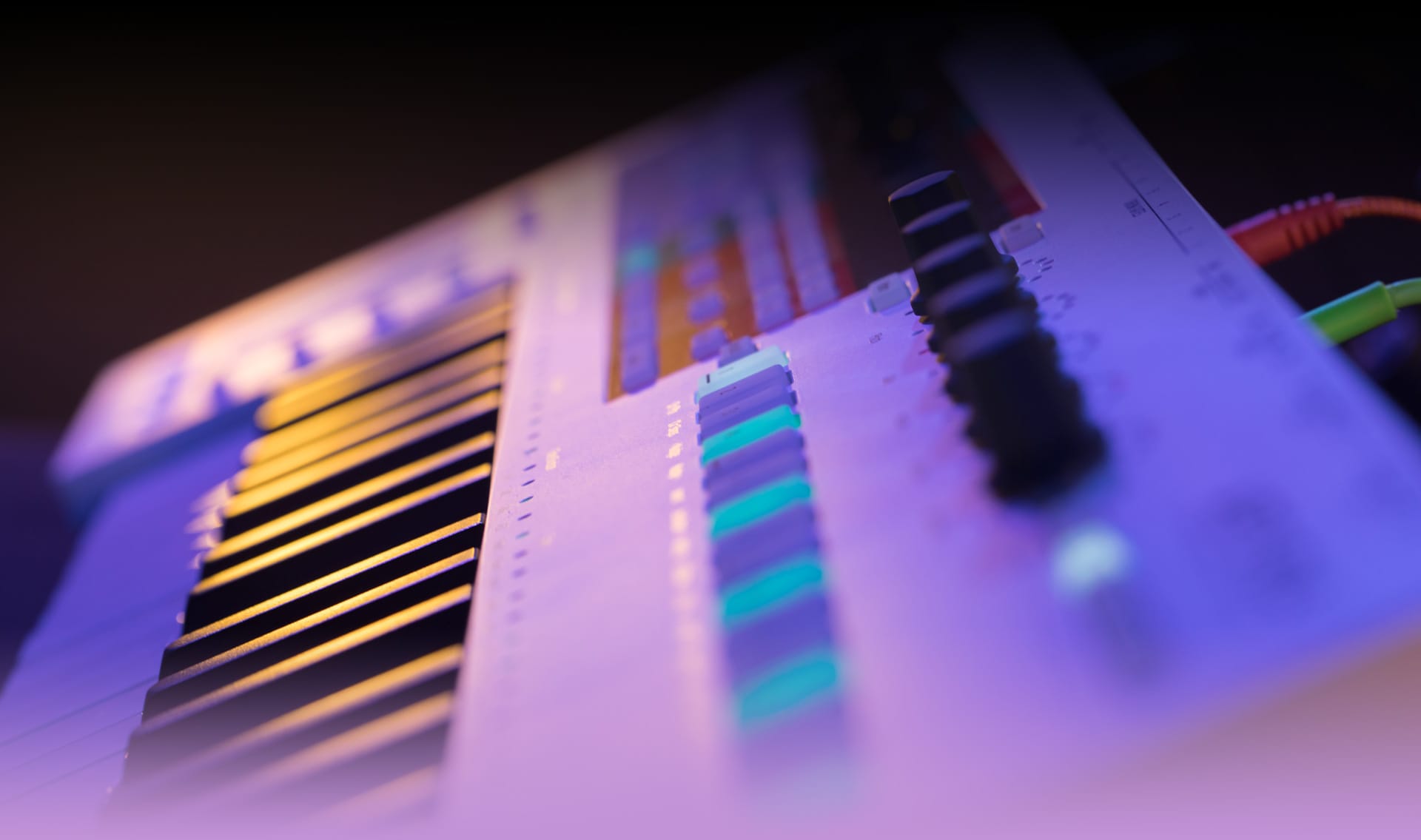 Perfect for live performance
KeyStep Pro will become your go-to choice for performing live. It's perfectly geared to bringing your ideas to life, reacts quickly to your creativity, and intuitively puts you in control.
Each of the 4 independent tracks can be used either for creating custom sequences or performing arpeggios. We've kept things straightforward: to select a track, just hit the dedicated button for whichever one you want. Track 1 can either be a standard melodic sequencer, or a powerful drum sequencer, depending on your preference and setup.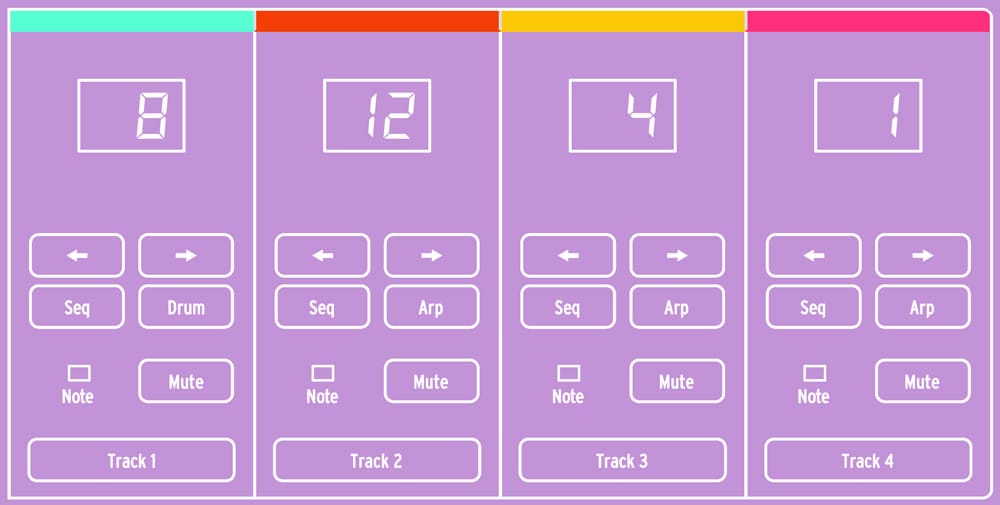 Once you've made a few groups of sequences, you'll want to save them to play them again in the future. No problem, as KeyStep Pro lets you store and recall 16 different projects. Access them with the "Project" button and the menu knob.

KeyStep Pro also features the same addictive touch-sensitive looper/roller strip as the BeatStep Pro and DrumBrute. Too popular to leave out, this little strip lets you throw in fills and breaks whenever you want, adding an unpredictable edge and live energy to your performances.

Robust and reliable
This isn't just some flimsy MIDI keyboard, we know that KeyStep Pro will become part of your creative identity, so we made sure to make it something special.
The rigid metal baseplate adds that "reliably heavy" feel without making it feel like a burden to carry; the knobs are rubberized and wobble-free, so they don't slip at a crucial point in your performance; the 37-note slim keyboard has the same satisfying action as the original KeyStep, but with extended range; the OLED displays are crisp, clear, and vibrant, so you can read them under stage lights with no problem.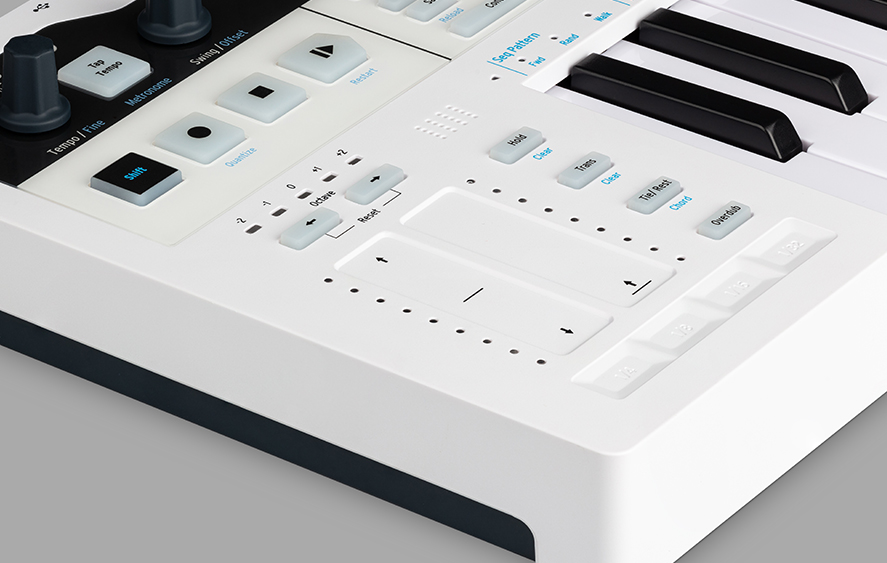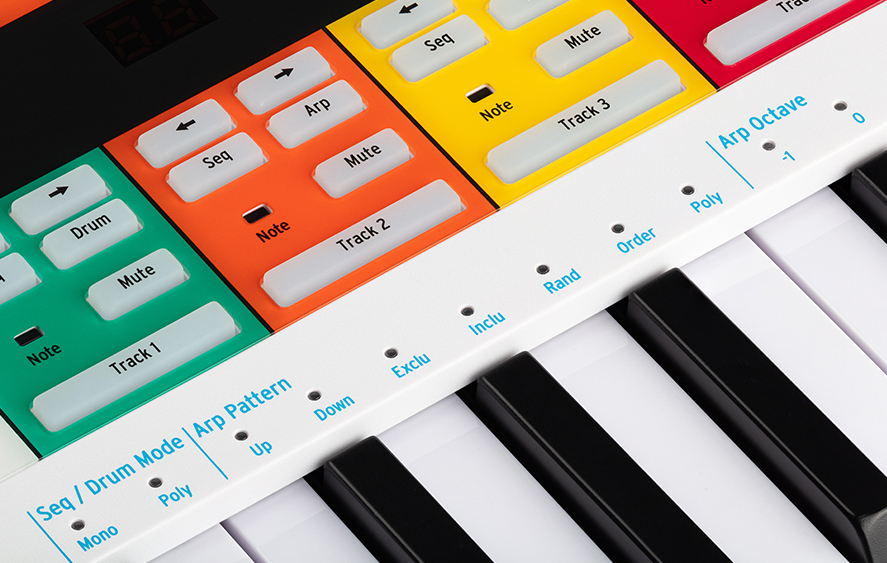 Traveling LEDs let you follow the sequences as they play, so you'll always be able to get a quick visual reference of where you are. We even included a handy little metronome speaker on the unit itself to give you instant tempo reference, should you want it.
With KeyStep Pro, everything is just right.

Limitless creative options
However you prefer to write, create, perform, and play, KeyStep Pro gives you all the tools and options you need to do it with style.
Real-Time Recording
A great way for keyboard players to perform on the fly. Pressing the "Record" button automatically puts KeyStep Pro in its Real-Time Recording mode. This lets you record a polyphonic sequence as you play, and either non-destructively overdub as you go, or rewrite the sequence as it progresses.
Step-Recording
For the traditional step-sequencer fan, manually entering the steps one-by-one, either without the sequence running or while it plays in the background.
Step Editing
Focus on a step, and edit its content. Simple! You can even visualize the notes that are contained in the step on the keys above the LEDs. Select notes that you want to edit, then duplicate them, transpose, modify their length, whatever you like.
Quick Editing
Nice and easy: simply hold a step and press keys to quickly edit the content of a step.
Drum sequencer
When switched to the "drum" option, Track 1 becomes a powerful drum sequencer, giving you 16 drum parts to play with. The first 8 have analog Gate outputs so you can bring drum modules to life. Press a key to select a drum part, then edit the sequence on the steps.
Polyrhythmic patterns
One of the best loved features on Arturia sequencers and drum machines, KeyStep Pro also includes polyrhythmic sequencing abilities, letting you choose different sequence lengths per drum, and per sequence track.
Chord mode
KeyStep Pro lets you quickly enter a specific chord shape, store it, and play it by holding a single note. Great for beginners and house music producers!
Box contents
KeyStep Pro unit
Registration card
Quick Start
USB cable
Power supply
Size & weight
Instrument size : 23.2 x 8.2 x 1.5 inches (589 x 208 x 38mm)
Instrument weight : 5.9 lbs. (2.7 Kg)
Main Features
37 note slim keys, velocity and aftertouch sensitive

LED above each key for efficient visual feedback

Four track step sequencer

16 step buttons, up to 64 steps per sequence
Up to 16 notes of polyphony per step

Melodic sequencer

Real-Time recording, step recording, step editing
Pitch, velocity, gate length, time shift and probability for each note
Scale quantization with user scales
Polyphonic CV outputs

Drum sequencer

24 part drum sequencer
Polyrhythm

Performance-oriented sequencer

Forward and two random playing modes
Pattern randomization
Quantized or unquantized recording
Looper

Arpeggiator

7 arpeggiator modes, 5 octave range

Chord mode
Controller mode

Use the 5 encoders to send CCs
Automate the CCs

Crisp OLED display
4x (CV, Gate, Mod) outputs + 8 drum gate outputs
1 MIDI in, 2 MIDI out, USB, Clock synchronization
Metronome with included speaker and line output
Sustain pedal input