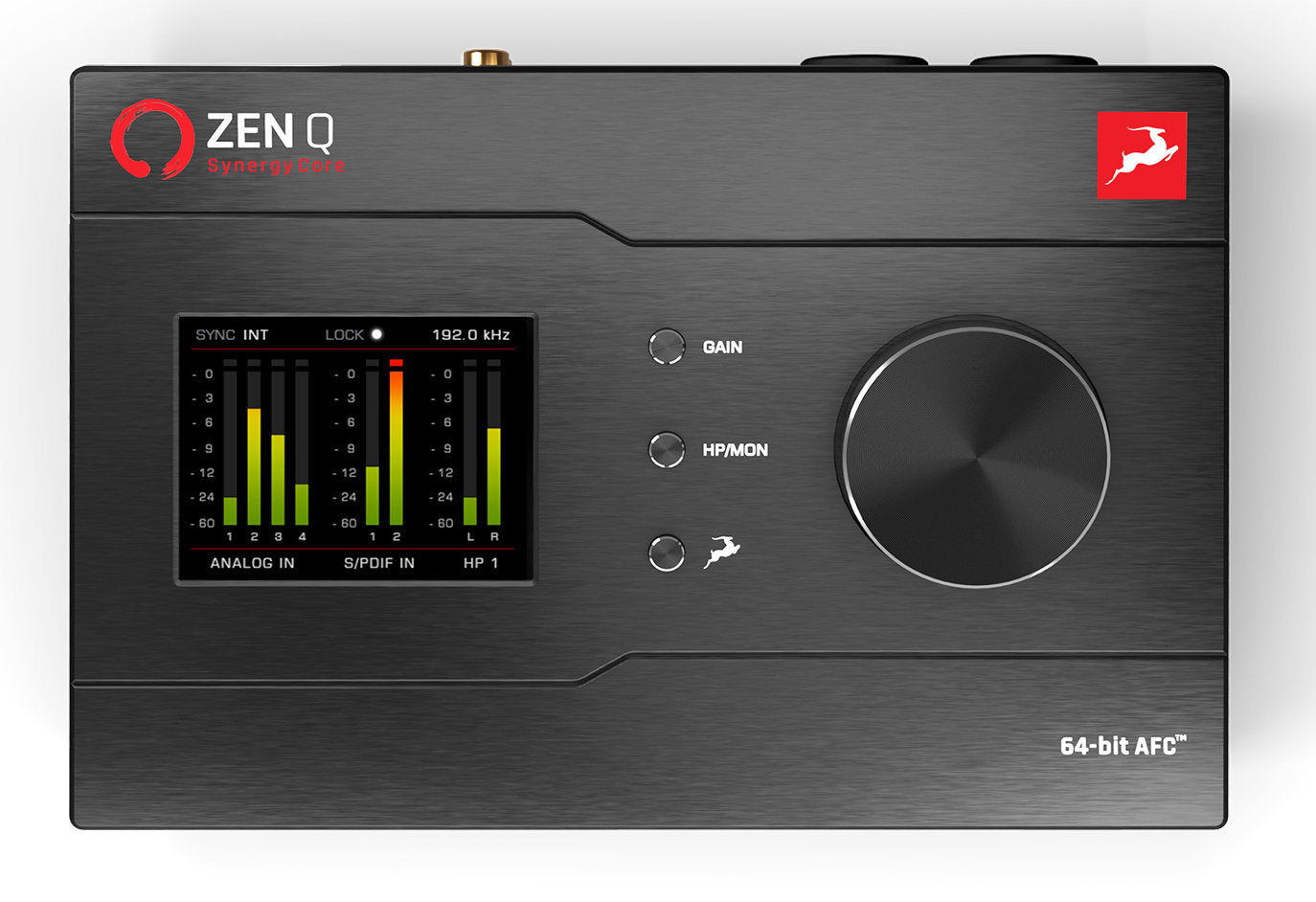 Zen Q Synergy Core
📦 Ships same day when ordered by 2pm PST. 🛍 Local pickup available daily. Contact us for more information. 💜
ZEN Q
SYNERGY CORE
14 X 10 BUS-POWERED AUDIO INTERFACE WITH ONBOARD REAL-TIME FX
Take the quantum leap to pro recordings
Empower your desktop setup with high-end technology and take the next step in your creative quest. The Zen Q Synergy Core allows you to thrive without restraints by giving you access to renowned sound quality, real-time processing of analog-modeled effects and expandable I/O.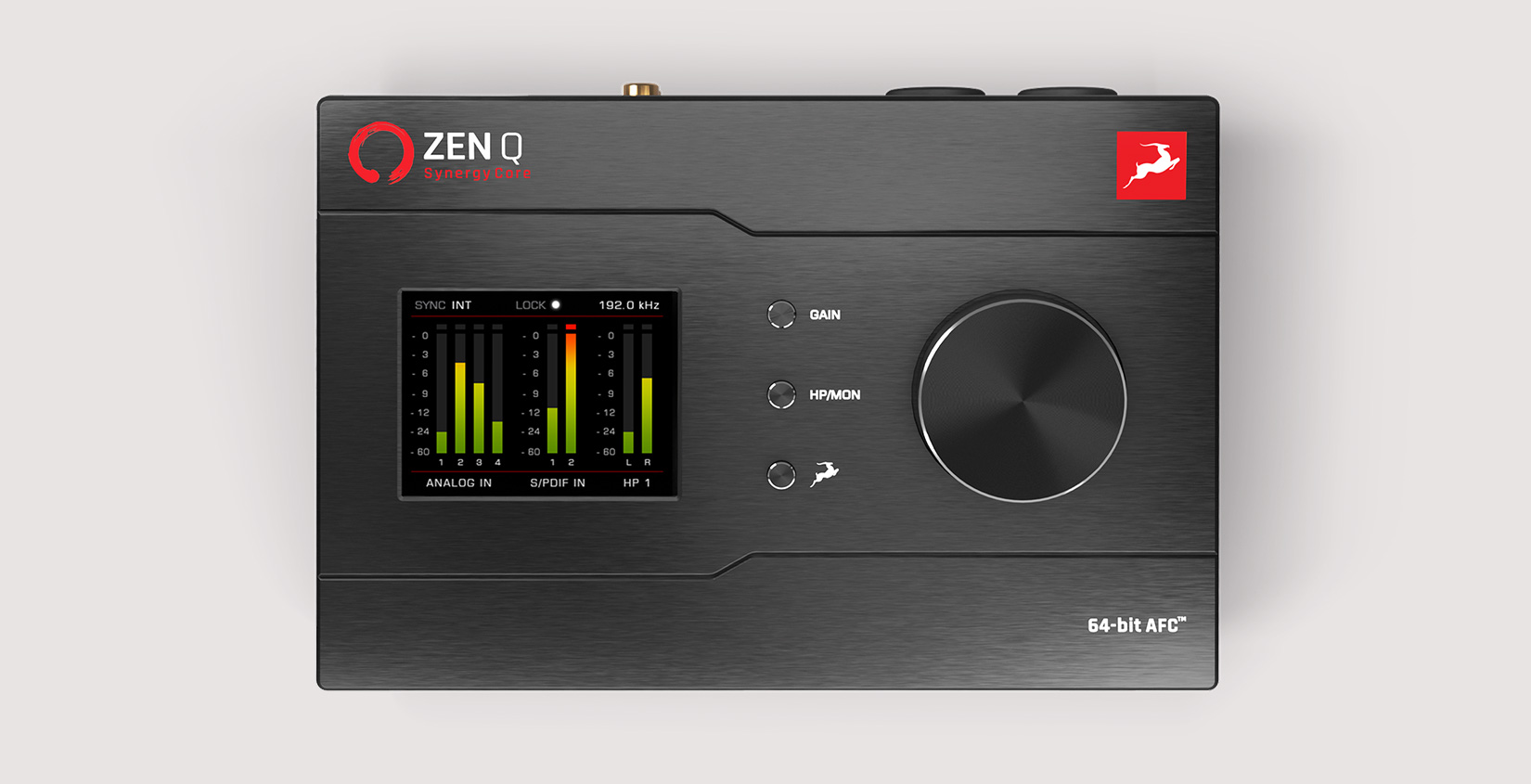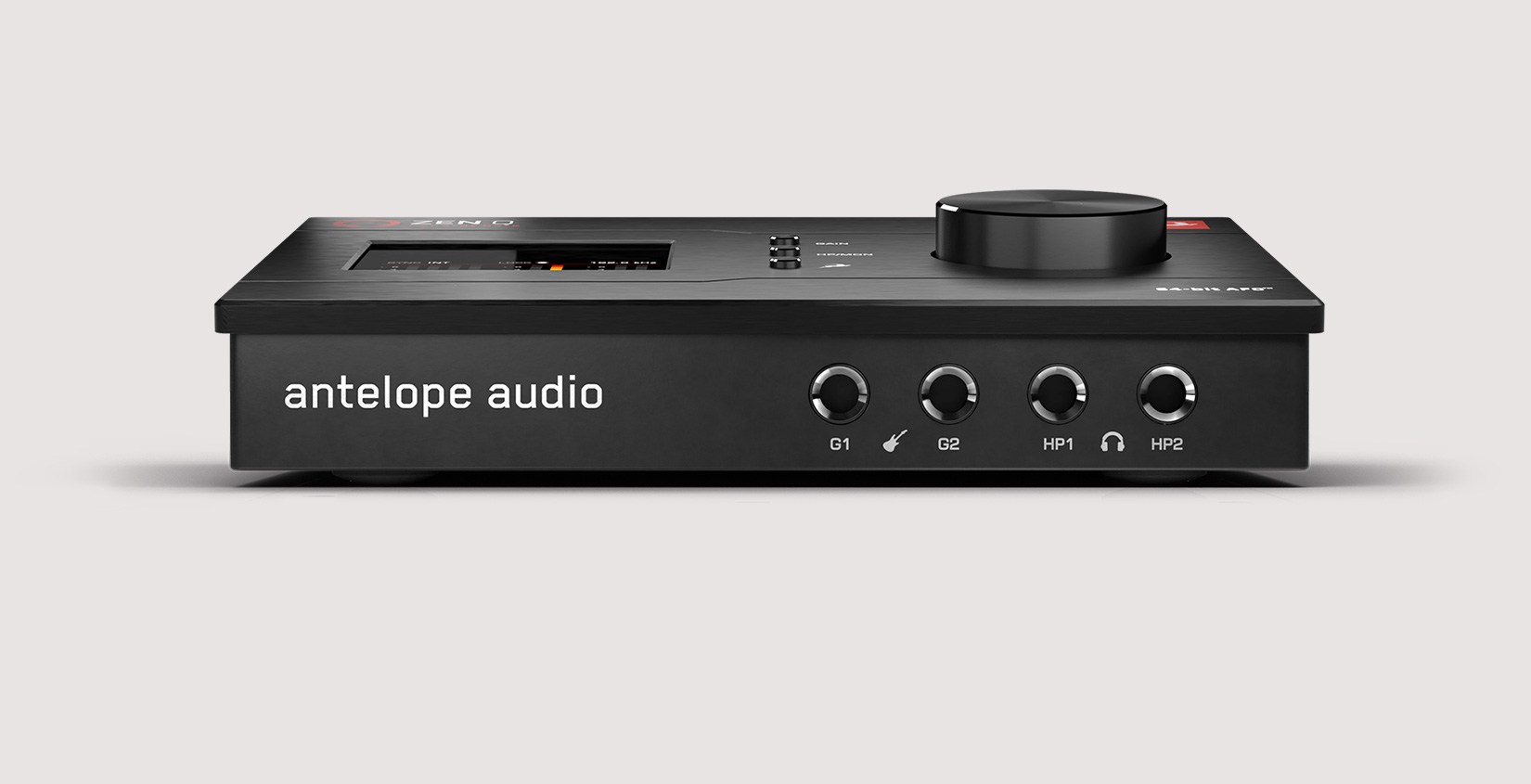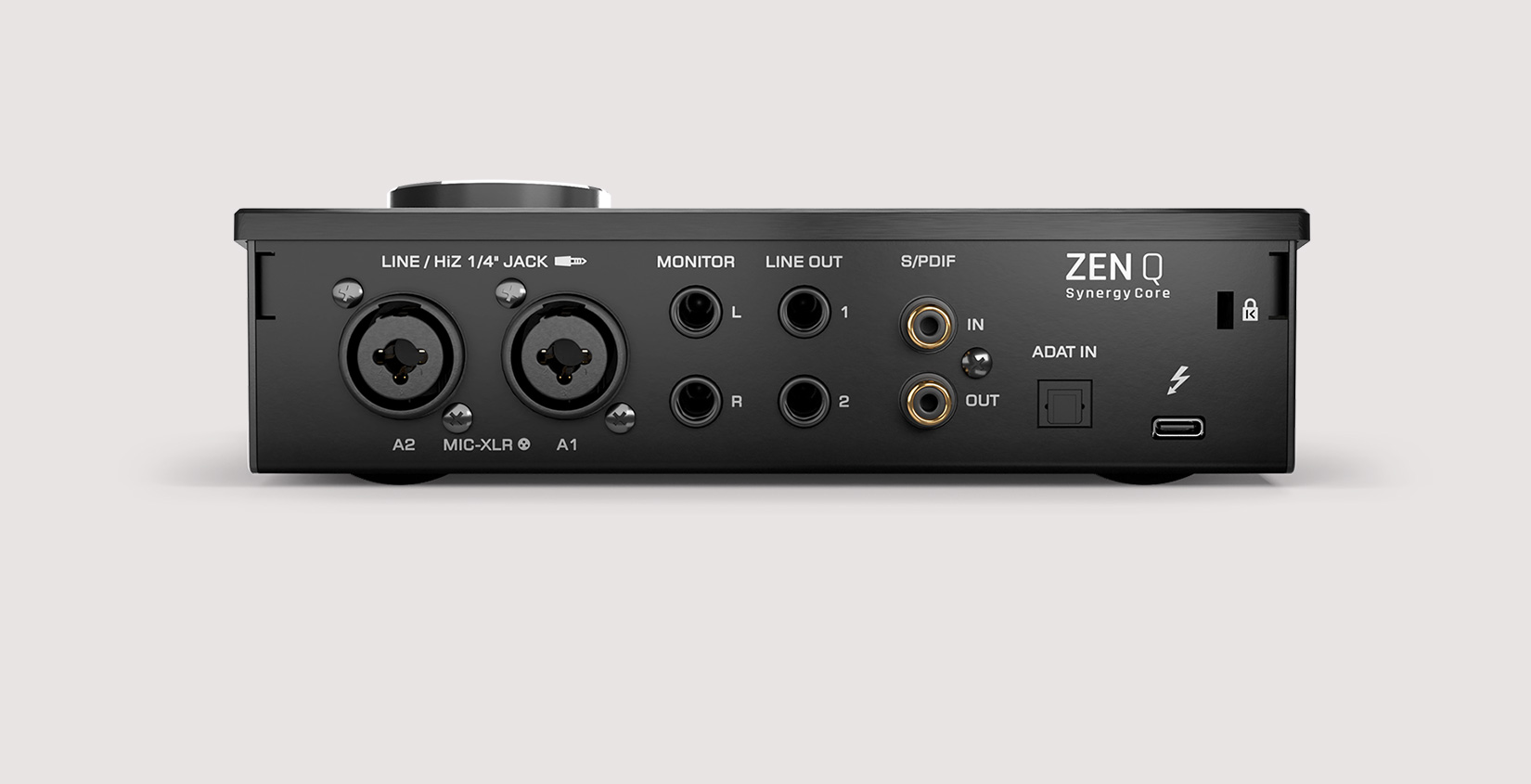 HI-DEFINITION AUDIO
Your desktop companion for better sound
With Zen Q Synergy Core, attain a sonically precise sound in your studio. The interface has all of the core performance qualities that high-end Antelope Audio interfaces are known for, so you can reap the benefits of seamless workflow for any desktop studio layout.
Class-leading AD/DA conversion
The AD/DA converter chips grant up to 127dB of headroom with undeniable definition
Discrete console-grade preamps
The two ultra-linear preamps feature true console-grade circuitry that imparts warmth and captures the natural details of any recorded instrument or voice.
64-bit AFC™ technology
The 64-bit Acoustically Focused Clocking™ technology gives Zen Q efficient AD/DA conversion and spacious stereo image with distinct separation.
SYNERGY CORE COLLECTION
Refine your sound with Synergy Core FX
Along with our signature AuraVerb, Zen Q comes equipped with a virtual library of 37 free effects from the Synergy Core effects platform. You'll get access to everything you need to capture and process audibly rich and dynamic sound. The collection includes analog-modeled compressors, equalizers, and mic-preamps, as well as guitar cabs & amps for dialing in the perfect guitar tone.
Grow your collection of Synergy Core effects with 50 optional expansions. The selection grows over time and includes emulations of classic gear and special third-party effects. Antelope Audio is proud to include Grove Hill's Liverpool, Gyratec's legendary EQs, Antares' Auto-Tune, and Inertia's Instinct.
PREAMPS & CHANNEL STRIPS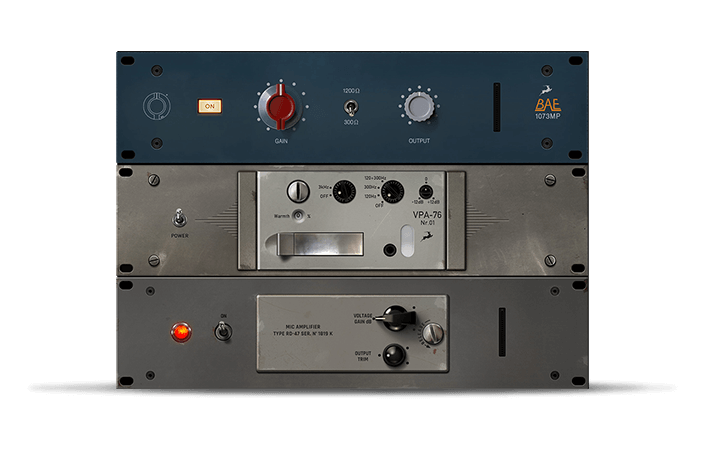 DYNAMICS PROCESSORS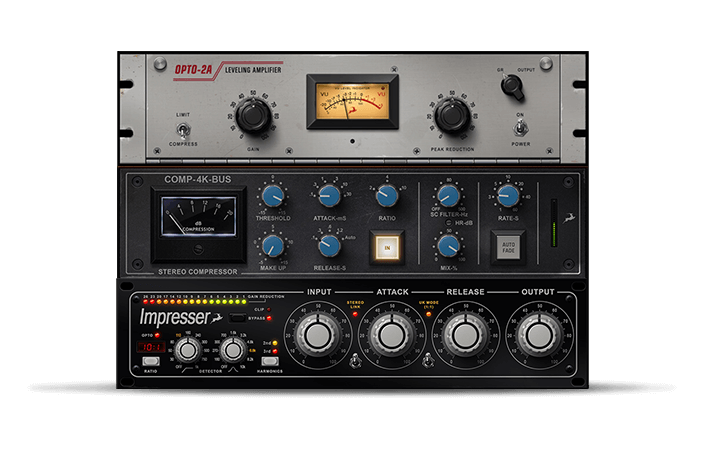 GUITAR CABS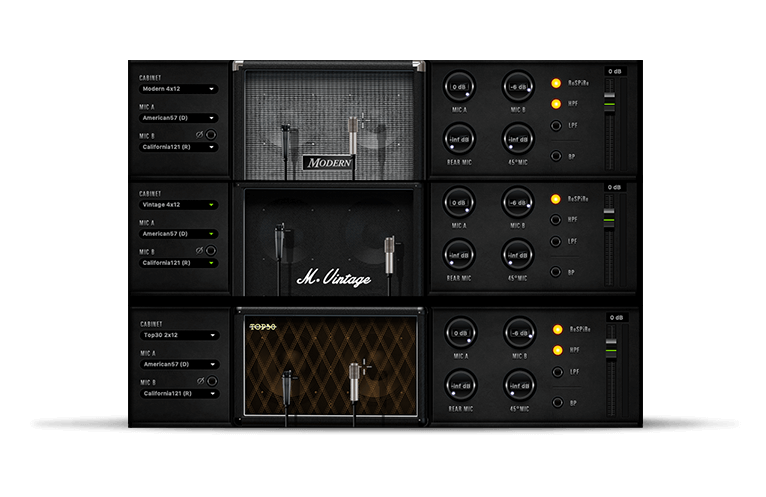 GUITAR AMPS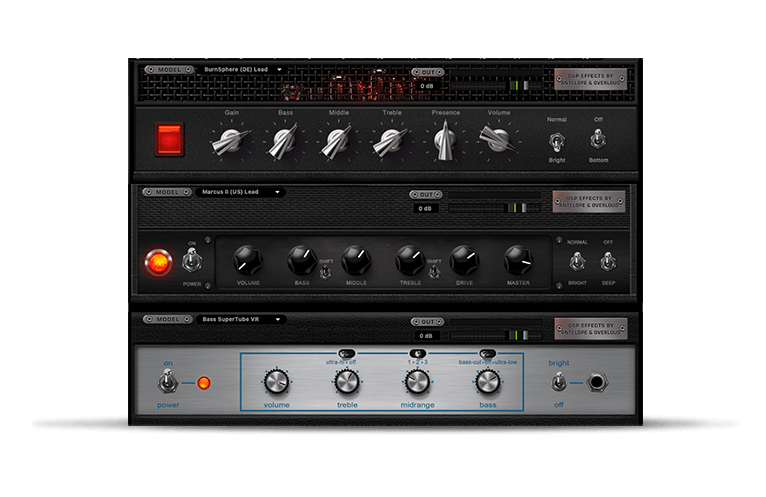 SPECIAL PROCESSING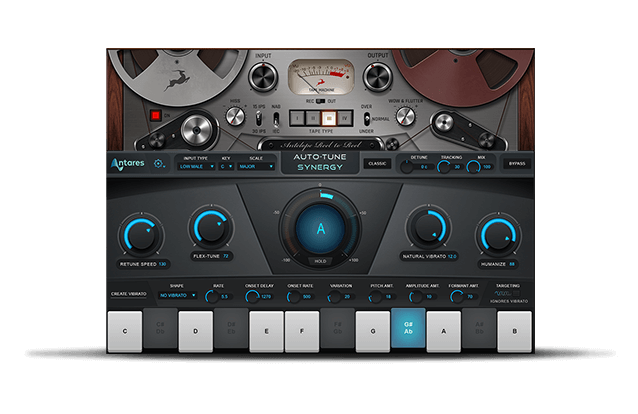 EQUALIZERS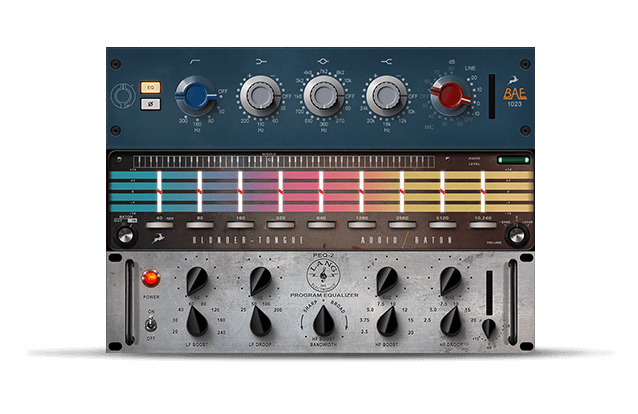 PEDALS, DELAY & MODULATION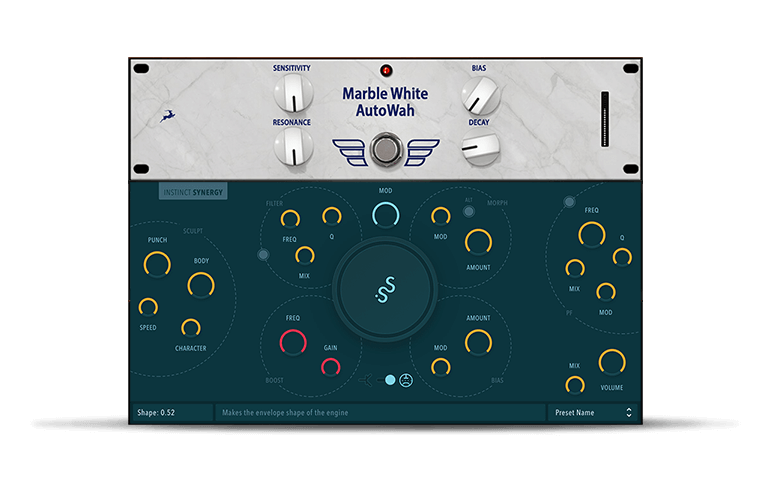 BROWSE THE ENTIRE SYNERGY CORE FX COLLECTION
Synergy Core
Processes effects in real-time with imperceptible latency while monitoring, tracking or mixing.
Offloads all processing to the interface thus saving your host computer CPU & memory.
EXPLORE SYNERGY CORE
afx2daw
HARDWARE PROCESSING, NATIVE WORKFLOW
Taking advantage of high-speed Thunderbolt™, the afx2daw plug-in lets you use Synergy Core effects inside most popular DAWs, providing native workflow while keeping all the processing inside the interface.
afx2daw is available as a separate purchase from our software store, for macOS and Windows.
BUY AFX2DAW
FAST & FLEXIBLE
From the desktop
and beyond
With diverse connectivity options and a compact size, Zen Q Synergy Core can be easily integrated into any setup or style of workflow you prefer. Its portability enables you to take the studio wherever you need to go, whether you're recording on location or performing a live set onstage. Record, mix, and stream with low-latency – no power supply required.
Bus-powered Thunderbolt
Bus-powered Thunderbolt 3 connectivity gives you ultra-low latency and the utmost stability, allowing you to record from any location without ever questioning Zen Q's reliability.
Switchable inputs
Zen Q comes with 2 combo XLR jacks and 2 additional TRS LINE/Hi-Z inputs. Use the combo jacks to choose between our Discrete console-grade preamps, LINE, or Hi-Z inputs.
Expandable connectivity
Take full advantage Zen Q's digital expandability. The interface is expandable over ADAT via 8 additional input channels, and S/PDIF with 2 channels in and out.
Loopback function for streaming
For a convenient online broadcasting setup, use loopback capabilities for streaming and recording OS/DAW playback and interface inputs simultaneously.
Session recall
Enhance your workflow by customizing and saving session presets, then recall them from the hardware effortlessly.
KEY FEATURES
CONVERSION & CLOCKING
Class-leading AD/DA conversion with up to 127dB of headroom
Recording, mixing and playback at up to 24-bit/192kHz
Proprietary 64-bit Acoustically Focused Clocking (AFC™) technology & Jitter Management algorithm delivering increased width, separation, and detail.
CONNECTIVITY
2×Discrete ultra-linear preamps with 65dB of gain for studio-quality recordings. Both work as microphone/line/ Hi-Z inputs, on combo XLR jacks, and supply 48V of phantom power
2×Hi-Z/line instrument inputs over TRS
2×DC-coupled line outputs over TRS
Thunderbolt™ 3 port carrying up to 16 input and 16 output channels in any popular DAW with custom macOS & Windows drivers
Digitally expandable over ADAT IN , with 8 channels available
Digitally expandable over S/PDIF I/O, with 2 channels available
1 × Stereo monitor output over TRS
2 × Stereo headphone outputs with separate volume control
WORKFLOW-ENHANCING FEATURES
Bus-powered interface – powered by the Thunderbolt™ connection without need for a dedicated power source
Direct monitoring with Synergy Core effects, processed in real-time with imperceptible latency
Simplified I/O routing with pre-configured settings, allowing immediate recording and playback
Front panel with easily accessible controls over input and output levels, and other settings
Customizable presets with signal routing, level adjustments, mixer and effects settings
Customizable monitoring mixes with adjustable volume, pan and reverb
REAL-TIME EFFECTS PROCESSING
Collection of 37 Synergy Core effects modeled after classic and rare analog outboard gear
Synergy Core proprietary onboard platform powered by 2×DSP & 1 × FPGA chips for real-time effects processing with imperceptible latency
Modeling Engine allowing pairing with the Edge line of microphones for real-time use of vintage microphone emulations
37 INCLUDED SYNERGY CORE EFFECTS
Gyraf Gyratec IX (Dual Tube Mic Preamp with HPF)
VCA160 (VCA Compressor / Limiter)
Stay-Levin (Vari-Mu Tube Compressor)
FET-A76 (FET Compressor / Limiting Amplifier)
VEQ-1A (2-Band Tube EQ)
VMEQ-5 (3-Band Tube Mid-Range EQ)
X903 (VCA Compressor / Limiter)
PowerFFC (Feed-Forward Compressor)
Clear Q (Parametric EQ)
Power EX (Expander)
VEQ-HLF (Tube 2-Band HPF / LPF)
Auraverb (Reverb)
BA-31 (Germanium Mic Preamp)
Power Gate (Noise Gate)
A-Tuner (Guitar Tuner)
Plexi 59 (UK) (Tube Guitar Amp)
Bass SuperTube VR (Tube Guitar Amp)
Darkface 65 (US) (Tube Guitar Amp)
Top30 (UK) Bright (Tube Guitar Amp)
Tweed Deluxe (US) (Tube Guitar Amp)
Overange 120 (UK) (Tube Guitar Amp)
BurnSphere (DE) Lead (Tube Guitar Amp)
Marcus II (US) Lead (Tube Guitar Amp)
Modern (US) CH3 (Tube Guitar Amp)
Rock 75 (UK) (Tube Guitar Amp)
Rock 22.10 (UK) (Tube Guitar Amp)
Darkface 65 2×12 (2×12 Guitar Cabinet)
Top30 2×12 (2×12 Guitar Cabinet)
Modern 4×12 (4×12 Guitar Cabinet)
Green 2×12 (2×12 Guitar Cabinet)
Vintage 4×12 (4×12 Guitar Cabinet)
Green 4×12 (4×12 Guitar Cabinet)
Caliper 50 1×10 (1×10 Guitar Cabinet)
Bluelux 1×12 (1×12 Guitar Cabinet)
Clst 1×12 (1×12 Guitar Cabinet)
England 4×12 (4×12 Guitar Cabinet)
Bass Tube 1×15 (1×15 Guitar Cabinet)
IN-THE-BOX CONTENT
Zen Q Synergy Core
Warranty card
Getting Started leaflet
*Note: Thunderbolt cable is not included