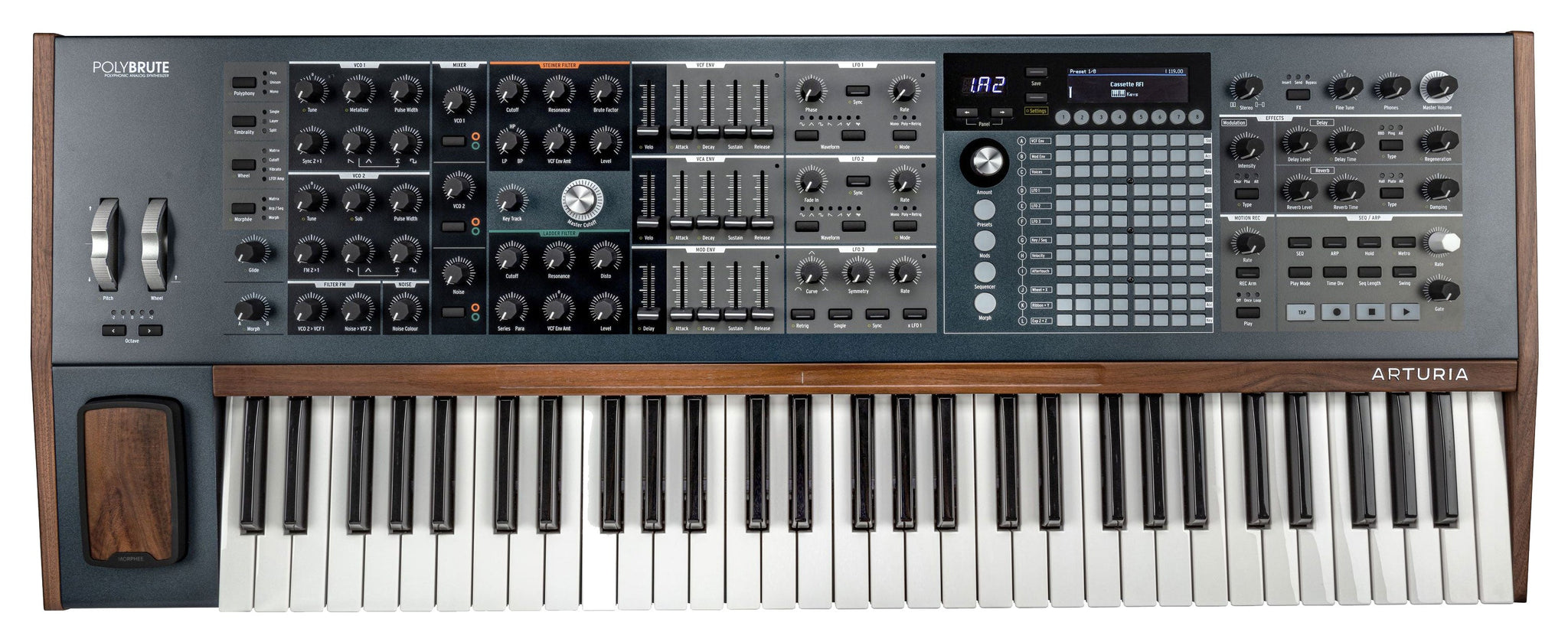 A-F Artist PolyBrute Kit
📦 Ships same day when ordered by 2pm PST. 🛍 Local pickup available daily. Contact us for more information. 💜
PolyBrute
Morphing Analog Polysynth
PolyBrute is more than a synthesizer - it's a 6-voice analog powerhouse, with unprecedented expressivity and sound morphing capabilities, built to let you perform fearlessly, compose with fluidity, and explore sound in perpetual motion.
Imagine using 6 analog voices to craft a sound that's powerful, raw, and entirely yours. Imagine a sound existing in two states simultaneously in a single preset, with seamless morphing between them. Imagine multi-axis performance controls offering next-generation musical expression. Imagine instant and limitless modulation at your fingertips. Imagine a polysynth made by musicians, for musicians.
Imagine PolyBrute
Evolution of the Brute sound
Raw, powerful, organic. The analog Brute voice is an unmistakable sonic force to be reckoned with - how about six at once?
PolyBrute's six-voice power starts with two Brute waveshaping oscillators. With sprawling timbral versatility from delicate airy pads to snarling stacked bass, these are six voices you can count on to excel in every application.
The tactile and reactive nature of analog synthesis is right at the heart of PolyBrute's architecture. Tame or animate the oscillators with an expanded array of multiple filters, envelopes and LFOs for absolute control over the analog domain. Once you've harnessed its sound sources, PolyBrute is your vessel for an inspiring voyage into sound.
Like no synth before it
PolyBrute goes against the grain to provide something entirely new - and not just a new sound, new feel, new design. This is a new approach to synthesis.
The raw energy of Brute oscillators, stacked six voices high, shaped by the versatility of dual enhanced classic filters. But with PolyBrute, a patch isn't just a single sound; it's an entire spectrum of sonic color that can be traversed at the touch of a single control. Attain the unattainable.
With such sonic depth comes the need for tactility. Playing PolyBrute is like suddenly being able to play several instruments at once; a multi-faceted tool of musical expression. From the classic ribbon strip to the state-of-the-art Morphée controller, each component is designed to respond to your every musical nuance.
Sounds complicated? Not a chance. PolyBrute's intuitive function-per-knob interface and the tactile elegance of the Matrix puts next-generation sound comfortably within reach.
Morphing - a new musical dimension
Seamless transitioning of multiple parameters from one state to another, and everything in between. Morphing, combined with the Morphée and PolyBrute's uniquely eloquent inventory, paves the way for endless patch evolution and expressivity.
Every patch stores an A and B state, complete with numerous parameter settings. When you gradually sweep between those two states, you're simultaneously altering all relevant parameters - like turning all the knobs at once. Map PolyBrute's envelopes, LFOs, aftertouch and sequencer to change the morph position between the two states in real-time.
Infinite positions on an elusive spectrum of sound, instantly accessible.
Going from a percussive patch with an emphasis on rhythm, to something smoother, with a pleasant arpeggio-like modulation.
The base is a filtered, wah-like tone, which turns into a plucked synth key sound using Metalizer, a Brute signature.
Morphing allows you to start from a moody plucked sound, to a soft lead, then back again.
You can quickly alternate between a pad-like envelope, and sharper, more percussive sounds, with a single twist of a knob.
Expressive tour de force
To complement its sonic power and colossal flexibility, we knew we wanted PolyBrute to have every conceivable means of performance expression. The single morph knob is the key that unlocks PolyBrute's sweeping morph abilities - but it doesn't end there.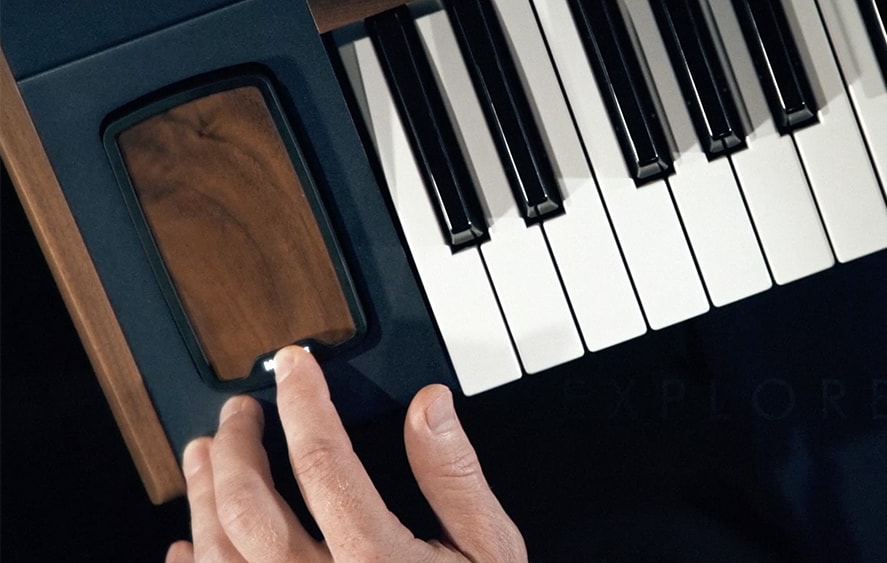 The innovative Morphée controller
It does more than just put morphing at your fingertips; you can discreetly map the X and Y touch axes plus the Z pressure axis to bring a new form of control to any destination parameters available in the Mod Matrix. You can even use the Morphée to randomize your sequences or arpeggios with spice, dice, and ratcheting!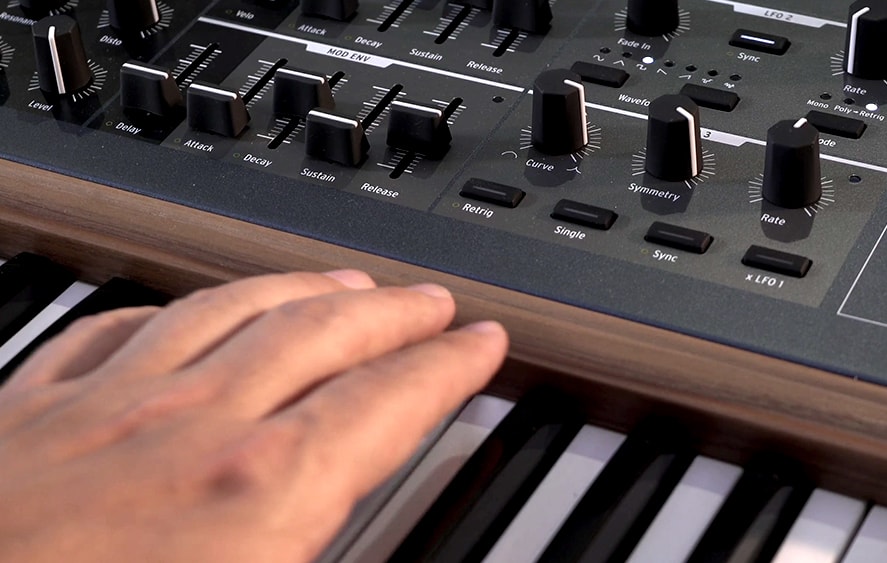 The ribbon controller
We've resurrected the coveted ribbon controller, once a staple on classic hardware synthesizers. Positioned immediately above the keybed, you can assign it to your chosen modulation destination and glide effortlessly up and down the spectrum.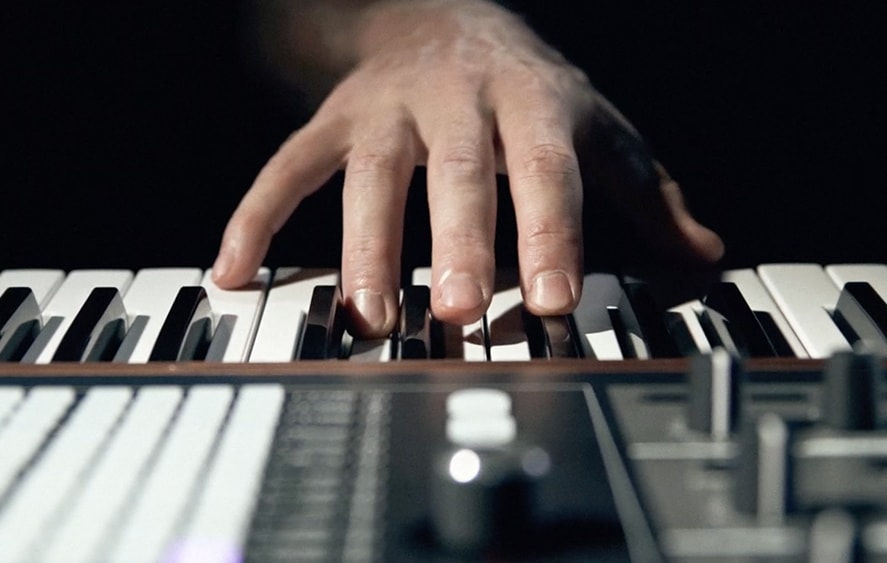 The Keyboard
Coupled with a premium velocity/pressure-sensitive keybed, pitch wheel and assignable mod wheel, and footpedal controller inputs, and PolyBrute excels beyond the realm of powerful polysynth.
This is an instrument that responds to your every command for unparalleled performance control.
Great synths start with great sound shaping
PolyBrute's seismic sound begins with two analog VCOs sharing much of the same sonic architecture that has made MatrixBrute and the rest of the Brute family famous.
Each oscillator generates sawtooth, triangle and square waves simultaneously, and you can mix between them to waveshape just the right initial timbre.
Saw VCO1 > Triangle VCO1 > Square VCO1 > Sub VCO2 > Metalizer VCO1

Then dial in VCO 1's Metalizer wavefolding to escalate from pure to rude. Bring in VCO 2's sub-oscillator to add an extra octave lower or really rattle some teeth. Dial in edgy FM effects by modulating VCO 1's frequency with VCO 2, or subtly alter a continuous range of harmonics with soft or hard sync.
VCO_Sync evolving
Metalizer evolving from minimum as a triangle waveform to the maximum Metalizer setting
Finally, the addition of a variable noise generator adds dust, dirt, and airy textures to taste. Go from red (dark) to white (bright) noise, and use it as a sound or modulation source - perfect for popping percussive sounds or breathy pads.
Two filters are better than one
Tame the rawness of the Brute oscillators with not one, but two filters at your disposal - time-tested classics, fused with thrilling enhancements.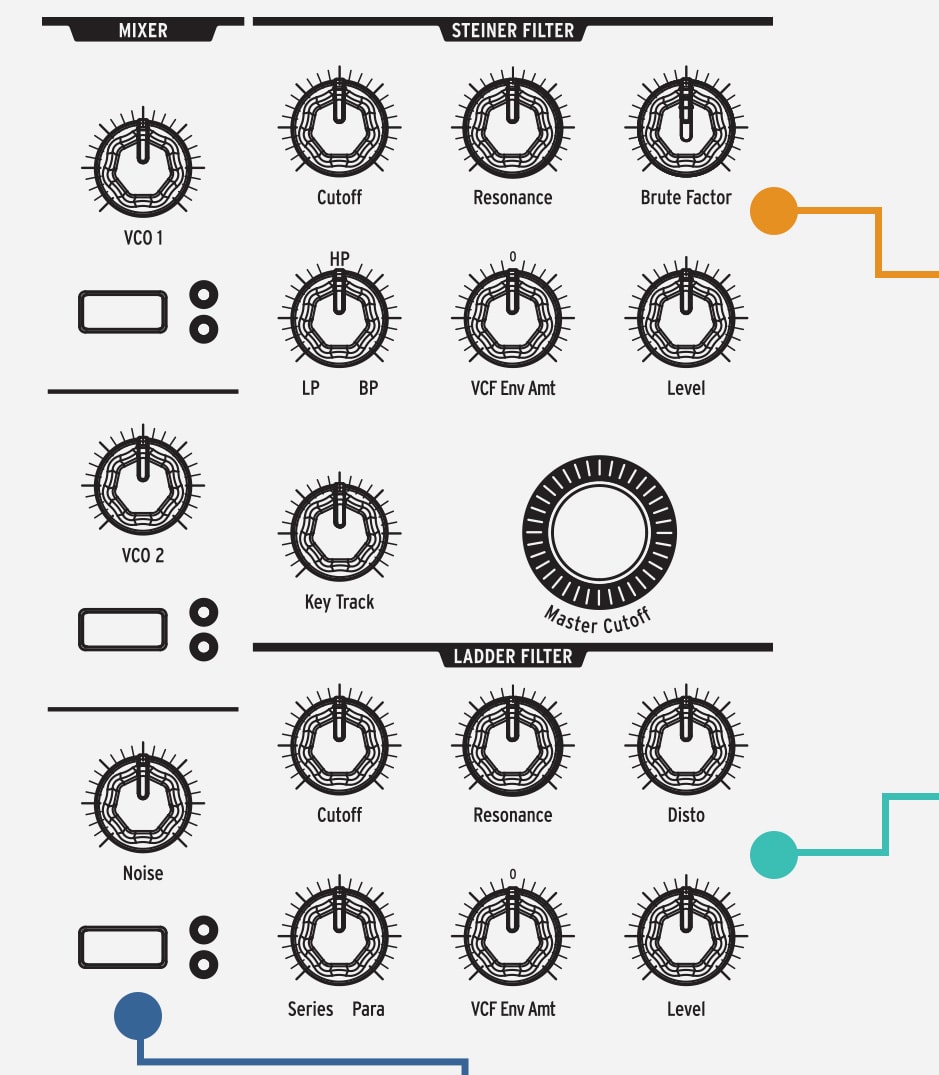 VCF 1 - Steiner
A 2-pole 12db/octave Steiner filter design with continuous sweepable slope types, as seen across the Brute range. The addition of the proprietary Brute Factor feedback control lets you add anything from subtle warmth to a raunchy growl.
Steiner filter showing Low Pass, Hi Pass and Band Pass modes
Steiner filter plus Brute Factor
VCF 2 - Ladder
Inspired by Dr. Bob Moog's legendary 4-pole 24db/octave ladder design. A low-pass classic, with added gain compensation and asymmetrical distortion to add upfront grit to your polyphonic patches.
Ladder filter with and without resonance going up to self-oscillation.
Ladder filter plus distortion.

Series
In series mode, you combine the strengths of both designs - forming a single unique filter exhibiting two different slopes.

Parallel
In parallel mode, you can route the two different filters separately for discrete stereo synthesis, where the left and right channels can have different evolving sounds.

Continuous
In addition to assigning each sound source discretely to the filter of your choice, you can also determine whether the filters run in series, parallel - or a delicious mix of both.
Steiner and Ladder combinations from serial to parallel modes.
A flexible and far-reaching tonal palette worthy of any sound designer's toolkit, offering refined timbres from crushed unison bass to resonant harmonic chord stabs. And that's before modulation...
Modern modulation sources
Modulation has always been essential in animating synth sounds.
PolyBrute weaves a web of envelopes and LFOs that's intricate and unpredictable in equal measure - the sound of motion itself.
Three Envelope Generators
PolyBrute's VCF and VCA have velocity-sensitive ADSR envelopes hardwired outside the Matrix for instant gratification. The third Envelope Generator features a delay stage (DADSR) and can be assigned to sculpt any Matrix modulation targets. Use the various repeat and loop modes to add complex movement to your patches.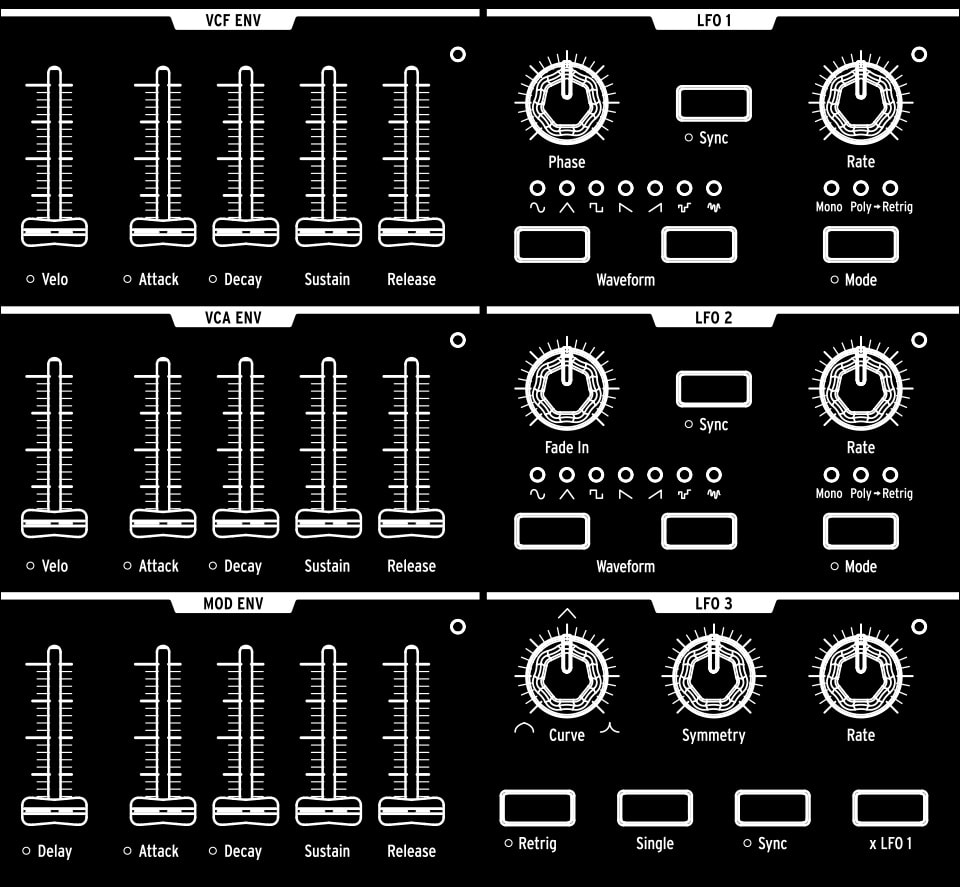 Three LFOs
PolyBrute's three syncable LFOs span an extremely wide range - facilitating anything from beautiful evolving soundscapes to clangorous audio-range modulation. Options for waveshaping, polarity and retriggering let you take your sound way outside the box. Experiment with Matrix routing and tempo/MIDI sync for hyper-rhythmic effects.
Enter the Matrix
The flexibility of modular patching combined with digital precision and analog richness makes for a transcendent polysynth experience.
32 target parameters, 64 connections in total. Rearrange PolyBrute's signal chain with the touch of a single button. Dial in positive or negative amounts, intuitively assign one or more destinations via any relevant controls, instantly route PolyBrute's array of performance controllers and advanced modulation sources to influence just about anything in the instrument's chain - all without the spaghetti nest of wires.
But the Matrix doesn't just take care of PolyBrute's all-encompassing modulation routing - it's the centrepiece of every aspect of its architecture. In Presets mode, use the Matrix to select any of the 768 patch memory locations. Morph mode accesses advanced morph state editing. Sequencer mode transforms the Matrix into an intuitive visual pattern editor.
Quite simply, the Matrix takes PolyBrute's expansive feature set and distills it into an intuitive, visually-responsive interface that makes it a dream to play.
Animate and automate your sound
When you want to set your sound in motion, there's no faster way than engaging PolyBrute's Sequencer/Arpeggiator section, instantly accessible via the Transport section, Matrix, and keybed.
Trigger patterns from the keyboard or use the Hold mode to latch the keys you touch - freeing your hands to grab controllers, tweak parameters and/or play along. It's the closest thing you can get to flying without leaving the ground.
32-Step Arpeggiator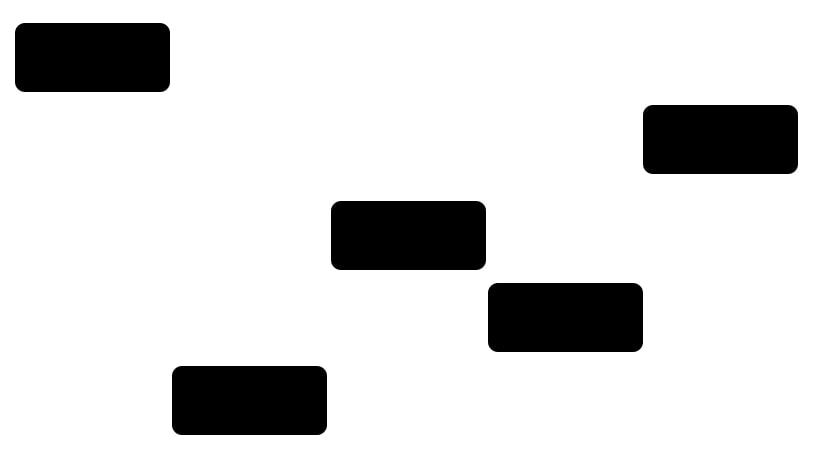 We've taken the Arpeggiator way beyond the expected, giving you inspiring new modes ranging from predictable to delightfully random.
When you hear something you like, the push of a button can even convert it to a sequence to preserve the magic of the moment - further editing and refinement optional.
64-Step Polyphonic Sequencer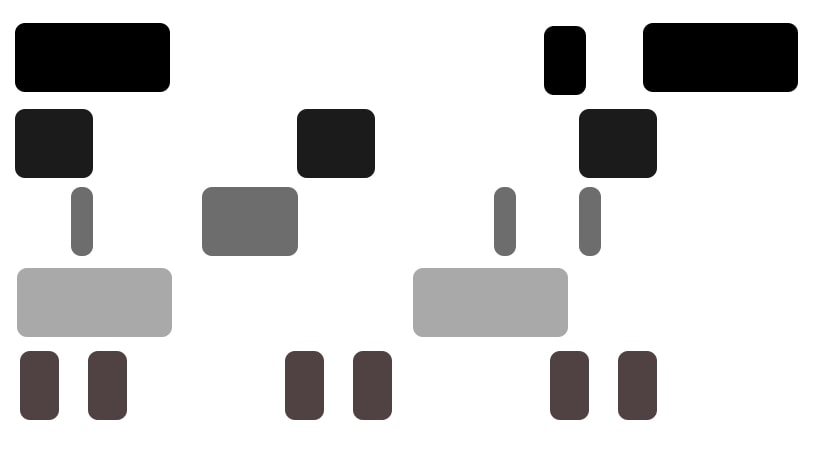 Use either real-time or step input to record up to 64 steps, each with 6-voice polyphony. Record in Overdub or Overwrite mode, with velocity, accents, ties, and slides per step, then make refinements with streamlined Matrix-powered editing and management options - more than your everyday sequencer.
You can play along live with your sequences via split and layer modes. Use controllers to change timbre and other PolyBrute parameters during playback - great for bringing nuance, character and dynamics to your sequence-aided performances. You can even record changes from up three different controllers into a sequence to automate textural changes.
Go for solid predictability or dial in the degree of random probability you want to continually shake things up.
Motion Recorder
As if there aren't enough ways to animate your PolyBrute patches, the Motion Recorder instantly captures your movement of almost any knob or controller - and then automatically plays back that motion back with every triggered note.
Matrix Arpeggiator
If standard arpeggiation isn't your game, the Matrix Arpeggiator mode combines the best of PolyBrute's Arpeggiator and Sequencer into yet another innovative creative resource. Map which of up to six held notes will sound for each step, with mutes, octave transpose, slides, and even modulation tracks. Then that same pattern will apply to any notes you hold - craft melodies and ostinatos intelligently and intuitively.
Imagine the possibilities of doing that with just about any PolyBrute control. You can optionally set playback speed from 1/8 to 8x what you performed - and even loop playback for repetitive effects.
Jagged filter envelopes, effect decays, and vibrating polyphonic drones await.
Integrated digital effects
PolyBrute incorporates built-in professional-grade digital effects into every patch, with parameters that can be modulated to no end - rounding off an all-encompassing palette worthy of any stage, studio, or soundtrack.
These effects are no mere afterthoughts, either - we've even included favorite algorithms from our critically acclaimed FX Collection. Choose between 3 types of effect - Modulation, Delay, Reverb - and unlock all manner of immersive textures, from Chorus to BitCrusher, Karplus to BBD delay, Plate to Dreamy reverb.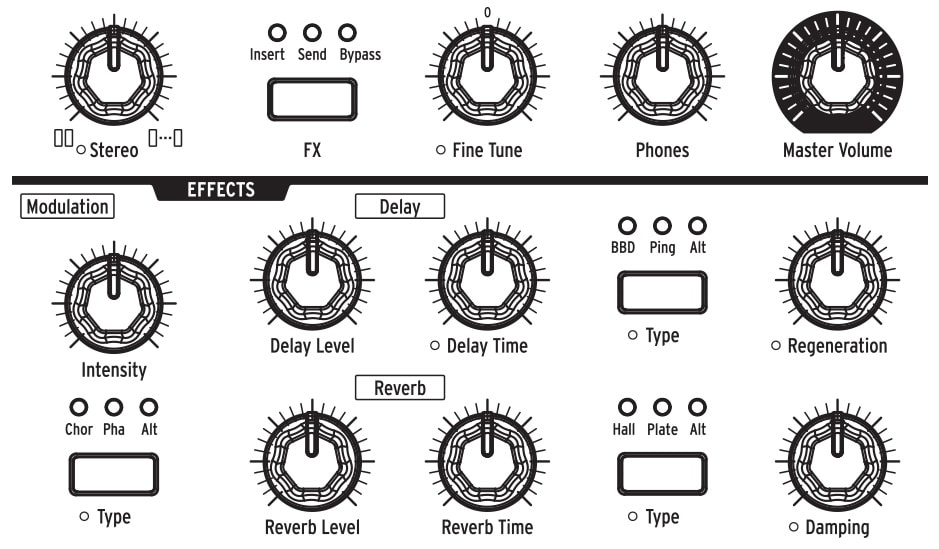 PolyBrute's effects are specially designed to take advantage of its complex stereo architecture - you even have the option of inserting them all inline before the output or configuring delay and reverb as a sidechain send.
Modulation
Delay
Reverb
Chorus
BBD
Hall
Alt:
- Flanger
- Phaser 12p
- RingMod
- BitCrusher
- Soft Floanger
- Phase Flanger
- DownSampler
Alt:
- Stereo Delay
- Long Delay
- BBD PingPong
- Karplus
- Stereo Spread
- Parallel
- BBD Spread
Alt:
- Bright Plate
- Room
- Dreamy
- Spring
- Delayed Plate
World-class presets
The world's top sound designers pushed PolyBrute to its limit - and gave us hundreds awe-inspiring presets to explore with.
These stunning presets come readily installed, spanning a multitude of genres and musical timbres, designed by experts in every sonic field - but these are no ordinary presets. Each one is a gateway to a new sonic domain, composed of two distinct states, and infinite points in between - ready to be explored via a plethora of expressive elements.
Pads
Percussions
Leads
Keys
SFX
Sequences
Basses
PolyBrute is a full-tilt vehicle of sonic exploration before you touch a single button.
Polyphony, integrated
PolyBrute is equal parts standalone synth behemoth and studio family member - simple connectivity is key. You can play an entire set or compose an entire soundtrack from start to finish, with no other gear. But PolyBrute is also designed to connect to your existing rig for a seamless musical experience.
A selection of MIDI, expression, audio, and sync connections on its back panel make it a team player that can add heaps of polyphonic power to any setup. A home modular system, a touring keyboard rig, a studio staple - PolyBrute fits the bill.

PolyBrute Connect
Coherent integration between PolyBrute and your virtual studio projects, combining the tactility of analog hardware with the convenience of virtual instrument flexibility.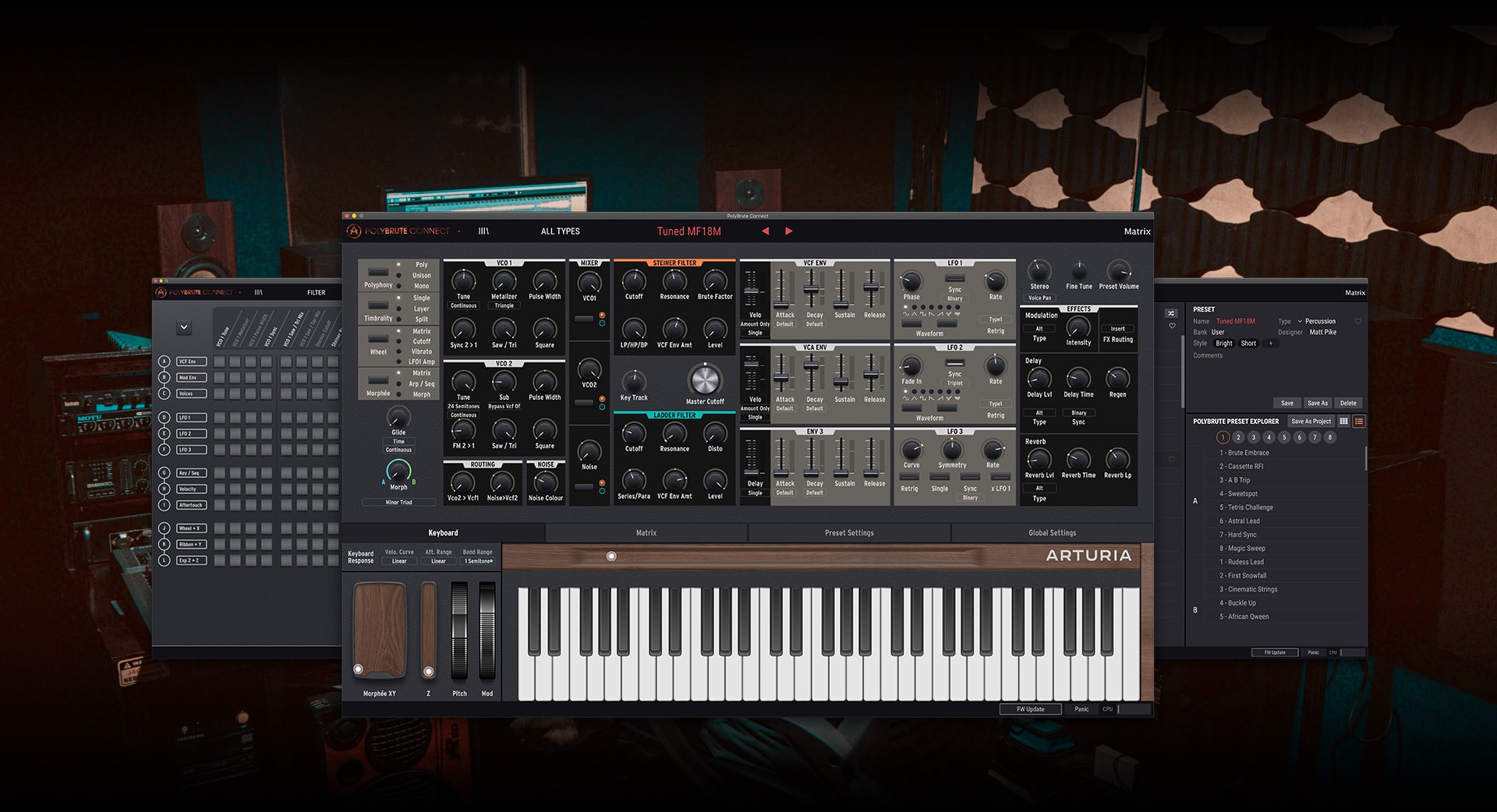 PolyBrute's entire front panel, replicated as a standalone Mac/PC app and a plugin for all major DAWs. Organize your patch library and enjoy bi-direction visual editing between software and hardware - anything changed on PolyBrute will reflect on screen, and vice versa. You can even control every PolyBrute parameter with MIDI tracks in your DAW - analog power meets an unhindered virtual workflow.
This provides invaluable insight into the construction of patches and the nuances of patch morphing, so you can really tap into the inner workings of your sound.
Designing a flagship
PolyBrute is undoubtedly a beast - but there's beauty in its design too.
Not only is its layout logical and intuitive, but its striking design combines the best of vintage synth heritage and cutting-edge modernity. Timeless angles, smooth surfaces, and sleek appointments that'll stand out on any stage. A calculated & rugged metal frame, lavishly lined with dark walnut for an aesthetic worthy of luxury interior design.
Box contents
PolyBrute unit
Power cable
Size & weight
Instrument size : 38.3 x 14.9 x 4.4 inches (972 x 378 x 110mm)
Instrument weight : 44 lbs. (20 Kg)
Main Features
Analog Morphing Synthesizer

6 voices of Polyphony
Mono, Unison, Poly voicing
Single, Split, Layer modes

61-keys with Velocity and Aftertouch
Pitch Bend, Mod Wheel, Ribbon controllers
Morphée touch and pressure sensitive 3D controller
Sound Morphing capability, part A and B for each preset
Two Analog VCO's

Saw
Triangle + Metalizer
Square + Pulse Width
Sub
Linear FM
Hard Sync

Noise Generator

Continuous tone from rumble noise to white noise

Osc and Noise Mixer with Filter routing
12dB/Oct Steiner Parker Filter

Continuous LP>Notch>HP>BP morphing
Cutoff, Resonance, Brute Factor

24dB/Oct Ladder Filter with Distortion
Three Envelopes

Two ADSR
One DADSR
Looping capability

Three LFOs

LFO1 and LFO2 with waveform selection
LFO3 with waveform shaping using Shape and Symmetry
Rate control & Tempo Sync
Various retrig options

Three stereo digital effects

Modulation FX : Chorus, Phaser, Flanger, Ring Modulation, ...
Delay : 9 algorithms including BBD, Digital delay, ...
Reverb : 9 algorithms including Hall, Plate, Spring, Shimmer, ...

768 preset slots
12x32 Modulation Matrix
64 step polyphonic sequencer

Notes, Accent, Slide per step
3 tracks of automation

Arpeggiator and Matrix Arpeggiator
Stereo audio output
MIDI and USB i/o + analog clock i/o
2 expression and 1 sustain pedal inputs