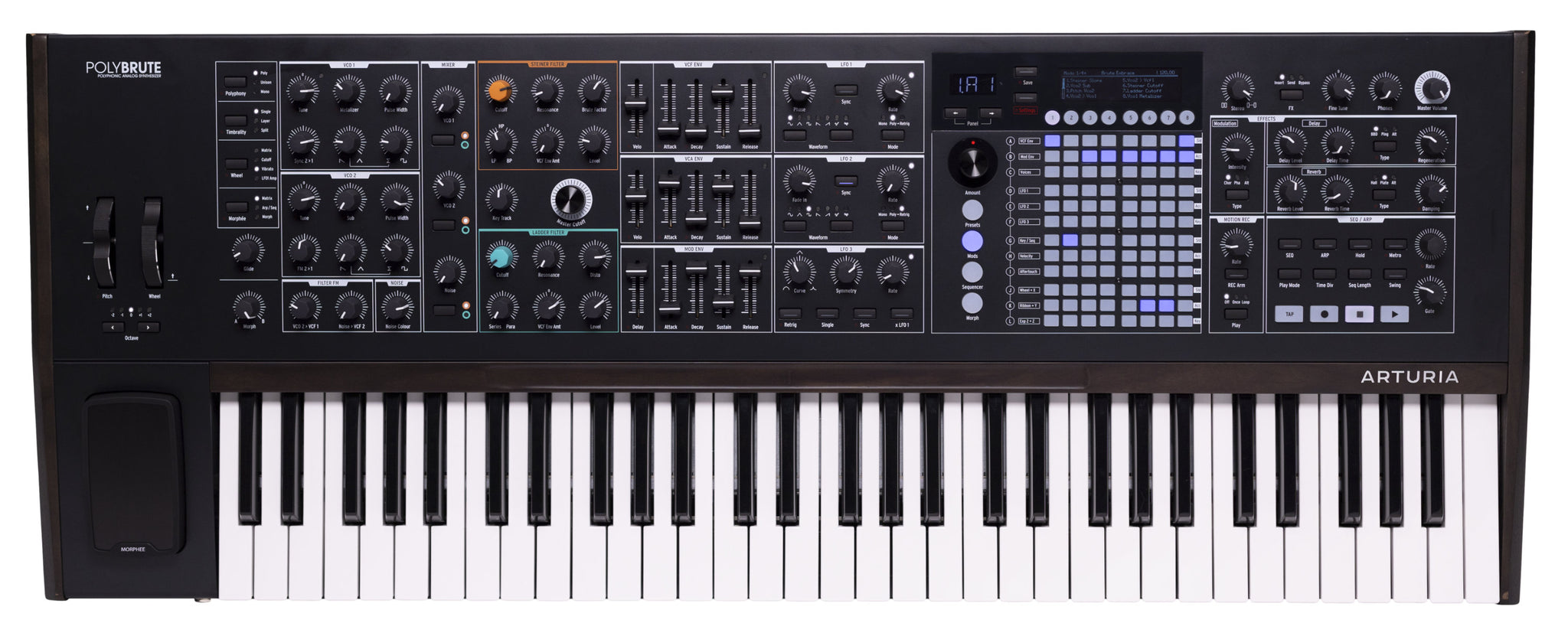 PolyBrute Noir Edition
📦 Ships same day when ordered by 2pm PST. 🛍 Local pickup available daily. 🤝 Offers accepted. Contact us for more information. 💜
PolyBrute Noir Edition
Stealth morphing polysynth
Introducing the limited-edition PolyBrute Noir. Rediscover the morphing analog powerhouse with a fresh Noir finish, sleek redesigned knobs, and ionized parts, culminating in a deeper, darker aesthetic straight from the abyss.
Analog from the abyss
A 6-voice analog synthesizer that treads new ground between sonic universes, reimagined with black-hole aesthetics. Morph seamlessly between sounds within sounds, discover unparalleled multi-axis expression, and push analog timbres deeper into uncharted darkness. The elusive and mysterious PolyBrute Noir has awakened - dare you step into the darkness?
Your expressive dark horse
Create dramatic sonic shifts with a single movement, explore infinite sweet spots between two sonic states, and enjoy new levels of instrument control and musicality that feels like an extension of yourself.
Morph
PolyBrute Noir's presets exist in two simultaneous states, and the Morph control lets you sweep effortlessly between them. Adjust numerous parameters at once for huge variety within a single preset.
The Morphée controller
An X-Y-Z controller that combines pressure with position for unique multi-axis control over your sound. Assign it to preset morphing, voice controls, sequencing randomization - the choice is yours.
The Ribbon controller
A resurrected synthesizer staple, modernized and positioned conveniently above PolyBrute Noir's keybed. Assign it to your chosen modulation destination and glide effortlessly across your sonic spectrum.
The Keyboard
Coupled with a premium velocity/pressure-sensitive keybed, pitch wheel and assignable mod wheel, and foot pedal controller inputs, PolyBrute Noir is a synthesizer that you won't want to take your hands off.
Sound shaping paradise
PolyBrute Noir's voice is a collision between signature Brute oscillators and dual analog filters for sounds that quickly move between the light and the dark, the familiar and the otherworldly.

The oscillators
Start your voice right with two powerful Brute analog VCOs that generate sawtooth, triangle, and square waves simultaneously, with jagged Metalizer wavefolding, cavernous sub-oscillator, and cross-mod & sync controls right at your fingertips.

The filters
Add color and shape to your timbres with two classic filter designs, configurable in series, parallel, or continuously variable. The first, a Steiner 12db/octave filter with continuous slope type, enhanced with signature Brute Factor feedback; the second, the legendary 24db/octave Ladder filter for that essential low-pass smoothness, supercharged with biting distortion.
A Matrix of modulation - and more…
Create your own unique web of modulators and dive deeper into your sound design than ever before; tap into hundreds of exclusive presets that push PolyBrute Noir's architecture to the brink; enjoy a visual overview of your sequences and arps in real-time; the Matrix is where PolyBrute Noir's analog reactivity and digital precision collide.
1 Presets
Instant access to hundreds presets slots, including exclusive patches from the greatest sound designers in the world. No menus, no waiting - just like everything else on PolyBrute Noir.
2 Sequencer
A tactile visual interface with everything you need to create dynamic polyphonic sequences, arpeggios, parameter motion recording and more.
3 Mods
A 96-point digital patchbay with up to 32 destinations. Easily route any of your modulation sources, including PolyBrute Noir's three envelope generators, three LFOs, and numerous expressive controllers, and influence dozens of PolyBrute's parameters at once.
4 Morph
Adjust the modulation sources and destinations for the A and B states within a preset to deepen your morphing contrast and color.
Next-level sequencing
Rev up PolyBrute Noir's engines and enjoy musical momentum that'll bring your ideas to life with performance-friendly sequencing, flexible motion recording, and game-changing arpeggiation.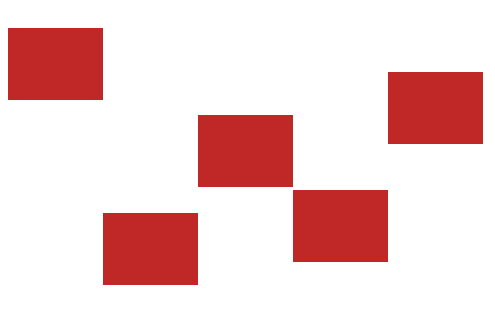 32-Step Arpeggiator
An inspiring multi-mode arpeggiator that lets you spontaneously create ideas, randomize them, or freeze them into sequences to preserve the musical magic of the moment.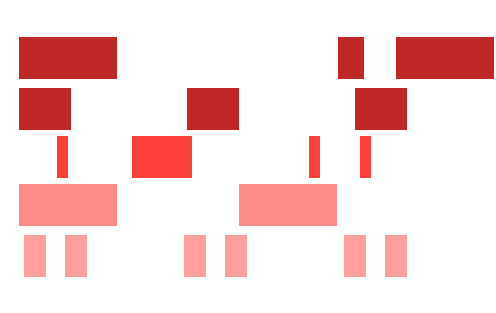 64-Step Polyphonic Sequencer
Use either real-time or step input to record up to 64 steps, each with 6-voice polyphony, and tap in everything from overdubs to accents to slides per step, complete with Matrix-powered editing and sequence management.
Motion Recorder
As if there aren't enough ways to animate your PolyBrute patches, the Motion Recorder instantly captures your movement of almost any knob or controller - and then automatically plays that motion back with every triggered note.
Matrix Arpeggiator
Discover a unique fusion of arpeggiation and sequencing and craft melodies and ostinatos intelligently and intuitively. Map which held notes will play per step, with mutes, octave transpose, slides, and even modulation tracks.
Color, texture, & shape
PolyBrute Noir incorporates built-in professional-grade digital effects into every patch, with parameters that can be modulated to no end - rounding off an all-encompassing palette worthy of any stage, studio, or soundtrack.
With 3 FX slots - Modulation, Delay, and Reverb - dial in algorithms from the criticality-acclaimed FX Collection, from lush Chorus to crunchy BBD delay, dreamy shimmering reverb to crumbling BitCrusher, all in full stereo.
PolyBrute Connect
Combining the tactility of analog hardware with the convenience of virtual instrument flexibility, PolyBrute Noir's entire front panel, replicated as a standalone Mac/PC app and a plugin for all major DAWs.
Control in real-time

Every parameter change, either on synth or software, is mirrored by the other, letting you automate PolyBrute Noir in your DAW, tweak sounds, and much more.

Craft sound

Explore the depths of PolyBrute Noir's advanced features and craft powerful sounds from your computer with a like-for-like virtual interface.

Manage your patches

Organize your favorite sounds, enjoy bi-directional editing between software and hardware, and easily import new presets & sound banks.
Main Features
Analog Morphing Synthesizer
6 voices of Polyphony
Mono, Unison, Poly voicing
Single, Split, Layer modes
61-keys with Velocity and Aftertouch
Pitch Bend, Mod Wheel, Ribbon controllers
Morphée touch and pressure sensitive 3D controller
Sound Morphing capability, part A and B for each preset
Two Analog VCO's

Saw
Triangle + Metalizer
Square + Pulse Width
Sub
Linear FM
Hard Sync
Noise Generator

Continuous tone from rumble noise to white noise

Osc and Noise Mixer with Filter routing
12dB/Oct Steiner Parker Filter

Continuous LP>Notch>HP>BP morphing
Cutoff, Resonance, Brute Factor

24dB/Oct Ladder Filter with Distortion
Three Envelopes
Three LFOs

LFO1 and LFO2 with waveform selection
LFO3 with waveform shaping using Shape and Symmetry
Rate control & Tempo Sync
Various retrig options

Three stereo digital effects

Modulation FX : Chorus, Phaser, Flanger, Ring Modulation
Delay : 9 algorithms including BBD, Digital delay
Reverb : 9 algorithms including Hall, Plate, Spring, Shimmer

768 preset slots
12x32 Modulation Matrix
64 step polyphonic sequencer

Notes, Accent, Slide per step
3 tracks of automation

Arpeggiator and Matrix Arpeggiator
Stereo audio output
MIDI and USB i/o + analog clock i/o
2 expression and 1 sustain pedal inputs
Box contents
PolyBrute unit
Power cable
Size & weight

Instrument size : 38.3 x 14.9 x 4.4 inches (972 x 378 x 110mm)
Instrument weight : 44 lbs. (20 Kg)