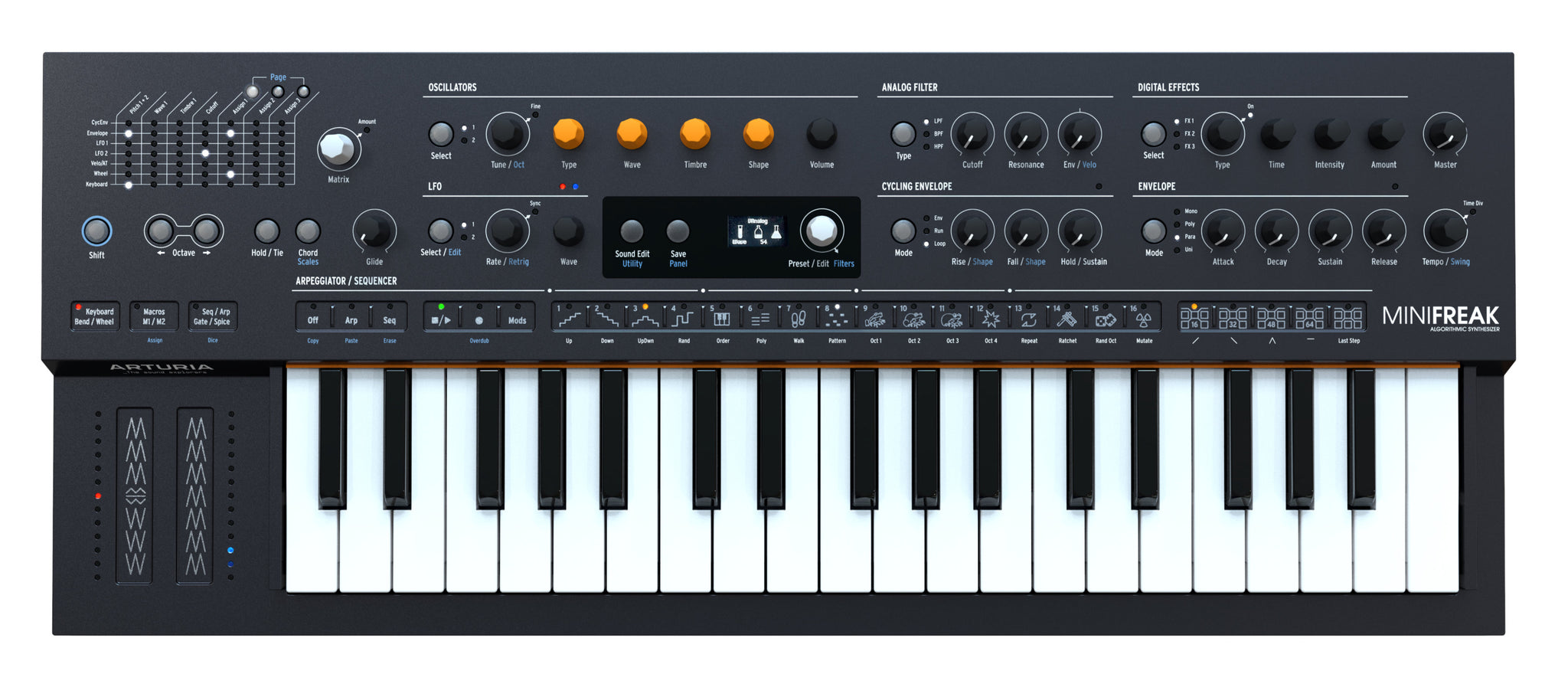 MiniFreak
📦 IN STOCK ships same day when ordered by 1pm PST. 🛍 Local pickup available daily. Contact us for more information. 💙
MiniFreak - Spontaneous algorithmic synthesizer
MiniFreak is a polyphonic hybrid keyboard that unites dual digital sound engines with analog filters, playful modulation, instinctive sequencing, and rich stereo effects for sounds that are immediately curious, beautiful, and chaotic in equal measure.
Explore the unconventional
In the rift where digital meets analog, engine meets engine, hardware meets software, expression meets impulse, and reality meets boundless imagination, dwells MiniFreak.
Discover endless sweet spots between sonic universes and tear up the rulebook with an addictive hybrid synthesizer that invites you to play without consequences.
Double the engines, double the fun
2 engines, 6 voices, 22 oscillator modes.
From Virtual Analog to FM, Additive to Ring Mod, collide contrasting modes for compound polyphonic timbres, feed Engine 1's sound into Engine 2 for stacked sonic interplay, and process external audio through its architecture to unleash any sound's wild side. Whether it's mix-filling bass, textural percussion, or center-stage synth lead, you can mold MiniFreak's many voices into whatever shape you desire.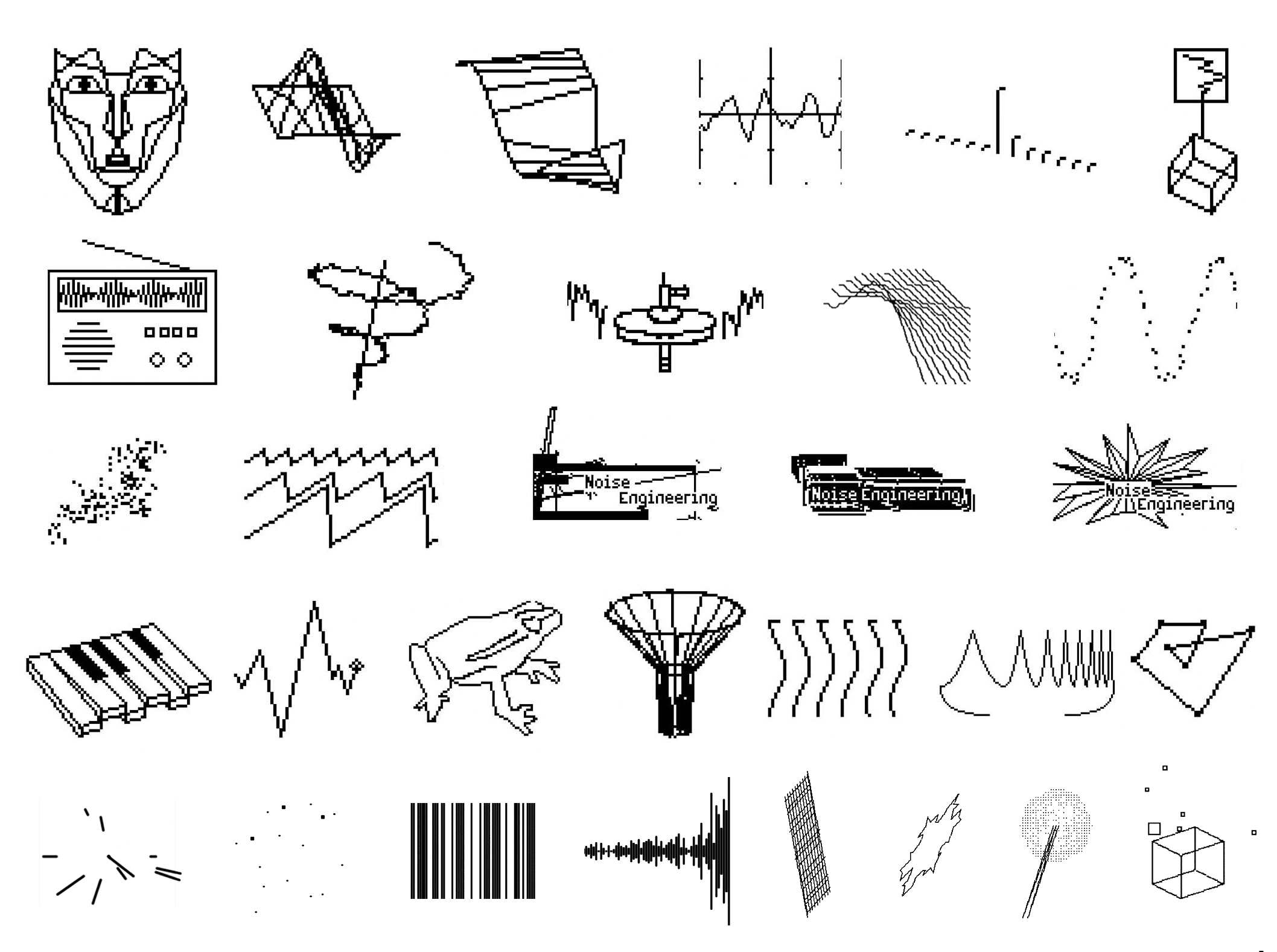 Noise
Superwave
Harmo
Karplus Str.
BasicWaves
Audio In
Multi Filter
Surgeon Filter
Comb Filter
Phaser Filter
Destroy
FM/RM
V.Analog
Waveshaper
Two Op. FM
Formant
Chords
Speech
Modal
SawX
Harm
Bass
Example: A simple analog-style pad evolves into a stuttering rhythmic motif, introducing modulation, filter sweeps, and FX.
Effortless sound experimentation
Immediate modulation means nothing is off-limits.
With twin LFOs, polyphonic cycling envelopes, and customizable LFO shapes, modulate your sound engines, filters, effects - even your modulation sources themselves. Anything goes with this simple-but-powerful modulation matrix, putting any flavor of animated, evolving, or untamed sonic alteration at your disposal in seconds.
Example: A simple sustained chord, progressively modulated with slewed S&H affecting the engines and filters.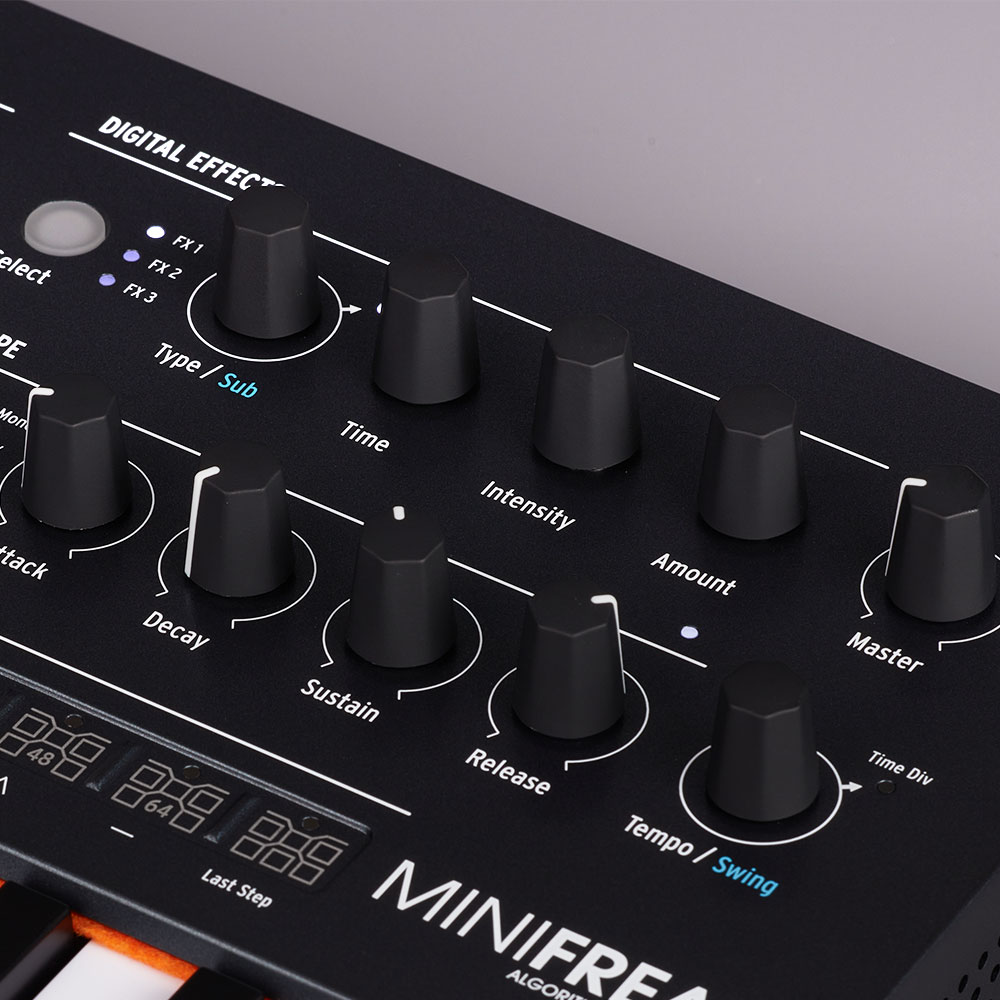 Madness in stereo
Savor vivid stereo textures with built-in effects.
Embellish your dual-engine sounds with beautifully hypnotic chorus, brutal distortion, immersive borderline-3D atmosphere, and beyond. MiniFreak is armed with stereo outputs and 3 FX slots, each with 10 curated FX algorithms to choose from, ensuring that every patch is mix-ready and as wide as you need it to be.
Chorus
Phaser
Flanger
Reverb
Delay
Distortion
Bit Crusher
3-Band EQ
Peak EQ
Multi Comp
Example: a simple sequence turned thick, wide, and resonant by introducing distortion, chorus, and reverb.
A Hands-onExperience
Explore MiniFreak's layout, controls, and secret sonic weapons in detail, from the one-knob Modulation Matrix to the multi-functional touch strips.
Like-mindedexpression
Playfulness that communicates on your level.
MiniFreak is a monster built for playing. Enjoy polyphony that responds to your every input with a quality Slim-key keybed with aftertouch, make sweeping changes to your sound with dynamic macros, turn your melodies into dense chord stacks with Chord mode, and keep your harmony in-check with Scale mode.
Momentum, meet chaos
Movement on tap, randomization on command.
Explore sequencing and arpeggiation that goes way beyond tapping notes in. Lock variety into your patterns with 4 modulation lanes, introduce dramatic octave jumps, drop in ratchets, repeats, and mutations on the fly - and of course, the Freaks' signature Spice & Dice guarantees musical alterations and creative randomizations aplenty.
Example: a sequence that never fully repeats, thanks to MiniFreak's Spice & Dice randomization and one-touch mutations.
MiniFreak V
MiniFreak's sound and architecture mirrored virtually.
Enjoy the same wild hybrid sound, complete with modeled analog filters, in your DAW of choice with a like-for-like VST counterpart to MiniFreak, included with the instrument for free. You can even use the same presets physically or virtually, and tweak the VST with MiniFreak's controls for a seamless creative flow.
Presets
Out of the box, explore a curated selection of over 250 patches to whip up your appetite for Freaky hybrid sound. Created by some of the world's most experienced and prolific sound designers, this library has a little something for everyone. But don't take it from us, hear it for yourself…
Bass
"Harming Bass" A hard bass. The macro 1 controls the HP Filter cutoff and macro 2 adds an octave up.
"Heavy B" Heavy bass sound, as the title suggests.
Leads
"90 Ravers" An old school UK rave lead sound with a lot of artifacts like back in the day with limited sample memory and resolution.
"DjoTears" Supersaw patch on steroids.
Pads
"Cygnus" Dreamy dark polyphonic pad.
"Aevus Aeternu" A majestic pad sound where the aftertouch plays a big role in the expressiveness of the sound by increasing the modulation speed.
Keys
"Crusty Pluck" A thin and noisy pluck sound. Macro 1 adds dramatic tremolo.
"Constellation" Digital organ sound. Mod wheel adds brightness.
FX
"Sci Fi Slam" A huge, texture gesture generator.
"Plat In Clood" Classic ambient eurorack patch using chord engine sent to a digital delay.
Hear it in action
"In 20 Years Time" (Dimitris Kordis)
An intimate, expressive cinematic track using the Minifreak. No external effects were used.
"Broken Landscapes" (Graphyt)
A MiniFreak exploration of textures and sounds finding between something beautiful and broken, something melodic and distorted.
"Hit The Bass" (Lektrique)
A hard hitting banger mixing elements of EDM and trap using Minifreak presets.
"Funk Freak" (Louison Pugin)
A vibrant funk demo using Minifreak Factory presets.
"Hypersona" (Victor Morello)
A hyperpop track using the Minifreak's Engine capabilities. No external effects were used.
"Inflared Moonset" (Trail)
A soulful drum & bass beat with some jazz and funky flavours blended. Sounds are balanced between classic synths textures and modern electronic sonic designs.
What's in the box
MiniFreak Unit
Universal PSU - 12V 1A
USB A to USB 2.0
Registration card
Instrument dimensions
Size : 22.75 x 9.09 x 1.57 inches (578 x 231 x 55mm)
Weight : 6.48 lbs. (2.94 Kg)
Main Features
6-voice polyphonic hybrid synthesizer
37-note velocity-sensitive Slim-key keybed with aftertouch
2 sound Engines with 22 oscillator modes in total
Engine 2 can be used to process Engine 1
1 envelope per voice
1 cycling envelope per voice
2 LFOs per voice
Polyphonic analog filters and VCAs
6-voice polyphonic, 12-voice paraphonic, unison, or mono configuration
3 digital FX slots in insert or send mode, with 10 FX to choose from
User-customizable LFO curves
Mod Matrix with 7 sources and 13 potential destinations
OLED display for real-time visual feedback
Intuitive 64-step sequencer (4 pages of 16 steps)
4 lanes of automated modulation
Performance Arpeggiator controls including Ratchet, Octave Randomize, and more
MIDI in/out/thru
USB connectivity
Sustain, audio in, and clock in/out connectivity
Balanced stereo outputs
256 factory presets
256 user preset slot