KeyStep 37
📦 Ships same day when ordered by 1pm PST. 🛍 Local pickup available daily. Contact us for more information. 💜
KeyStep 37
Creative idea generator
A controller, evolved. KeyStep 37 combines a flexible 37-note keyboard with intuitive sequencing, instant chord generation and creative real-time MIDI controls that let you discover and interact with music like never before.
The controller that's built to inspire
a powerful tool that seamlessly controls your hardware and software instruments
An exploratory device that encourages spontaneous creativity with its musical features. Overcome creative hurdles. Smash artistic barriers. Discover new musical horizons.
Surrender to the musical journey - where will KeyStep 37 take you?
37-note Slim key keyboard
With velocity, aftertouch and real-time RGB LED indicators for a comfortable, responsive performance.
Creative sequencer and arpeggiator
Sequence up to 64-steps with 8-note polyphony and 8 pattern slots, or explore 8 modes of arpeggiation.
Supercharged Chord mode
Generate instant chord sequences that respond to your velocity, with 12 chord types, and an articulate instrument-like strum control.
Assignable MIDI CC controls
Interact with your hardware and software with 16 assignable MIDI CC parameters across 4 switchable banks.
Scale mode
Quantize the keyboard and never play a wrong note. Choose from 5 scales, including a user-defined scale, to set your own musical terms.
Versatile connectivity
Connect to your computer, your desktop MIDI synths, or your CV & modular gear for simultaneous control over hardware and software.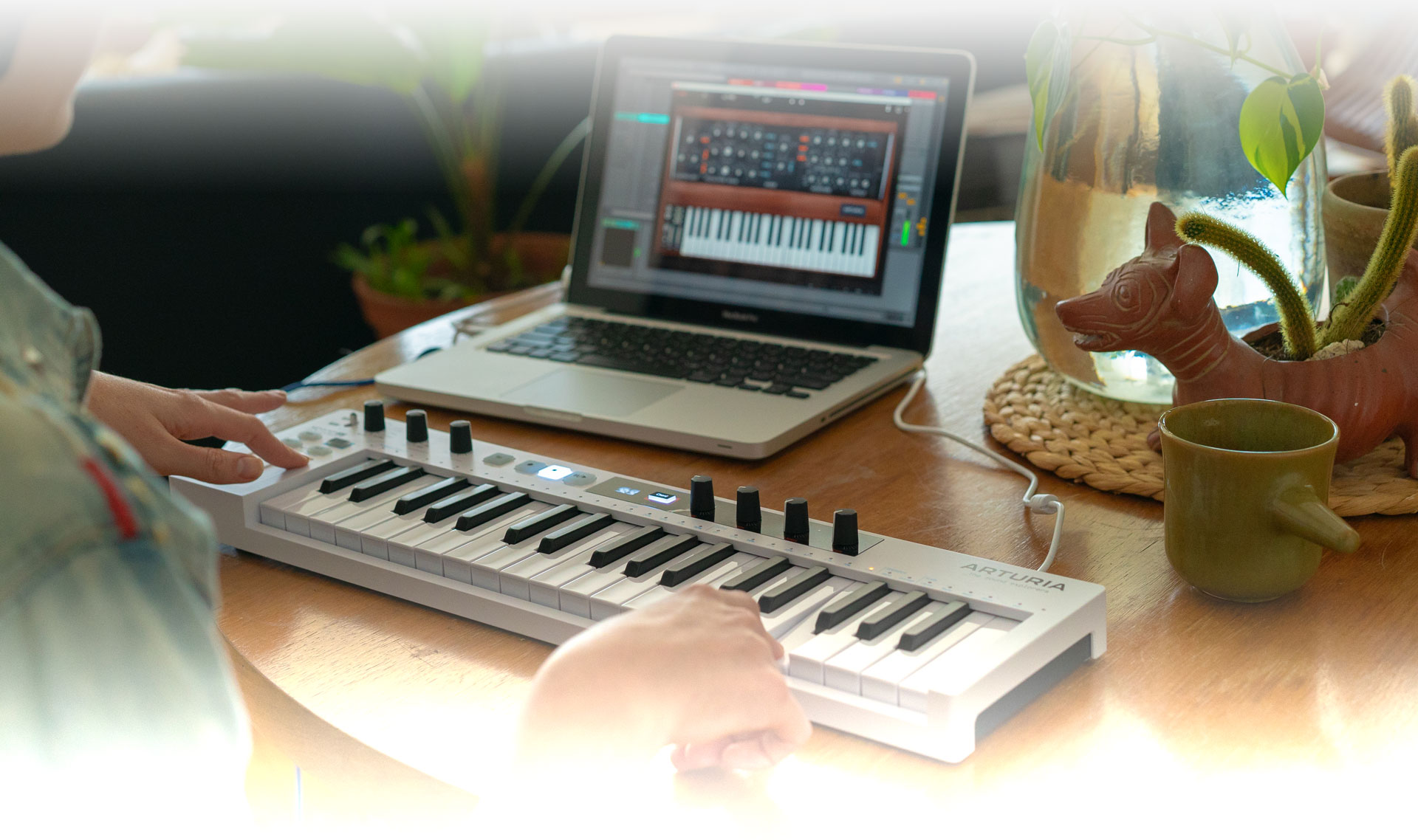 Connecting your musical ideas
KeyStep 37 goes beyond an easy-to-use sequencer and arpeggiator.
Record, perform, and experiment with a compact, accessible keybed that's familiar and enjoyable in equal measure. Push the boundaries of your expression with real-time MIDI CC control and LED feedback. Unlock undiscovered creative potential with the inspiring and unique Chord and Scale functions.
KeyStep 37 isn't just a keyboard controller - it's your new source of inspiration.
Enhanced playability
The same velocity-sensitive 37-note keybed as the KeyStep Pro, complete with aftertouch and RGB LED feedback. A lightweight and compact keyboard that offers full and familiar creative flexibility, whatever your style or ability.
At the center of KeyStep 37's interface we've added 4 new control knobs with a screen, giving you instant access to inspiring new expressive tools and MIDI tweaking - total control.
Music made interactive
KeyStep 37's unique & enhanced Chord mode takes your single note melodies and unfinished ideas and transforms them into musical stepping stones. Choose from multiple voicings, instrument-like strum effects, and velocity settings and make your music really sing.
Map out KeyStep 37's 3-octave keyboard range with a scale of your choice using Scale mode. Any key you play will automatically quantize to the nearest note in the chosen scale - never play a wrong note again.
Tap into the inner workings of your MIDI hardware and software with assignable 16 MIDI CC parameters across 4 switchable banks. Use the 4 new controls to tweak settings on the fly for dynamic performances.
The core of your setup
keystep is designed to be put in control an accessible interface a compact design and comprehensive connectivity make it the perfect centerpiece for your rig whatever needs
Hook up your synth hardware with MIDI in/out. Control your favorite VST instruments with MIDI over USB. Use CV pitch, gate and mod connections for modular integration. Analog sync in/out keeps everything in time without hassle. The best bit? Use it all at the same time.
Connection is key
Connectivity has always been at the core of the Step range. KeyStep 37 is no exception - command every aspect of your setup with ease.
Soundcorner
Six Strums (Victor Morello)
A melodic breakbeat track making extensive use of the chord, and arpeggiator features to control sounds from Pigments and OBXa-V.
Drexciyan Windmills (Leo Battle)
A techno track exploring the combinations of the arpeggiator, the sequencer, and the strum/type settings of the chord, with sounds coming from the ARP 2600 V3.
Less Than One (Jean-Baptiste Arthus)
Space ambient track layering chords, an odd-length sequence, and a strummed lead.
Premium software included
KeyStep 37 comes with a selection of industry-standard creative software to get your musical ideas flowing, so you can start exploring right out the box.
Analog Lab Intro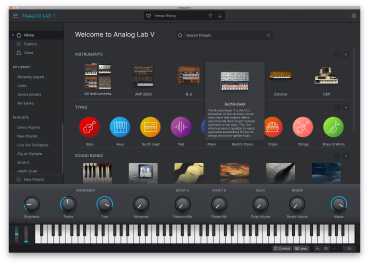 Ableton Live Lite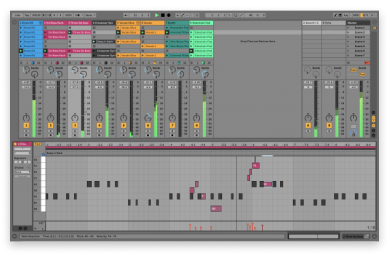 Artists corner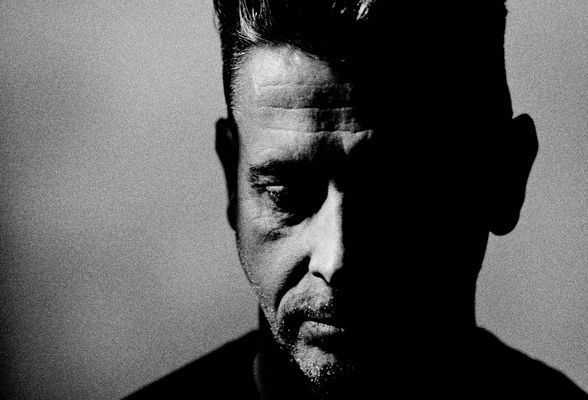 Anthony Tombling
CUTS
"Love the sequencer, arp and the chord generator! Wow, this little thing has a ton of capabilities! "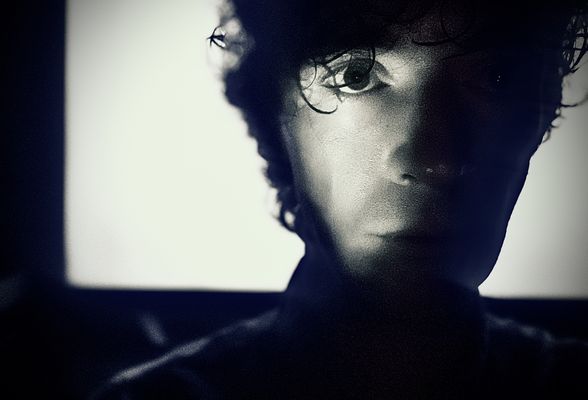 James Brown
Pulled Apart By Horses
"I've been using the new KeyStep 37 non-stop. It does everything I'd want from a MIDI controller/arpeggiator and a hell of a lot more. This has easily flown straight to the top of my must-have tool list right now."
What's in the box
KeyStep 37 unit
Anti-ground loop adapter
USB cable
Instrument dimensions
Size : 21.7 x 5.78 x 1.38 inches (550 x 147 x 35mm)
Weight : 3.5 lbs. (1.6 Kg)
Main Features
Slimkey keybed with velocity and aftertouch
RGB LEDs on each key for instant feedback on your sequence, arp, scale
Arpeggiator mode : Up, Down, Inclusive, Exclusive, Random, Walk, Pattern and Order
Sequencer mode : 8 polyphonic step-sequences with Rest, Tie, and Legato note entry
Rate control and tap tempo : REC, PLAY, and STOP buttons for performance control over the sequencer and arpeggiator
Sustain HOLD button
Sustain pedal jack
Advanced Chord mode with pre-defined or user Chords and strumming capability
SHIFT button selection : MIDI Channel selection, Gate length, Swing, Sequence Edit, Scale quantization, CC Bank selection
DC power jack for standalone operation
USB MIDI and MIDI in/out ports
Sync i/o ports
Sync source switch : Internal, USB, MIDI, Clock
CV/Gate outputs with configurable pitch, gate and Modulation formats.
Capacitive pitch bend and mod wheel strips
Each sequence can have 64 steps with 8 notes of polyphony