Zen Go Synergy Core
📦 Ships same day when ordered by 2pm PST. 🛍 Local pickup available daily. Contact us for more information. 💜
ZEN GO SYNERGY CORE
4X8 BUS-POWERED USB-C AUDIO INTERFACE
The turning point for your recordings
Zen Go Synergy Core is our first ever bus-powered desktop interface packed with tech featured only in high-end professional studios, giving you instant access to premium sound quality even at home. Our vast library of Synergy Core analog-modeled effects lets you shape your sound with precision and character – all while monitoring directly with imperceptible latency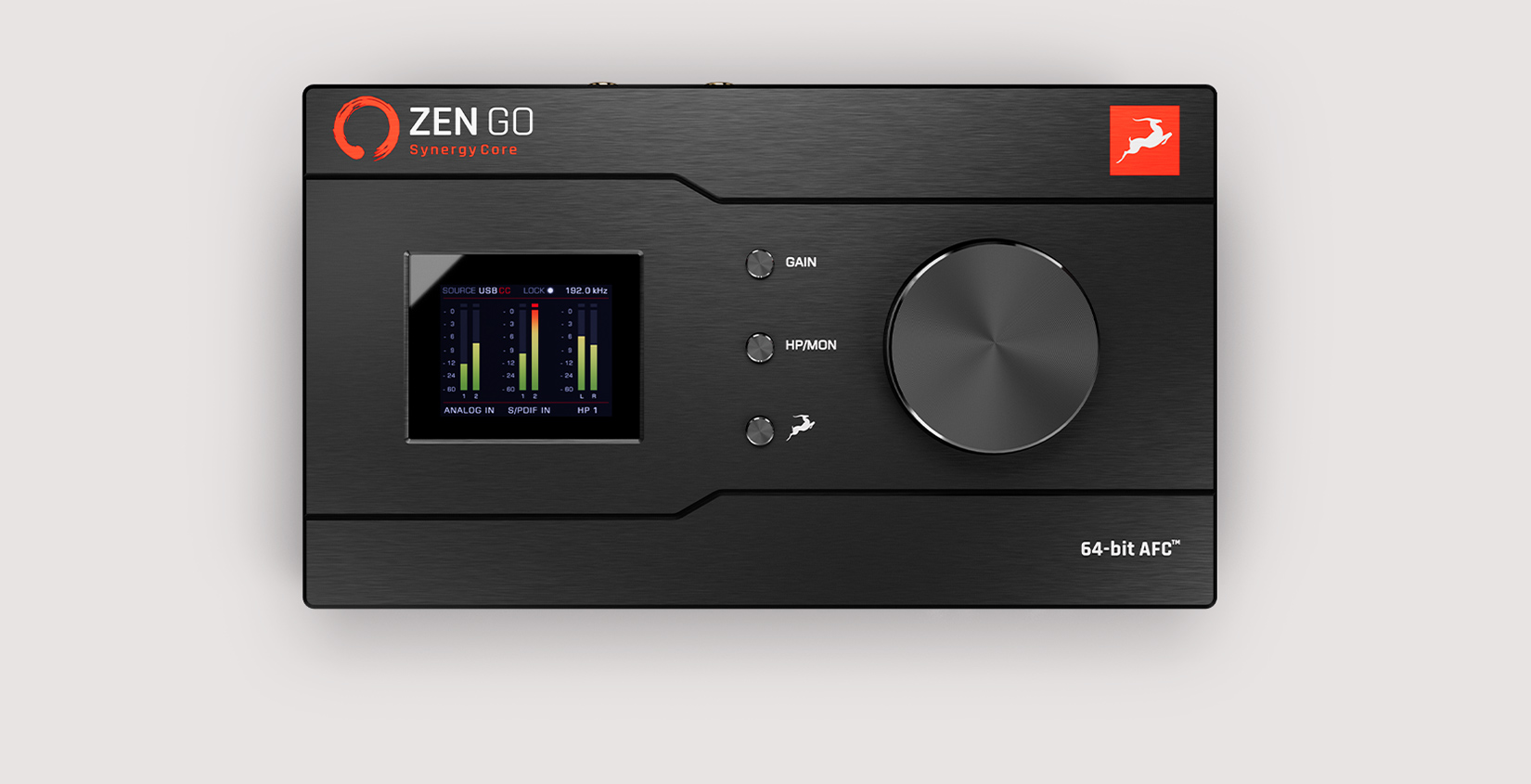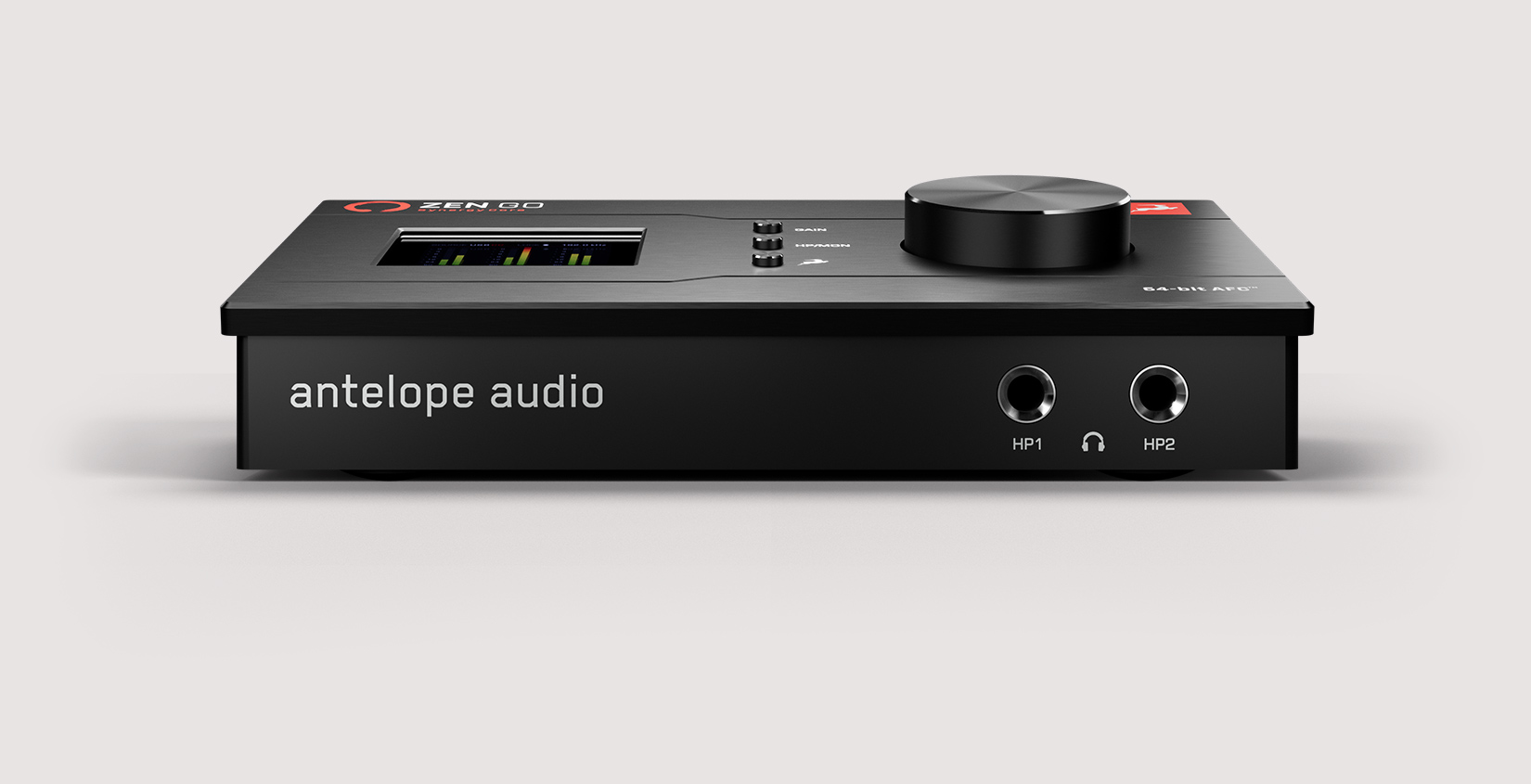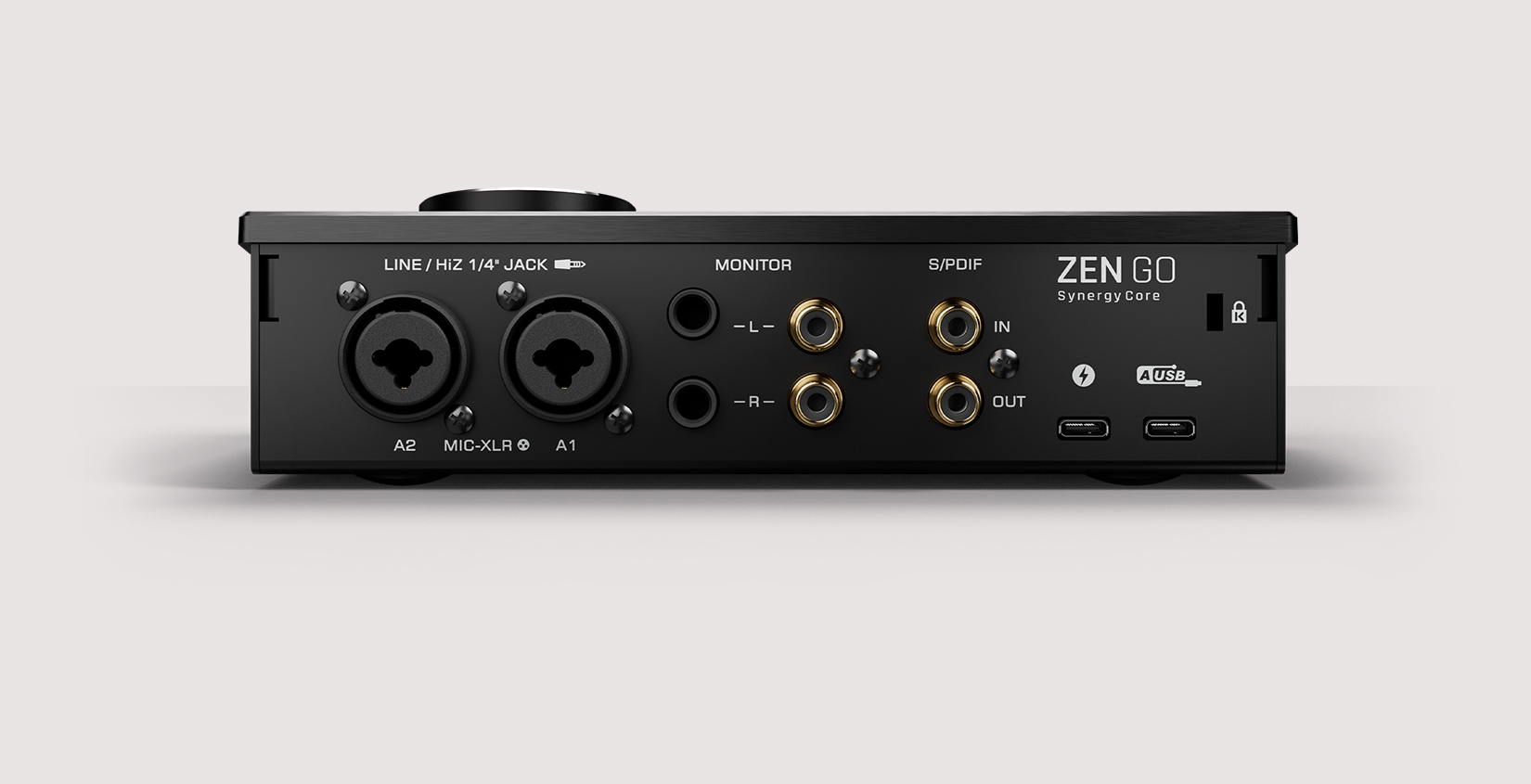 HIGH-RESOLUTION AUDIO
Professional studio-sound in your back pocket
The Zen Go Synergy Core shrinks the sound-quality gap between artists, engineers, and producers with access to high-end studios and those working from home. The core technologies that placed our premium devices in some of the most revered recording studios are now accessible in a much smaller format at your fingertips.
Class-leading AD/DA conversion
The converters offer up to 127dB of headroom and provide extended detail in the low-end, and sonic bliss found only in the most sophisticated studios.
Discrete console-grade preamps
The ultra-linear console-grade transistor topology allows for recording with the highest fidelity and resolution, whilst sounding warm and musical on every source.
64-bit AFC™ technology
The 64-bit Acoustically Focused Clocking™ technology is taken straight from our master clocks that have scored Hollywood's biggest blockbusters and power some of the most prestigious studios around the globe.
FLEXIBILITY AND SIMPLICITY
Your studio is everywhere
Compact, but powerful, Zen Go Synergy Core fits perfectly on any home studio desk, whether used for recording, mixing, or streaming. The extended outputs allow it to simultaneously connect its playback to different systems whilst drawing power from your laptop or any standard phone charging port. The portable design also means you can throw it in your backpack and easily carry it on tours and on-location recording sessions, without sacrificing speed and efficiency.
Bus-powered USB-C
As our first truly portable interface, the Zen Go Synergy Core needs only a single USB-C cable plugged into your computer to work. You can also connect the device to any phone charger or power bank and use core functionality without a computer.
User-friendly controls
Prepare for a session quick and easy with the software Control Panel. Set up your routing from a simple drop-down menu and customize your monitoring mixes with adjustable volume, pan, and reverb.
Switchable inputs
The two combo XLR jacks give you the flexibility to choose between our Discrete console-grade mic preamps, line level and Hi-Z instrument inputs which are easily switchable from the front panel.
Loopback function for streaming
Send your monitoring mixes containing any signal source from the interface's inputs and OS/DAW playback, back into your computer's virtual inputs for easy setup of online broadcasting.
Session recall
For every individual recording scenario, you can save session files and create exact snapshots of all your settings so you can load them later without losing your progress.
SYNERGY CORE COLLECTION
Record with the sound of legends
We carefully picked a fine selection of 37 of the most useful and sought-after effects and included them with every Zen Go Synergy Core. This free library of analog-modeled compressors, EQs, mic preamps, guitar amps & cabs, along with our signature AuraVerb, gives you all the tools you'll need to create stunning, sonically rich productions without spending any extra money.
Beyond the 37 free effects, the ever-expanding Synergy Core library offers over 50 more as optional expansions – including emulations of classics such as Grove Hill's Liverpool and Gyratec's legendary EQs, as well as third-party effects such as Antares' Auto-Tune and Inertia's Instinct.
CONVERSION & CLOCKING
• Class-leading AD/DA conversion with up to 127dB of headroom
• Recording, mixing and playback at up to 24-bit/192kHz
• Proprietary 64-bit Acoustically Focused Clocking (AFC™) technology & Jitter Management algorithm delivering increased width, separation, and detail in musical performances.
CONNECTIVITY
• 2× Discrete ultra-linear preamps with 65dB of gain for studio-quality recordings. All work as microphone/line/Hi-Z inputs, on combo XLR jacks
• USB-C port carrying up to 8 input and 8 output channels in any popular DAW with custom macOS & Windows drivers
• Secondary USB-C port allowing reverse-charging
• Digitally expandable over S/PDIF
• Analog monitor outputs including 1x stereo output over RCA and 1× stereo output over TRS (mirrored)
• 2× stereo headphone outputs with separate gain control, compatible with wide variety of headphones
WORKFLOW-ENHANCING FEATURES
• Bus-powered interface – powered by the USB connection without need for a dedicated power source
• Direct monitoring with Synergy Core effects, processed in real-time with imperceptible latency
• Simplified I/O routing with pre-configured settings, allowing immediate recording and playback
• Digitally expandable over S/PDIF
• Analog monitor outputs including 1x stereo output over RCA and 1× stereo output over TRS (mirrored)
• 2× stereo headphone outputs with separate gain control, compatible with wide variety of headphones
REAL-TIME EFFECTS PROCESSING
• Synergy Core proprietary onboard platform powered by DSP & FPGA chips for real-time effects processing with imperceptible latency
• Collection of 37 Synergy Core effects modeled after classic and rare analog outboard gear
37 INCLUDED SYNERGY CORE EFFECTS
Gyraf Gyratec IX (Dual Tube Mic Preamp with HPF)
VCA160 (VCA Compressor / Limiter)
Stay-Levin (Vari-Mu Tube Compressor)
FET-A76 (FET Compressor / Limiting Amplifier)
VEQ-1A (2-Band Tube EQ)
VMEQ-5 (3-Band Tube Mid-Range EQ)
X903 (VCA Compressor / Limiter)
PowerFFC (Feed-Forward Compressor)
Clear Q (Parametric EQ)
Power EX (Expander)
VEQ-HLF (Tube 2-Band HPF / LPF)
Auraverb (Reverb)
BA-31 (Germanium Mic Preamp)
Power Gate (Noise Gate)
A-Tuner (Guitar Tuner)
Plexi 59 (UK) (Tube Guitar Amp)
Bass SuperTube VR (Tube Guitar Amp)
Darkface 65 (US) (Tube Guitar Amp)
Top30 (UK) Bright (Tube Guitar Amp)
Tweed Deluxe (US) (Tube Guitar Amp)
Overange 120 (UK) (Tube Guitar Amp)
BurnSphere (DE) Lead (Tube Guitar Amp)
Marcus II (US) Lead (Tube Guitar Amp)
Modern (US) CH3 (Tube Guitar Amp)
Rock 75 (UK) (Tube Guitar Amp)
Rock 22.10 (UK) (Tube Guitar Amp)
Darkface 65 2×12 (2×12 Guitar Cabinet)
Top30 2×12 (2×12 Guitar Cabinet)
Modern 4×12 (4×12 Guitar Cabinet)
Green 2×12 (2×12 Guitar Cabinet)
Vintage 4×12 (4×12 Guitar Cabinet)
Green 4×12 (4×12 Guitar Cabinet)
Caliper 50 1×10 (1×10 Guitar Cabinet)
Bluelux 1×12 (1×12 Guitar Cabinet)
Clst 1×12 (1×12 Guitar Cabinet)
England 4×12 (4×12 Guitar Cabinet)
Bass Tube 1×15 (1×15 Guitar Cabinet)
IN-THE-BOX CONTENT
• Zen Go Synergy Core
• Warranty card
• USB-C to USB-C cable
• USB-C to USB-A adapter
• Getting Started leaflet