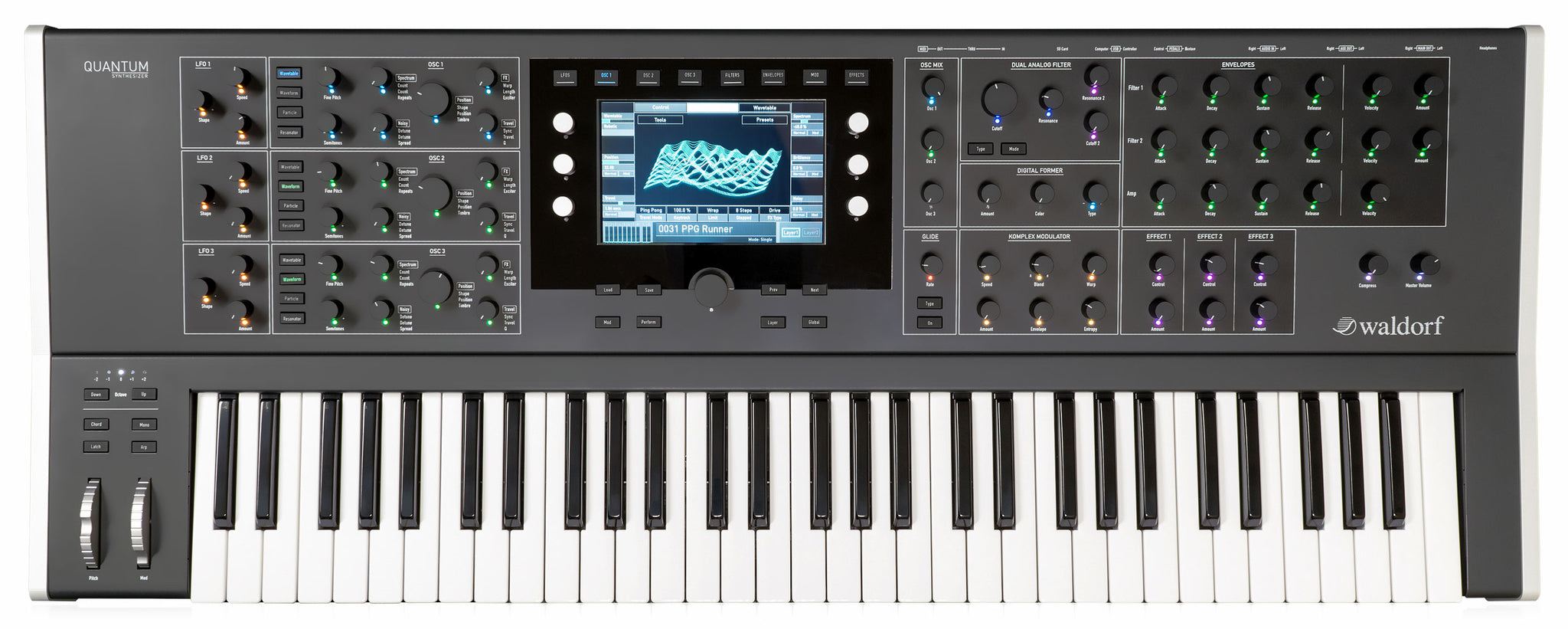 Quantum
📦 Ships same day when ordered by 1pm PST. 🛍 Local pickup available daily. Contact us for more information. 💜
Quantum Synthesizer Overview
Waldorf is proud to announce a new chapter in their tradition of designing high-end ground breaking synthesizers. Starting with Waldorf's famous wavetable technology developed decades ago, it was always a challenge to give our instruments a powerful flexible beating heart. Our digital oscillators coupled to the enormous power and efficient simplicity of our analog filters started the digital revolution back in the 80's.
Quantum combines the raw power of a classic digital & analog hybrid synthesizer, with futuristic sounds that are only possible with today's software synthesizers.
Quantum's 3 Oscillators offer four synthesis algorithms each
Waldorf-style Wavetables with the latest additions from Nave, including speech synthesis and wavetable generation from audio
Classic Synthesizer Waveforms with multiple waves for an ultra fat sounds right out of the oscillators
Granular Sampler with multi sampling plus traditional sampling mode
Resonator for virtual sound sculpting
The flexibility emanating from Quantum's powerful oscillators and their interaction with one another is simply breath-taking. Never before has it ever been possible to create such a wide sonic bandwidth with one synthesizer. Stretching from classic analog, with precise sample playback, through to harsh or animated digital sounds, escalating all the way up to sound and sequence clusters, that can only be achieved with a modular synthesizer system.
Quantum's beautiful ergonomic and intuitive user panel supports an artist's workflow with a previously unknown elegance. The carefully crafted array of aluminium knobs and encoders surround an ultra hi-resolution multi touch display. Waldorf engineers spent many long hours perfecting the interaction between the display and the physical control elements. The stunning display is a highly flexible extension of the tactile experience, and is light-years ahead of any synthesizer currently on the market today.
To help understand functional correlations between one knob and another, each control knob is individually illuminated by a multi colour LED. This makes it instantly obvious when viewing complex settings and modulation settings, where related parameters can be adjusted quickly and efficiently. With the help once again of the gorgeous central display, precise settings can be handled with ease, much the same as the experience when using your cutting edge computer tablet.
When the Waldorf engineers decided to develop Quantum, little did they realise it would take several years of painstaking work. There were areas of Quantum that our years of experience with sound generation were bought to the fore. But Quantum is so powerful it took our team into uncharted territory, involving both sound and the way it was felt the musician would interact with it.
Quantum was designed and developed by our dedicated team in Germany. All essential components have been designed, manufactured and assembled here in Germany. This has allowed us to manufacture Quantum with an unparalleled build quality. We would also like to take this opportunity to thank a world class array of sound designers that have contributed to a multi-facetted factory sound set.
Really want to get to know Quantum? See the factory users manual here.
Specifications
(note specifications subject to change without notice)
Digital-Analog Polyphonic Synthesizer
61 Keys high-quality Fatar TP8S keyboard, channel aftertouch
8 voices
Dual timbral: split or layered mode with separate stereo audio outputs
3 stereo digital oscillators each capable of four synthesis algorithms
Wavetable: Waldorf style with latest additions from Nave including speech synthesis, wavetable generation from audio and new features
Waveform: Waveform with up to 8 simultaneous waves per Oscillator in detuned or chordal mode with hard-sync, warp & PWM as well as tunable noise
Particle: Sampler in traditional and granular mode using multi-samples or live input
Resonator: Exciter using multi-sampling plus filter bank sound model.
Two analogue lowpass filters per voice each in 24 or 12 dB configuration using innovative link modes
Digital former: Additional digital algorithms per voice like comb filter, high-pass, band-pass & notch filters (Nave, Largo or PPG models), bit-crusher, drive and more
Flexible routing system for order of analog filters & digital former and individual oscillator routings
6 LFOs in poly and global mode with extensive parameter set
6 loopable envelopes
Komplex: multistage LFO/envelope modulator
Extensive modulation matrix with 40 slots and easy via-controller assignments
Intuitive modulation assignment via panel elements and control LEDs
Master effect rack of 5 slots for each timbre choosing from FX like phaser, flanger, chorus, reverb, drive, eq and more.
Compressor for main output
Step sequencer with step recording, parameter automation and scale-based pitch quantization
Microtonal pitch configurations capable of importing Skala scl files
Capable of polyphonic aftertouch via external MIDI inputs
Chord and latch buttons
Unisono mode
Module-based preset system for effects, oscillators, step-sequenzer and Komplex modulator
Single-function potentiometer and encoder controls for intuitive editing
Visualisation and deeper sound editing via context-sensitive high-resolution capacitive multi-touch display
Spectrum Analyzer and Oscilloscope at various processing stages
Up to 10,000 sound patch capacity organized by banks, attributes, author and patch number.
Favourites lists for quick recall of sound patches like for set-lists etc.
Pre-loaded with wide variety of patches by acclaimed sound designers like Howard Scarr
MIDI output of local keyboard, wheels and assignable panel elements
Automation of sound parameters from MIDI inputs via MIDI CC learn function
Recording of samples from audio inputs or self-recording of audio outputs
4 GB*) internal Flash memory for presets, samples and wavetables
Pre-loaded with approx. 2 GB sample data
Export & import of presets, sample & wavetable via SD card
Import of Nave presets
Mod wheel can be assigned to any parameter which can be modulated in the matrix or via quick assign
Pitch wheel can be assigned to each oscillator individually
Weight: 17.8kg
Dimensions: 1006 x 401 x 131 mm 
Sampling Capabilities
Each of the 3 Oscillators of a single timbre can be used in one of three modes using samples:
Stereo Multi-Sampler with looping
Granular Sampler with extensive parameter set
Resonator model using sampler as exciter
Samples are organized using key and velocity maps, selections rules like round robin, random etc., and individual pitch, gain and pan settings.
Samples are stored in internal Flash memory of about 4GB capacity pre-filled with over 1GB specially made for Quantum factory samples.
New samples can be recorded from external stereo audio inputs, or from self-recording Quantums own engine.
Samples can also be imported an stored to internal Flash via SD card using WAV and AIFF file format (44.1kHz sample rate).
The Quantum allows for a huge range of sample-based sound design capabilities from classical synths sounds to uncharted territories.
It's worth noting that the sample use in the Quantum is always within a synthesizer's sonic context, and it is not meant to work as a "bread and butter" sample keyboard to play back like traditional sampling instruments nor third party libraries.
Huge range of arpeggiator parameters:
7 Algorithms to choose from like up, down, random etc.
Octave range
7 Sort Orders
3 Velocity Modes
Gate length
Swing
BPM
Beat Division
Rhythmic patterns 
Reset Modes
Keyboard Latch chordal and non-chordal
If that's not enough, individual patterns can be created in the step sequencer including transpositions and scale quantisations.
Connections:
2x stereo audio out for main and aux timbres
Stereo audio input for sample recording and real-time processing
High-Quality 24bit A/D and D/A converters
Headphone out with separate level adjustment
Sustain pedal input
Control pedal connector also capable of CV input (0-5V sensitivity)
USB host type A connector for interfacing MIDI controller
USB device type B connector for interfacing computer or other class-compliant MIDI USB hosts like iOS devices **)
SD Card for sample/preset exchange and software updates
DIN MIDI In, Out & Thru
Integrated power supply unit
*) Raw physical data size for complete system including pre-loaded data and system software. Net usable size for audio samples is about 2GB including pre-loaded samples.
**) Separate Apple "Lightning to USB Camera Adapter" adapter needed